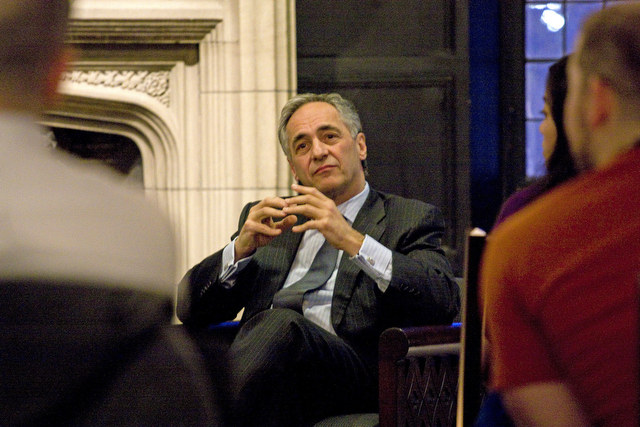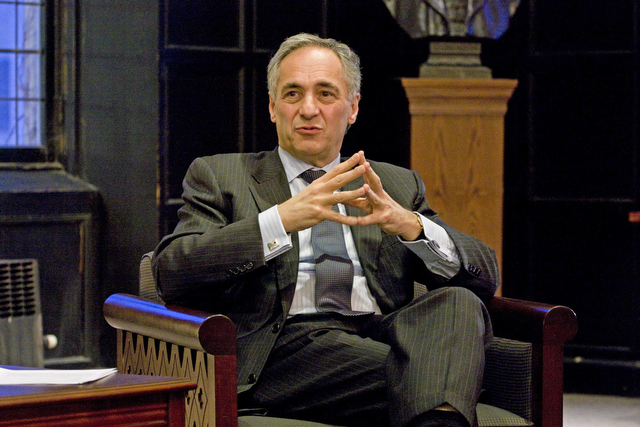 President Robert Zimmer announced the creation of a committee to review sexual assault policy at an open forum Tuesday. The announcement comes after sustained student pressure on the University to change the way it handles disciplinary action in sexual assault cases.
Zimmer and Vice President of Campus Life Kim Goff-Crews answered an array of questions from about a dozen college and graduate students, who raised issues varying from the University's investment policy to dining hall complaints.
Zimmer began the forum by addressing the recent reappraisal of the University's sexual assault policy. "The Provost is in the process of appointing a committee to look at that issue," he said, although supporters had been alerted to the change earlier.
Representatives of the Working Group for Sexual Assault Policy (WGSAP) met Wednesday with Goff-Crews and Martina Munsters, deputy dean of students, to discuss the committee announcement. WGSAP has advocated for the University to review sexual assault policy since its inception in 2008.
"This was a primary goal, and we're ecstatic," said fourth-year Megan Carlson, a WGSAP member. While no specific date was set to convene the committee, which will be composed of students and staff, Carlson said she was told the search for members would begin soon.
Later in the Tuesday meeting, one student claimed he received a call from the UCPD asking about a Facebook status update that they deemed anti-Semitic. During the phone call, the student alleged the officer said that students' Facebook accounts were being monitored. Goff-Crews denied that the University monitors Facebook accounts. "That'd be disgraceful if we did," she said.
A second-year Blackstone resident expressed concern over the unlimited dining plan, which is the only meal option for new students as of last year. Cheryl Gutman, deputy dean for housing and dining services, said the meal plans "are designed to address the whole," and to that end, the unlimited option "meets the needs of the majority better."
"We may allow for places like Stony and Blackstone to have limited plans," Gutman said. But the overarching goal of campus dining is "based on the desire to establish community," and eating in the dining halls is encouraged.
Students also asked questions relating to the Kalven Report, a 1967 position paper reaffirming the University's neutrality on social and political issues. In recent years ,the report has been at the center of disputes with student activist groups, including a contentious 2006 debate over divestment in Darfur.
A student questioned how the University could avoid remaining neutral on political issues when it maintains a lobbying team in Washington. "There are going to be blurry lines," Zimmer said.
He added that the University has a vested interest in federal medical research funding, visa policies for foreign students, and faculty and financial aid for students. "We want to express a view about [these issues]. Lobbying is not for general things, but for explicit and fundamental interests," he said.
Zimmer said the University Senate, a body composed of professors, the president, and the provost, would decide whether the University should use its influence in any given situation.
Two upperclassmen who had attended past Zimmer forums raised their concern over the University's investment in HEI Hilton Hotels, which has been accused of labor rights infringements. After reading aloud from a complaint to the National Labor Relations Board, a copy of which they hand-delivered to Zimmer, they asked what they could do to make the University change its investment policies.
"You can do what you're doing if you feel there are serious injustices," Zimmer said, but the University "does not handle complaints as a vehicle for driving investing."
In response to an earlier question about Kalven report, Zimmer joked that such debates are inevitable. "I think everything at this University is contentious. It's built into the structure," he said.