Gloria Steinem gets progressive at Gala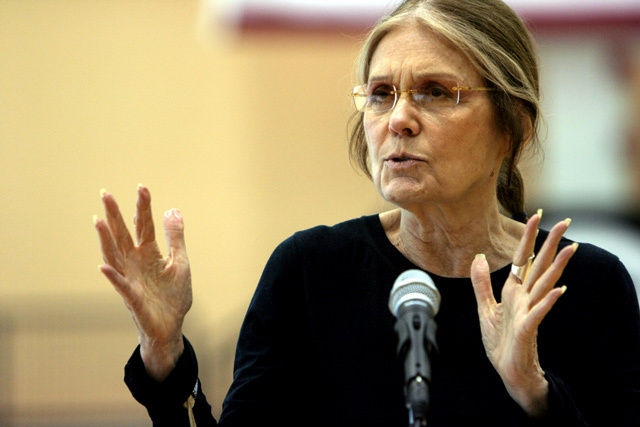 Feminist icon Gloria Steinem encouraged progressive activism to a crowd of about 500 people gathered for the keynote address of the Progressive Gala: Women in Washington in Ratner gym on Saturday night.
"Progressives have taken over the University of Chicago. They said it would never happen," Steinem said at the beginning of her talk.
The Progressive Gala, now in its third year, is an annual event organized by 20 U of C organizations that hosts a variety of speakers and performances to unite progressives from across campus.
Steinem, an icon of the second-wave feminist movement of the 1970s, made her name in 1963 when she wrote an expose on the New York Playboy Bunny Club after going underground as a Playboy Bunny. In 1972, Steinem founded the feminist magazine Ms. and also founded the Coalition of Labor Union Women and the National Women's Political Caucus.
Although she spoke to a largely female audience, Steinem hoped to address any person who has faced discrimination.
"You are not the only person to experience these things," she said, explaining that activism begins on an individual level. "You name it, it becomes visible, you start to gather people who suffer from it."
She invited the audience to have what she called "a moment of changed consciousness," to become engaged and transform personal experience into a communal force. "For me, it was going to an abortion hearing in NYC that was in protest to another abortion hearing," said Steinem, who herself had an illegal abortion before Roe v. Wade was passed.
Steinem spoke briefly of the coming political election.
"Choose, and have, and be a leader who would be happy with something else," she said.
Steinem, who has praised both Clinton and Obama, endorses Clinton but did not speak on any specific candidates in her address.
"Never choose a leader who doesn't have a sense of humor, and never be a leader who doesn't have a sense of humor," she said.
Toward the end of her talk, Steinem characterized progress as a process of channeling conflict into positive action. "I do fear conflict, but I try to remember that it is an energy source that will lead to a new form, and that form will lead to the butterfly that will change the world."
"If we want at the end of our efforts to have joy and laughter and dancing and sex, we have to have joy and sex on the way," she said.
The organizers of this year's Gala, the third installment of the event, took into account the shortcomings of previous Galas in their decision to bring Steinem to campus.
At last year's controversial Gala, political commentator James Carville demanded that the University apologize for the actions of alumnus and former Secretary of Defense Paul Wolfowitz. The New Initiatives Fund, now known as the UnCommon Fund, provided $26,000 for the Gala to bring Carville to campus.
The Undergraduate House System's Emily F. Talbot Lecture fund sponsored Gloria Steinem's talk, which cost around $20,000. The fund was founded in 1910 in memory of Marion Talbot, an activist for women's education, and previously brought female figures such as the poet Sylvia Plath to campus.
Fourth-year UC Dems President Hollie Russon Gilman, who organized Gala with third-year Gala chair Ariel Simon, chalked up last year's mishap to the conflicting goals of various groups on campus.
"He didn't like us; he was not our first choice. It was kind of like other people in the University wanted James Carville, and we wanted the Gala," Gilman said.
Gilman said that this year's organization was improved in part because involved groups began working together much earlier than before. She also attributed improvements to Simon, who has had the vision for a Women in Washington theme since last year's Gala.
After Gloria Steinem's speech, crowds gathered for food in the courtyard of the Smart Museum and then moved into the museum's atrium, where events, including panels and performance artists, continued into the evening.
The first panel, The Politics of Women's Health, included sex education activist Shelby Knox, President and CEO of the Reproductive Health Technologies Project Kirsten Moore, and Nikki Skies, a performing artist and program director for a non-profit organization working with youth in Watts County, California. Some attendees, who had trouble seeing the panelists, sat on the floor to listen to them speak. Steinem, who attended the entire Gala event, sat down as well, and the rest of the audience followed suit.
Vice President and Dean of Students Kim Geoff-Crews, moderated the second panel, Women of Color in Politics, along with panelists Robyn Spencer, an assistant professor of U.S. history at Lehman College who is completing a book on the Black Panther Party's history in Oakland, California; Maria Teresa Petersen, the executive director of Voto Latino; and Pamela Bozeman-Evans, who is currently associate dean of students in the University and director of the University Community Service Center. Bozeman-Evans is leaving the University to work as director of Chicago operations for Barack Obama or as the executive director of Blue Gargoyle Community Services.
The Gala also included performance artists Amina Norman-Hawkins, a hip-hop activist, and Skies, an actress, performance poet, and author.