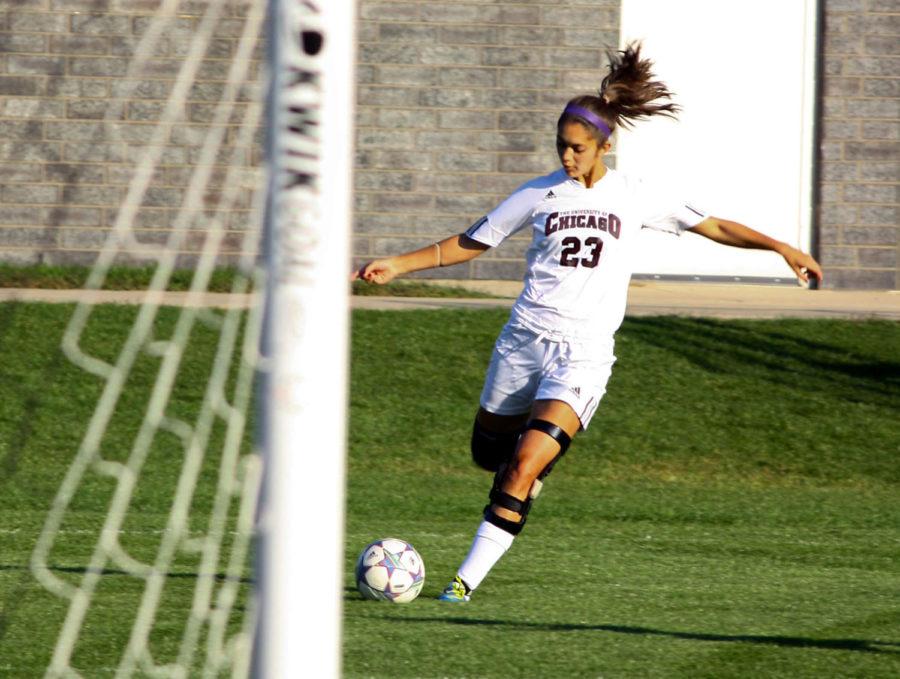 Benjamin Trnka
Coming off the heels of a terrific season and first-place finish in the UAA Championship in 2010, this year's women's soccer team has a lot to keep them on their toes. The squad will travel to Boston to test its strength, first against Brandeis on Friday, October 14, and then against NYU on Sunday, October 16.
Challengers be forewarned: This year's squad is just as much a mean, maroon, winning machine as was last year's, which ended up with records of 12–4–3, and 6–1–0 in the UAA. The group is currently 6–4–1, but Head Coach Amy Reifert is optimistic about her girls' chances of adding another UAA Cup to the trophy cabinet.
"We've never won back-to-back years, ever," fourth-year captain Maggie Tobin said. "Coach will remind us that we have to do that for the seniors." The upcoming game against Brandeis is especially charged, explained Tobin, because last year's win against Brandeis secured the Maroons' spot as UAA champions.
"We scored two goals within the first 10 minutes, and for the rest of the game it really felt like we were playing for the championship. When everyone ran out onto the field at the end…that's something I'll never forget," Tobin said.
And this year? "They've got a grudge against us, for sure," third-year Brigette Kragie said. "And it's on their home field this year. That's definitely a motivation for us to step up."
Reaching last year's level of excellence is sure to be a challenge for such a young team as this; upperclassmen account for only six out of a squad of 28. Even so, said Tobin, "We've already played Emory, which is ranked third in the nation and we tied them. We have all the pieces to the puzzle; we just have to put it together."
"We need to win in order to have a chance at the UAA titles. I expect a win from this team. We deserve a win," Kragie said.