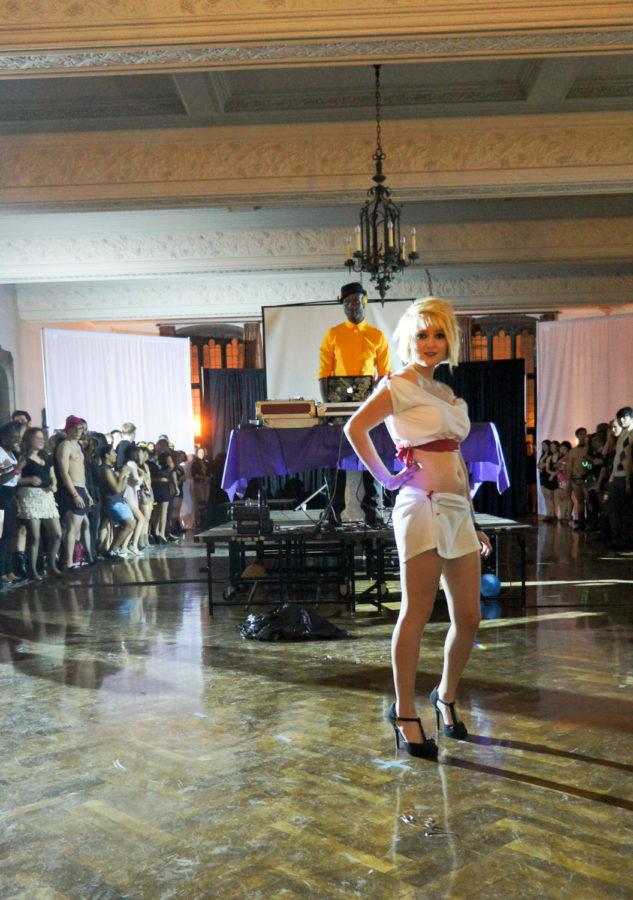 Christian Martinez
Dancers on stilts, guys in drag, blaring music, and 750 partygoers…No, it wasn't Mardi Gras: it was the annual Lascivious Ball held in Ida Noyes this past Saturday night.
The Lascivious Ball, organized by HYPE, is an annual tradition at the University of Chicago, where for one night the University provides students with an event that celebrates freedom of sexual expression. The tradition has a notorious history; it began in the 1960s but was banned in 1984 for reported "ludicrous behavior," and was only reintroduced in 2008. This ball's theme of "1984" commemorated the infamous year when Lascivious was discontinued, and implied that this year's event would be equally scandalous.
The Facebook page for the event stated that costumes were "strongly recommended," and the week before the event brought a mad scramble for Lascivious-worthy outfits. "Never in my life did I think I would be shopping online for lingerie for a University of Chicago event," first-year Megan Tang said.
For an $8 entry fee, students had access to an Ida Noyes transformed into a risqué carnival, with various dance performances, raffles, body paint, and hors d'oeuvres from Chant. VIP tickets, sold for $4 more, allowed entrants access to an exclusive lounge, where a savory, although decidedly unsexy meal of mashed potatoes and baked chicken was served (napkins not provided). VIP ticket-holders also each received a gift bag filled with items ranging from potato chips to sex toys.
From the coat check line, one had a clear view of scantily clad students dashing around Ida Noyes in a frenzy, pointing out costumes and not knowing which of the ball's attractions to check out first. Eventually, most congregated on the dance floor in one of Ida's main halls, where the pulsating music was complemented by "silhouette dancers" swaying provocatively behind screens.
The crazy outfits students would inevitably wear were a main attraction. Costumes ranged from corsets and garters to caution tape to jeans and t-shirts. There was also a student designer fashion show, where models strutted down the runway in everything from demure dresses to full-on body paint.
"I've definitely seen some things tonight," one ball attendant said, laughing, "including a girl wearing a strap-on."
Angela Wang, a coordinator of the event, said that despite a few technical issues, she was extremely pleased with the event's outcome. "I think it went fantastically. Historically, it's a celebration of sexual freedom and identity, being able to express things that were oppressed before…now it's a little safer, but it's still the same message, pushing for a little less judgment as to what people want to wear or do."
According to Wang, one of the most important aspects of the ball was the way it challenged societal norms of what's appropriate to wear in certain settings. "For me it's breaking down [societal mores] a little bit because you're in a normal school building, you're with all of your school friends, but you're dressed up."
Her favorite costume of the night? "The sexy Russian spies, with their fur hats and red berets."
Wang also emphasized the collaborative effort that went into the Lascivious Ball, with many different RSOs apart from HYPE involved, including Le Vorris & Vox Circus, Massage, Vita Excolatur, and UChicago Maya. The event had about 10 sponsors who provided features such as the chocolate fountain and cabaret tickets.
Did the Lascivious Ball live up to its name? Well, there were plenty of lingerie-clad students and suggestive dancing (and yes, there was that awkward moment when I recognized a kid from last quarter's math class grinding onstage in a Speedo), but ultimately the ball seemed less like a strip-club and more like an offbeat vaudeville event: chaotic, quirky, and risqué, but certainly not obscene. Perhaps because we're now more accepting of sexual expression, it was less controversial than it was in the '80s. Regardless, the Lascivious Ball gave the University the chance to contest its overly academic reputation, allowing students to lose themselves…at least for one night.