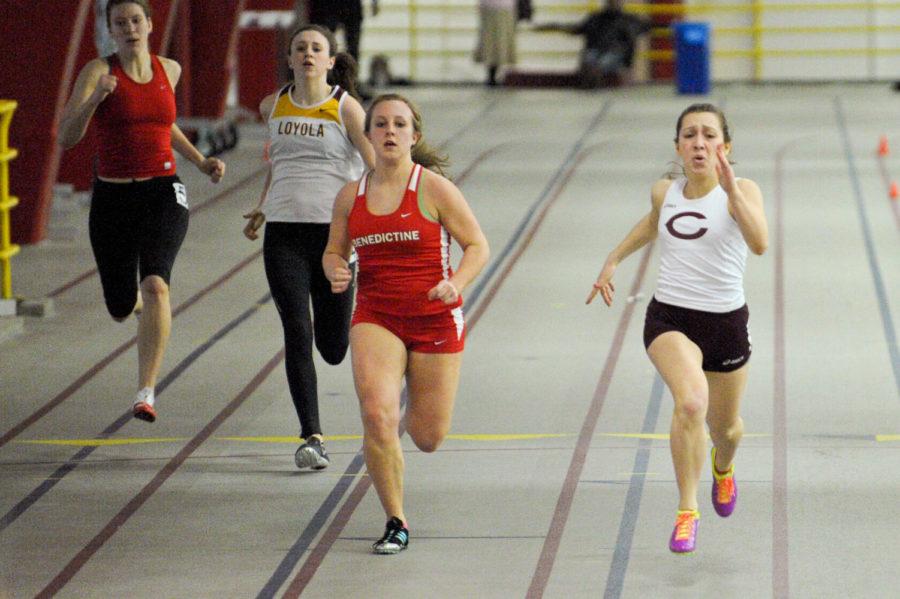 Darren Leow
The UAA Championship last weekend was a mixture of success and realization for Chicago.
The Maroons achieved their goal of a third-place finish, but they couldn't close the gap between themselves and second-place Emory. Wash U finished first with 149 points, Emory second with 136, and Chicago third with 63.
"We took our competitive level up a notch," head coach Chris Hall said, "but I thought Wash U and Emory did the same thing."
Chicago won't beat itself up over the loss, but it will be important for them to put it into perspective as they head into the final two weeks of the indoor season and beyond.
"It's not an extraordinarily balanced conference," Hall said. "Emory dominated the sprinting events and Wash U dominated the distance events. We were the team that picked up a lot of extra points, but we weren't getting a lot of support coming from the other teams taking points off Wash U and Emory. I didn't think we closed the gap, but we showed promise that we're capable of doing that going into the outdoor season."
"We were quite happy with our third place finish," fourth-year Rachel Ohman said. "The UAA conference is easily one of, if not the, best D–III conference in the country, and a third place finish is very respectable. Our team struggled with illness and injury a fair amount this season, so our great team performance this past weekend was especially rewarding."
As has often been the case this season, the middle distance and distance runners performed well for Chicago. Third-year Kayla McDonald broke her own 800-meter school record for the third time this year in the heats, running a time of 2:12.43 seconds, before finishing second in the final to Wash U's Erica Jackey. Third-year Julia Sizek finished third in the 3000-meter (10:00.32) with the third-best time in U of C history, and second-year Michaela Whitelaw finished third in the mile (5:06.35). Fourth-year Sonia Khan's fourth place finish in the 5000-meter (18:06.68) also marked a significant personal record.
In the sprints, fourth-year Jaleesa Akuoko finished fourth in the 400-meter final and picked up a new personal record (59.49) in the heats. First-year Simone Aldredge also had an encouraging performance in the 200-meter, where she improved her seeding to finish fifth in a time of 26.50 seconds.
This was a meet in which the Maroons knew they had to raise their level, and they did. All season long, the coaching staff has focused on the importance of the team, and the athletes have responded.
"I thought our cheering sections were pretty awesome and created a great environment to compete in," third-year Julia Sizek said.
"Many people tend to think of track and field as a very individual sport," Ohman said, "but it is simply not possible to have a successful program without being a unified, supportive team. We were able to have a great weekend because we were competing not for ourselves, but for each other."
Most of all, though, the Maroons now know they have the ability to step up when it really matters. The number of personal records over the weekend is the greatest demonstration of that and if the team—which is still very young—is able to maintain that attitude, the future will be bright.
"Our kids went out a little bit more focused," Hall said. "It was a more important meet than some of the other meets this season and a lot of it was attitude. I thought our women competed really well. They rose up a level which was really good to see, but we still have some growing to do as program."
Perhaps most importantly, though, the Maroons have learned how much they need to improve if they're going to challenge for conference during the outdoor season.
The improvement, they hope, will continue next week at the North Central Last Chance meet this Thursday and Friday.