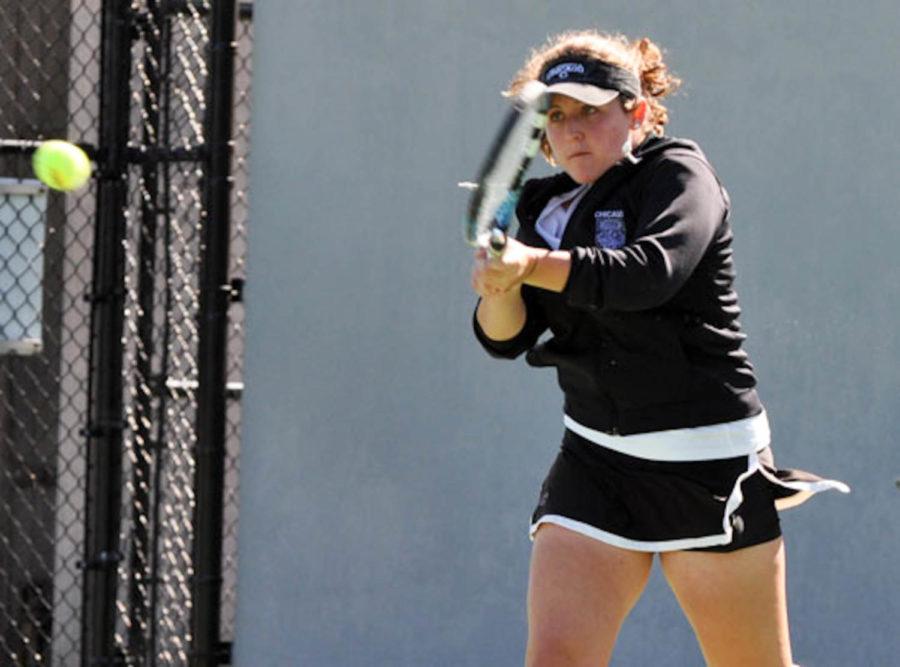 UChicago Athletics Department
The Maroons swept their competition over the weekend, wrapping up their regular season with dual wins against Case Western and 11th-ranked Wash U.
In their only set of matches at Stagg Field Courts, and their final set of matches before next weekend's UAA Championships, the sixth-ranked squad showed their dominance, defeating Case 9–0 on Saturday and Wash U 8–1 on Sunday. Chicago improves to 16–4 overall and 12–1 against DIII opponents, and extended its winning streak to seven matches.
Against the Case Western Spartans, the team was flawless as a unit. The Maroons all defeated their Spartan counterparts in two sets. Fourth-year Kendra Higgins defeated Erika Lim 6–0, 6–1. Fellow co-captain and fourth-year Jennifer Kung defeated Marianne Bonnano 6–2 and 7–5. Fourth-year Carmen VacaGuzman won 6–2, 6–3. Third-year Linden Li was perfect for the day, winning both of her sets 6–0. First-year Megan Tang was nearly perfect on the day as she defeated Bianca Patel 6–1, 6–0. First-year Maggie Schumann rounded out the Maroons' six slots with a win against Kathleen Evers 6–3, 7–5.
In doubles play, the duo of Higgins and VacaGuzman won 8–4. Kung and Li won 8–6 and Tang and first-year Kelsey McGillis defeated their opponents 8–2.
On Saturday, the Maroons faced off against the 11th-ranked Bears. But despite the tough on-court competition, Chicago enjoyed a resounding victory. Higgins defeated Natalie Tingir in two sets, 6–2, 6–2, and second-slotted Kung defeated Kate Klein similarly, in two sets, 6–4 and 7–5. VacaGuzman showed her continued dominance with a 6–2, 6–3 final score, as she beat out Theresa Petraskova. Li, who had dominated her Case Western opponent, faced some strong opposition from her Bear rival, but persevered in the end, winning in three, 3–6, 6–4, 10–5.
Tang had a good Saturday, defeating Betsy Edershile 6–0, 6–3. The only blemish on the Maroons' day came in the final slot. Corinne Rauch of Wash U defeated Schumann in two sets, 6–4, 6–3.
Doubles play was consistent as usual; Higgins and VacaGuzman won 8–4, Kung and Li defeated their opponents 8–5 and McGillis and Tang were victorious with an 8–4 score. These matches marked Higgins', VacaGuzman's, Kung's and Li's 10th straight doubles victories. Even more impressive, over the last 11 matches, the Maroons are 29–1 in doubles play.
Overall, the ladies performed as expected over the weekend in defeating Wash U and Case.
"We expected to beat Case and Wash U this weekend," Kung said. "Both of those teams fight really hard and don't give up easily. So, it was good that we were able to beat them so convincingly."
"We had played Wash U the weekend before at the Midwest Invitational and beat them convincingly," Tang said. "The matches were not a walk in the park, however. We still had to work for our points and be patient."
With this weekend behind them, the team now looks to focus on the UAAs. Having had an impressive season thus far, the ladies hope to come home from the tournament as champions.
"Heading into UAAs, we think we have a really good chance of winning this year. Our goal is just to compete as hard as we can," Kung said. "Our toughest opponents will most likely be Carnegie and Emory…Jumping out to an early lead after doubles could make the difference since both of those teams have very strong singles lineups.
The South Siders will take their talents to Orlando on April 27 and hope to return on the 29th as UAA champions.