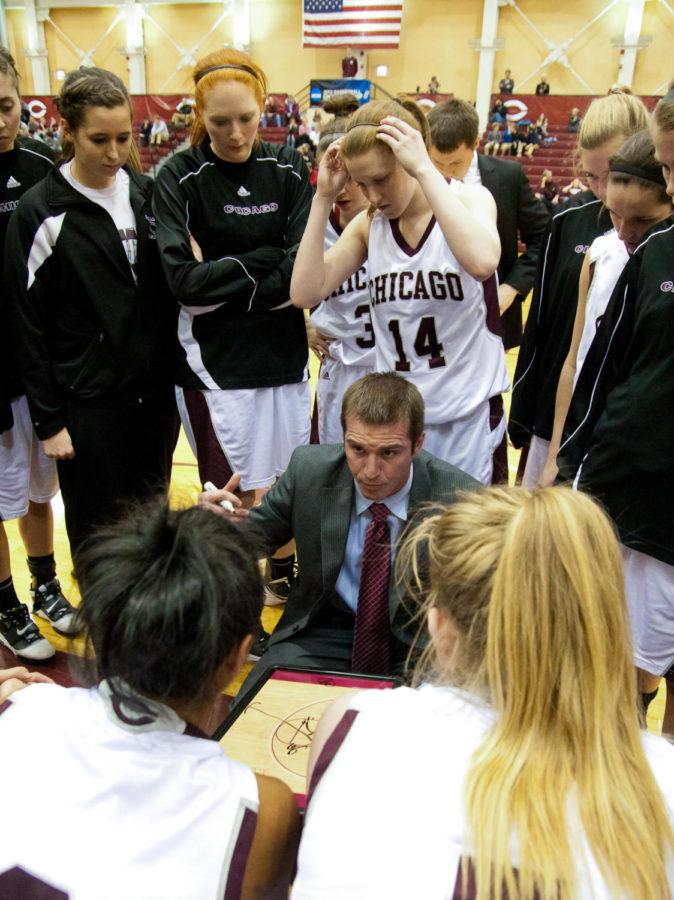 Jamie Manley
Head coach Aaron Roussell is taking his talents to the east coast. Roussell accepted the women's basketball head coaching position at Bucknell University, the athletic department announced Tuesday. The move came after arguably his most impressive season, as the Maroons went undefeated in the regular season before falling to Calvin in the Sweet 16. Chicago's 43 consecutive regular season wins is the longest active streak in NCAA DIII basketball. 
"Coach Roussell's departure is Chicago's loss and Bucknell's gain," head athletic director Tom Weingartner said in a statement on Tuesday. "He has been a superb coach, wonderful department citizen, and great colleague. He helped build Chicago's women's basketball program to national prominence and we wish him, [his wife] Molly, and [his son] Riley all the very best in what is a great opportunity for him and his family."
"I owe everything to the UC players, athletic department, and the entire community. This is an amazing situation for my family, and my eight years at Chicago both are why I got this job and what has prepared me to be at Bucknell," Roussell said. "Why Mr Weingartner agreed to hire me eight years ago is something I constantly wonder, but his faith in me changed my life."
Roussell will have his hands full at Bucknell. Last year, the Bison finished 5–25, losing in the first round of the Patriot League tournament to Lehigh. However, Roussell will have a young team with which to work: 5'7" guard Christina Chukwuedo is the only graduate, and their leading scorer, Shelby Romine, is just a second-year.
"I could not be more excited about the opportunity to lead the women's basketball program at Bucknell University," said Roussell in a press release from the Bucknell Web site. "I am extremely thankful to the University of Chicago, because it has prepared me perfectly for a program like Bucknell and the Patriot League as a whole, which places academics in the highest regard. To be frank, there is no way I would have left Chicago unless it was for a place that shared my values on what the student-athlete experience should be all about."
The numbers back up Roussell's words: The Bisons's team GPA was a robust 3.36 during the 2010–2011 season, according to the Bucknell press release.
Perhaps Roussell's most impressive class of recruits is graduating this spring. Fourth-years Meghan Herrick, Bryanne Halfhill, Joann Torres, Taylor Simpson were all recruited by Roussell, and Morgan Herrick was added to the group two years ago as a transfer.
"As a senior class, foremost we want to congratulate Coach on accepting the head coaching position at Bucknell [University]," the group said in a prepared statement. "We have had an incredible journey the past four years, one that will never be forgotten, and we hope that Coach will have success in his future endeavors at Bucknell."
The University has begun a national search for Roussell's successor.