Logan, meet DoVA: Undergrads share work in open studio night
Fourth-year DoVA majors opened up their Logan Center studio spaces for a night of art, drinking, and conversation.
 Since the opening of the new Logan Center, the Department of Visual Arts (DoVA) has undergone a lot of change. Not only has the move from the small Midway Studios to Logan forced the faculty and artists to lug their gear through the heavy doors, up some stairs, and around a few tight corners—the department has also found itself receiving a bit more attention, or at least bumping into a few more people in the hallway on the way to lunch. Even a few pages on their new Web site look a little unsure of what whirlwind happened, placidly stating, "This copy has yet to be written."
So it was with no presuppositions that I climbed the stairs to DoVA's open studio night on Tuesday. The event allowed students and art lovers alike to explore the ins and outs of a few undergraduate studios and speak with the artists themselves. Located on the second floor of Logan, the small studios have over the year become workspaces (and homes) to the 12 fourth-year visual arts majors.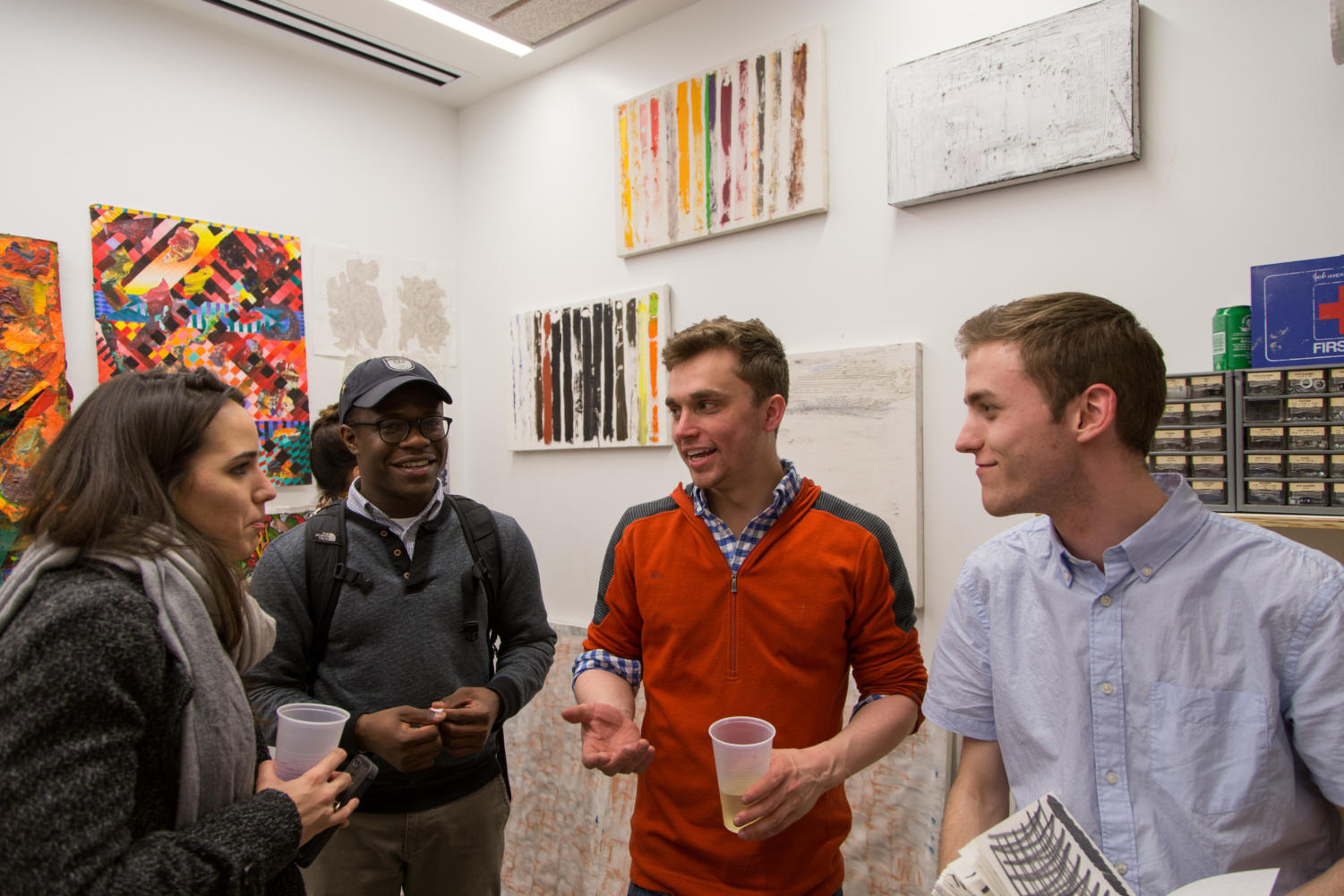 Entering Logan, it seems a bit surreal to move from the sleek glass doors and beautiful lobby to a space where art is actually created, not just displayed. And while the studios undoubtedly had the standard Logan style—white walls meeting cement floors—they also bore both the buzz of human activity and a half-finished feeling that other areas of the building lack. Passing through one studio doorway revealed a floor covered in various unidentifiable spills, upon which sat a five-gallon orange paint bucket filled with ice, a few bottles of wine, and cans of Rolling Rock. Art students, friends, and teachers milled through the small hallway connecting the studios, lounging on broken armchairs and chatting in various languages; this image completed the feeling of having stumbled into an out-of-the-way gallery.
In one of the first studios, I found myself immersed by the works of Zoe Petticord and Zsofi Valyi-Nagy. Valyi-Nagy and Petticord share studio space and an artistic interest in using found photos from sites like Tumblr in their projects. Valyi-Nagy incorporates photos and other media into works that straddle the line between photograph, collage, and painting. In a few pieces, her placement of temporary tattoos of gruesome wounds over pictures that people had uploaded to the Internet created a startling yet absorbing effect. Valyi-Nagy remarked with a bit of a laugh, "When I make art from my soul people say it looks like Tumblr, and when I make art from Tumblr people say it looks like me." However, joking aside, Valyi-Nagy's work deals with the problem of an image-centric culture and its effects on women. Her sometimes otherworldly creations address the problems of society's powerful hold over our self-perceptions.
Further down the hall I found Manuela Londono's studio, a small space filled with a variety of works: a few hanging sculptures from an installation, drawings, and various works incorporating photographs. On the topic of the move from Midway Studios, Londono noted that Midway's intimate studios had "felt like a little home," and that there are "a lot of distractions" in a place like Logan, which houses so many classes and departments. However, she thought the move was ultimately positive; it limited but also created means for new interactions and new creation across disciplines.
Exiting the cramped studio for a bit of air, the music and sounds of conversation faded quickly and left an odd stillness in the hallways—a bit like the sensation you get from plugging your ears at a loud concert. I would be lying to say that the change wasn't a bit disorienting. The studio was a nucleus of light and life in the otherwise still building.