Chicago Manual of Style | Second City chic
StyleChicago.com's fashion show, "The Art of Fashion," shows that local designers succeed when they hone in on the fashions most deliberately their own.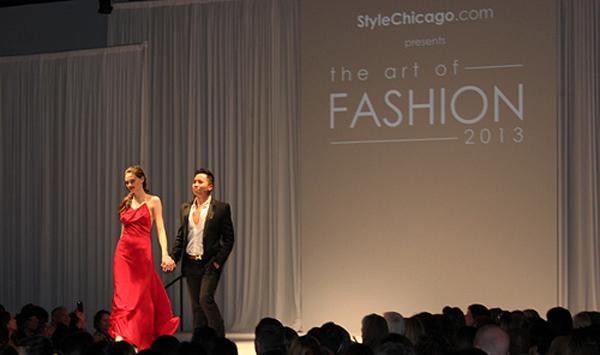 Chicago admittedly does not have a reputation as a global fashion capital. Lacking a garment district and an official fashion week, Chicago style is largely affected by the trends originating from the more fashion-dominant (and dominated) coastal cities. At the "StyleChicago.com: The Art of Fashion" runway show held on Friday night at the Museum of Broadcast Communications, 10 Chicago-based designers showed their Fall/Winter 2013 collections, striving to prove that Chicago has an active fashion scene in its own right.
The designers who were able to best promote Chicago's fashion as unique were those who worked a wholesome, American sportswear quality into their collections. Lagi Nadeau, a relatively new designer, featured several dresses with drop-waists that gave a healthy flounce to her pieces. However, she didn't let her collection be tied to one particular theme, and also showed fitted sheath dresses and skirt suits in metallic brocades. She varied her palette with use of traditional fall colors like black and burgundy along with some unexpected hues such as rose and pale green, with the effect of a diverse collection that wasn't self-consciously trying to be anything but wearable and appealing.
Borris Powell's collection also emphasized shape and movement, with jaunty A-line skirts and swinging trapeze coats, along with some well-crafted lace blouses in soft green. Flared jackets were similarly featured on the runway with SHALINI, and were paired with dresses and blouses characterized by sporty lines running down the front, as well as some subtle inspiration from kimonos. It was, in short, a collection that one could imagine professional women in Chicago wearing on a daily basis. Artful origami folding and kimono shapes characterized the pieces of Calvin Tran's collection, but Tran chooses to promote himself as more of a New York–based designer.
For everyone as exhausted with the peplum trend as I am, Barbara Bates was a cause for a groan. There were dresses with small peplums, dresses with enormous peplums, and altogether an abundance of volume that generally bodes badly for those lacking fashion model proportions. Mark Roscoe also made several attempts at drama with oversized lace sleeves, smatterings of embellishments and huge ruffles, but without the refinement of couture craftsmanship, going for a big statement will inevitably look messy; Swaby faced a similar problem with a collection covered with giant rosettes. A flamenco-inspired red evening gown was supposed to be the standout for MonArrez, but it was difficult to appreciate the effort when we've seen Balenciaga (and recently Ralph Lauren) draw on Spanish inspiration in a more sophisticated way.
If Chicago designers were to try to design for New York, Paris, or Milan, they would probably fail. Even if they have the resources to emulate the fashions of these cities, they're designing for a clientele with a different aesthetic and view on fashion. When I walk through the streets of Chicago, I don't see the Alexander Wang–clad girls of downtown Manhattan or the consciously imperfect and offbeat-cool fashions of Paris. Women are instead opting for practical and quality basics, and when designers such as Lagi Nadeau, Borris Powell, and SHALINI lend enough vision and meticulousness to make these pieces new and relevant, Chicago style becomes a distinct and worthy entity: refreshingly unpretentious, defined by versatility and ease.