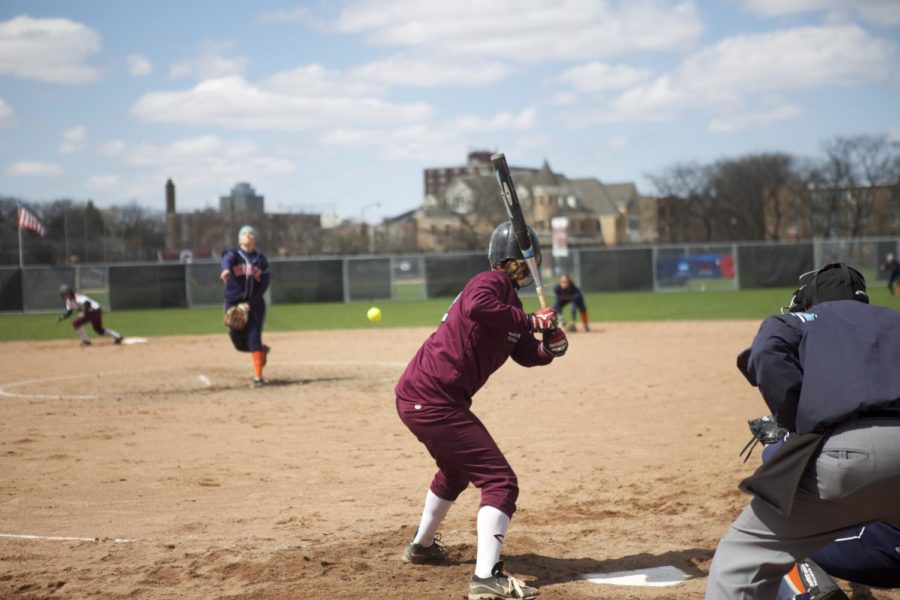 Tiffany Tan
The Maroons had a strikingly average season this year, finishing with a record of 17–15. After a 2012 season in which the South Siders went 26–11, this year was a little disappointing, but the team is already focused on improving for next year.
"Overall, the season did not end up like we had hoped, but we are optimistic about the future and looking to put in the work to turn things around for next year," third-year Maddie McManus said. "We had a great group of girls, and it is unfortunate that we were not able to see the results that we had wanted on the field."
The Maroons packed all 32 of their games into a period of time a little over a month between March 23 and April 30, leaving very little time for rest. They kicked off the year with 12 games in Florida over spring break to help prepare for the coming season. The team came out of that week with a 7–5 record, which they had hoped to improve over time.
The high point of Chicago's season came just after spring break, when the team went on a six-game winning streak. The team finished off their stint in Florida with a 13–0 blowout of Houghton, their biggest win of the year. The streak lasted a week until the second game of the Maroons' doubleheader against No. 14 UW–Whitewater, where they lost 4–5.
It wasn't long, however, until the inconsistency that plagued the team's season got the better of them. The South Siders followed their winning streak with five losses in a row between April 7 and April 20, the lowest point of their season.
It was of little consolation to the Maroons that those five losses were particularly close. In that period, the South Siders lost every game by three runs or less, despite the fact that they limited their opponents to five runs or less in every game. Strong pitching coupled with disappointing offense quickly emerged as one of the major themes of Chicago's season. The Maroons snapped the streak with a 4–0 win over Wheaton at home.
The final stretch of the season was dominated by the weather. In between a string of cancelations and postponements, the team remained inconsistent, holding its record just above .500 thanks to some stingy defense. Just above .500, however, was not good enough to land the Maroons a spot in the postseason.
Missing out on the postseason will be a disappointment to this squad, but the season was not without its highlights. Fourth-year Kim Cygan's no-hitter against Beloit last week was the first of her impressive Chicago career and first-year Kristin Lopez emerged as a powerful offensive force, leading the team in batting average (.382) and picking up 16 RBI.
Cygan is graduating, along with fellow fourth-years Jacqueline Ryan and Vicky Tomaka, opening the door for players like Lopez and first-year pitcher Jordan Poole, who finished the season with a 2.26 ERA in 89.2 total innings, to step up and take on bigger roles on the team.
"We are all very sad to see our seniors leave, as they are all key contributors to our team and amazing players," McManus said.
Of 14 players on this year's roster, 11 will return to the team next year and will be joined by a new crop of first-years. The team's next chance to play will be abroad in Italy and Spain in June, before starting to think about next year's season. As ever, improvement is the message.
"Next season, we are looking to go out there with confidence and work hard to make our team even better," McManus said.