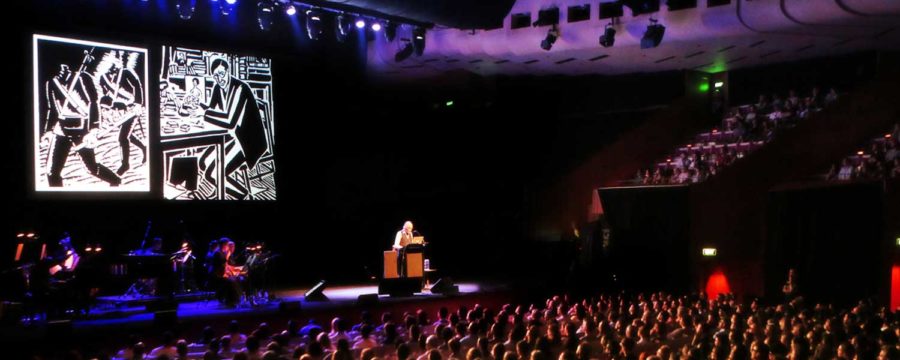 UChicago Arts
Maus author Art Spiegelman presented his new and highly creative multimedia project Wordless! in two showings at the Logan Performance Hall on Saturday. Hailed today as the "father of the graphic novel" (Will Eisner being the grandfather), Spiegelman stood before the Chicago audience "demanding a blood test." The aim of the project was something like a revisionist history designed to extend the long tradition of graphic novels back further than traditionally understood to often-forgotten wordless novels from the early twentieth century. Once considered primarily a cartoonist, Spiegelman's Wikipedia page now additionally calls him a "comics advocate," a good term for his role in Wordless! Not quite boring enough to be a scholar but too creatively involved to be a moderator, Spiegelman took the audience inside the forgotten world of early graphic novels, brought to life by original musical accompaniment.
Spiegelman made history with his two-volume Maus, the highly original graphic novel that grapples with his Polish-Jewish parents' imprisonment at Auschwitz by depicting Jews as mice and Nazi Germans as cats. Maus became the first graphic novel to win the Pulitzer Prize in 1992. Born to two Holocaust refugees in Stockholm in 1948, Spiegelman was raised in Queens, New York, where he discovered comic books such as Mad and soon began creating them himself. "I studied Mad the way some kids studied the Talmud," he quipped. "The Grand Theft Auto of their day," Spiegelman said of comics in his 1950s childhood. Comics were feared as a genre that would corrupt children and even prompted public comic burnings across the country. But before this, comics offered serious social commentary and were targeted largely to adult readers.
In the style of your typical "fast-talking New Yorker," Spiegelman provided commentary to half a dozen wordless graphic novels with original musical accompaniment composed by the critically acclaimed Phillip Johnston and performed by a six-part jazz ensemble, including Johnston himself on soprano saxophone. The band adapted to the settings of the various graphic narratives.  For the humorous works of the early British cartoonist H.M. Bateman, shrieks from a cup-muted trombone pierced the room with a hearty cackling, and cacophonous riffs transported the audience into a bustling city street in the 1930s. Jazz melodies accompanied the epic storylines of works by Lynd Ward and Otto Nückel; offbeat tunes reminiscent of Eastern-European-Jewish klezmer music brought the audience into the old-world cityscapes depicted by Frans Masereel; and eerie piano chords brought to life the suffering of Si Lewen's graphic narrative of his time as a prisoner in Buchenwald.
In his commentary, Spiegelman distilled the history of the graphic novel and his own engagement with the genre to a series of questions about time and space, two aspects that differentiate comics from visual art and literature. Spiegelman drew from the German philosopher Gotthold Lessing's influential essay "Laocoon: An Essay on the Limits of Painting and Poetry," which Spiegelman said "condemned comics as a vulgar abomination before they were even invented." Against a long tradition of aesthetics going back to Horace and Aristotle that drew connections between poetry and visual art, Lessing argued that each has its own character and should be considered on different grounds. Poetry is experienced linearly, in time, and thus allows for the compiling of multiple nuanced descriptions; visual art on the other hand, strikes one all at once but has the added dimension of space.
By blurring time and space, Spiegelman defended graphic narratives as a "no-man's land" between the two that generates an aesthetic experience of its own. Spiegelman illustrated this with an original work entitled "Shaping Thought!" in which words in speech bubbles from various comics are replaced with shapes that stand in for thoughts and become their own language. He remarked that this work illustrates for him that "wordless novels do have words, they just take place in your head," taking as an example the expletive %$#! widely used in comics. Wordless! enacts in real time the mental "battle between words and pictures" that takes place in reading all graphic narratives and in so doing "smashes at the hyphen between high and low Art," Spiegelman said.
Spiegelman's last major appearance at the University was at the May 2012 conference What the %$#! Happened to Comics?, which brought together scholars and cartoonists from across the country, including Robert Crumb and Françoise Mouly, the art editor of The New Yorker and Spiegelman's wife. Both of Spiegelman's appearances are connected to the work of English professor Hillary Chute, who specializes in graphic narratives. She organized the conference and edited MetaMaus, a volume that recounts archival materials from the making of Maus and won the National Jewish Book Award for best biography, autobiography, or memoir in 2011.
Spiegelman and Johnston's Wordless! was originally commissioned by the Sydney Opera House and premiered in the U.S. one week prior at New York's Brooklyn Academy of Music.