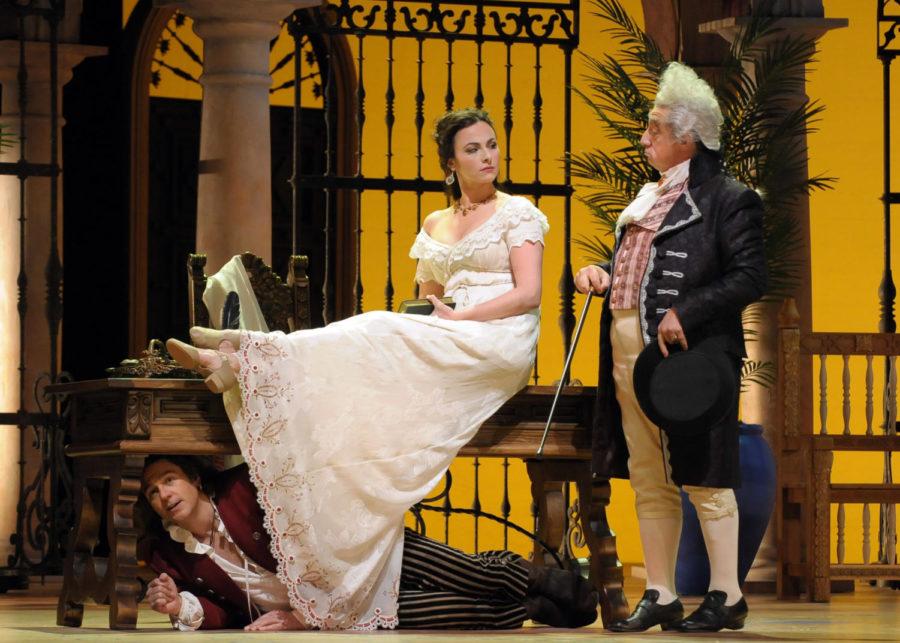 Dan Rest
Onstage at the Lyric Opera, Rossini's Il barbiere di Siviglia (The Barber of Seville) is a riot and a half, with gorgeous sets, strong comedic writing, and some of the cleverest music ever composed. Why not take your sweetheart to see a rom-com this Valentine's Day?
As far as musical barbers go, Figaro (Nathan Gunn) is no Sweeney Todd. Rossini's crafty coiffeur plays matchmaker, not murderer. Throughout the opera, he works tirelessly to set his master up with the lovely Rosina (Isabel Leonard). But Bartolo (Alessandro Corbelli), her conniving guardian, has other plans: He plots to marry Rosina for himself and keep her considerable dowry.
The curtain opens to reveal a poor student serenading Rosina under her window. Count Almaviva (Alek Schrader) has disguised himself to woo her: He wants her to love him for himself and not his money. Running out of ideas, he asks Figaro, the city busybody, to help out and promises rich rewards. Figaro outlines two plans to sneak Almaviva into Bartolo's house. The first, a drunk soldier disguise, fails horribly and the Count narrowly avoids arrest. The second, a substitute music teacher disguise, confirms Bartolo's suspicions. He sends for a notary to draw up the marriage contract and locks Rosina in the attic to keep her eligible. Figaro and Almaviva enter by ladder through the window. Bartolo barges in on the shotgun wedding, but he is too late. The newlyweds pacify him by letting him keep Rosina's dowry—a happy ending.
Rossini's music plays (pardon the pun) a key part in the opera's comedy. High energy and crackling with wit, its enthusiasm is contagious.  Barber's music is perhaps best known from Looney Tunes' irreverent spoof The Rabbit of Seville, which sets the Bugs-Elmer feud over the overture to the opera. As a tribute to Rossini's masterful comedic timing, his original music is left largely intact. Busy strings buzz with energy under lyrical winds; brasses add pizzazz as the orchestra roars to a frenzy. The overture is just a taste of the riot to come.
Rossini gives most of the fun to his singers, as Il barbiere di Siviglia abounds with show-stopping arias and vocal fireworks. Who could forget Figaro's famous "Largo al factotum" ("Make way for the factotum") from Act I? Sung by the villainous baritone in Looney Tunes' The Long-Haired Hare (Chuck Jones clearly had a thing for Rossini), the aria is notorious for its supersonic patter and the line FIGARO-FIGARO-FIGARO-FIGARO-FIGARO-FIGARO-FIGARO-FIGARO-FIGARO-FIGARO. The challenge lies in balancing breakneck speed and bel canto lyricism. Without smoothness in the melodic line, Figaro risks choppiness; sing "Largo" largo and it gets boring. As the first thing he sings, the aria largely defines Figaro's character for the rest of the opera. The key is to know when to play it up and when to be subtle: consistent idiocy gets old quick. As if that weren't enough, Rossini throws in a devilish A4 as the ultimate test—only the best-endowed baritones dare stick it up so high.
Rosina's cavatina "Una voce poco fa" ("A little voice a while ago") is another fan favorite. The melody is absolutely delectable, sweeter than syrup and a touch flirty. Rossini gives the soprano a chance to show off her coloratura—the agile, silvery component to her voice—with a myriad of runs and trills in the finale. Great performers take a step beyond and add their own ornamentation, throwing in gorgeous high notes and extensive counter-melodies. As a character, Rosina needs to serve so-sweet-you'd-fall-for-her, girl-next-door realness. Isabel Leonard definitely looks the part: cute as a button, with girlish grace to match.
A final word is appropriate. It is often said—by whom is up for debate—that "great artists steal." And Rossini was a kleptomaniac composer if there ever was one. In a frenzy of musical autophagy, he stole compulsively from himself. The melody from "Una voce poco fa," written in 1775, appears again in his 1817 opera La cenerentola (Cinderella): a tune so nice he used it twice.