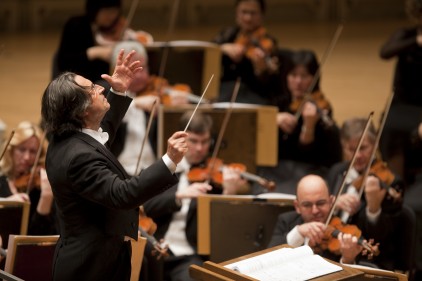 Todd Rosenberg
The great thing about birthdays is that they keep coming long after you're dead. So it is with Schubert. The composer turned an ancient 217 this past January. Around this time of year the fandom pays homage to his brief but prolific life. We remember Schubert best for his legion of lieder, or German art songs—over 600 in total. Through them, we come to experience his tremendous melodic genius and clarity. Both carry over to his larger-scale works, including the compelling Mass No. 5 in A flat major.
We start by considering the Schubertian lied. Poetry set to music, pure and simple. The poem may be long or short, stand-alone or one in a cycle: It is always scored for voice with piano. Unlike sonatas and other forms of "absolute" music, lieder actively tell a story or describe an image through sound. Two weeks ago, I went to hear baritone Matthias Goerne and pianist Christoph Eschenbach perform Die Schöne Müllerin (The Lovely Mill-Maid) with the Chicago Symphony Orchestra. The song cycle follows a young man's ill-fated love for his boss's beautiful daughter through joy, unrest, and betrayal.  Goerne and Eschenbach deliver a clean, convincing recital. The key to performing Schubert's lieder lies in creating a private atmosphere. To convey emotion the singer must connect personally, and Goerne sings directly to you. Eschenbach plays beautifully as well, but fails to achieve complete unity with Goerne. Unity between singer and pianist is essential to delivering that seamless, intimate sound.
Now split the soloist into four and the piano into full orchestra and choir, and we're ready for Schubert's large-scale choral works. The crisp beauty in a single melodic line multiplies to become intense, powerful expression in the A-flat major Mass. Listen to each section of the performing force individually and together: Notice how Schubert underscores punchy choral writing with vigorous strings? This rhythmic drive lends energy to the music and pushes it forward. Or how the orchestra copies melodies sung by soloists or the choir? Doubling provides crucial support and makes for a richer, fuller sound. Following the traditional liturgy, the mass contains six movements. The second, Gloria, features one of my favorite moments in the piece. A choral fugue based on the words "cum Sancto Spiritu" ("with the Holy Spirit") builds with unrelenting energy to an exultant "Amen." Each voice in a fugue (soprano, alto, tenor, bass) sings independently with equal importance, passing around a common melodic motif. The challenge—and the fun—is to listen to all four voices and the orchestra simultaneously, keeping track of their individual lines and relationships with each other. It's harder than it sounds.
Muti Conducts Schubert Mass runs at the Chicago Symphony Orchestra through February 8.