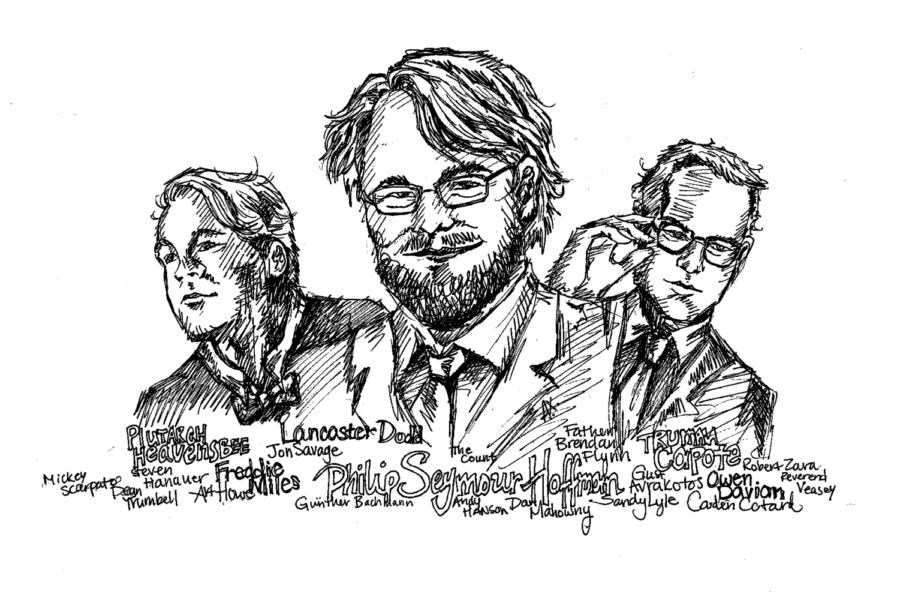 Alice Xiao
Media coverage of a celebrity death tends to break the celebrity fairly cleanly into his constituent parts: on one side, his life, up to and including his death, and on the other, his work. Neither the constant scandals nor the benzos in Michael Jackson's system will make us listen to "Billie Jean" any differently. For all the glamour of her personal life and all the mystery surrounding her drowning, we take Natalie Wood's performance in West Side Story pretty much at face value. If the public has a harder time separating Philip Seymour Hoffman's death from his work it may be because his actual self—the overdose victim who built his career on incredible self-control—seems like a part Hoffman could have played in front of a camera very well.
In his early years, Hoffman stole scenes and arguably whole movies, all while playing generally low-status characters. From the boom operator in Boogie Nights to the butler in The Big Lebowski to the home hospice nurse in Magnolia, every one of his early roles suggested that the actor needed greater challenges. Much has been made, justifiably, of the enormous role Hoffman's voice played in his acting, and it is hard to believe that the man would have had such an impact in this period of his career without the slurs and stutters and tics that betrayed his characters' frustrations in every line. The tension never failed to boil over, and there was a special kind of guilty gut-laugh that these characters could induce when their impossible attempts at love, respect, or simple control sputtered out into verbal flailing. The painfully awkward pass Hoffman's character makes at Mark Wahlberg's character in Boogie Nights deserves particular recognition in this area.
Once he got the opportunity to star, this sense of transparency that Hoffman worked to such successful comedic effect in his side characters transformed seamlessly into some of the best tragic performances of 21st century film so far. Capote, Doubt, and The Master are the first that come to mind. These were the "great men" of Hoffman's career. These three characters were meticulously kept, and each spoke incredibly carefully. The fact that Hoffman's characters no longer had speech impediments did not mean their desperation wasn't audible, though.
Through the cult leader's utopian bluster in The Master and the priest's aggressive familiarity in Doubt, only Hoffman could weave in the subtle cruelty or self-hate that leaks into their lines. Watch Father Flynn toy with Meryl Streep's nun over tea or "Master" Dodd try to keep from falling apart when confronted by a skeptic. You want to believe their principles, but they can't even convince themselves. Hoffman always maintained a special mastery over the realm of the pathetic, and what set his later performances apart was not that he exposed those larger-than-life figures as alcoholics and sexual sadists and whatever Truman Capote was, but that he revealed them to be scared and unconvinced by their own pretensions. It was the careful blend of fragile charisma and charismatic fragility that cultivated the kind of personal connection viewers felt toward the character and the actor.
Which brings us to the death. As with any premature celebrity death, especially one apparently related to drugs, the media's perverse attention to detail in the case (the number of envelopes in the apartment, the amount of cash taken out of the ATM) is as predictable as it is appalling. But many fans are focusing on one detail in particular: Hoffman's repeated confession that he knew drugs could and very likely would be the end of him. Denial seems terrifyingly absent in Hoffman's approach to his addiction, and his frank recognition of his own helplessness is disturbing precisely because it fits into Hoffman's personality as we thought we knew it.
Although finding any kind of lesson in a death like this is more an exercise in projection than analysis, the effect that Hoffman's death had on his audience is real, and it is important to understand why this death is particularly painful. It could mean that we have to reevaluate how we relate to Hoffman's performances and the hilarious, horrifying, fascinating examples of humanity he showed us. Understanding your compulsion is not enough. After 60-odd films and decades spent demonstrating that we could capture and control our self-destructive drives, Philip Seymour Hoffman could not let us believe it.