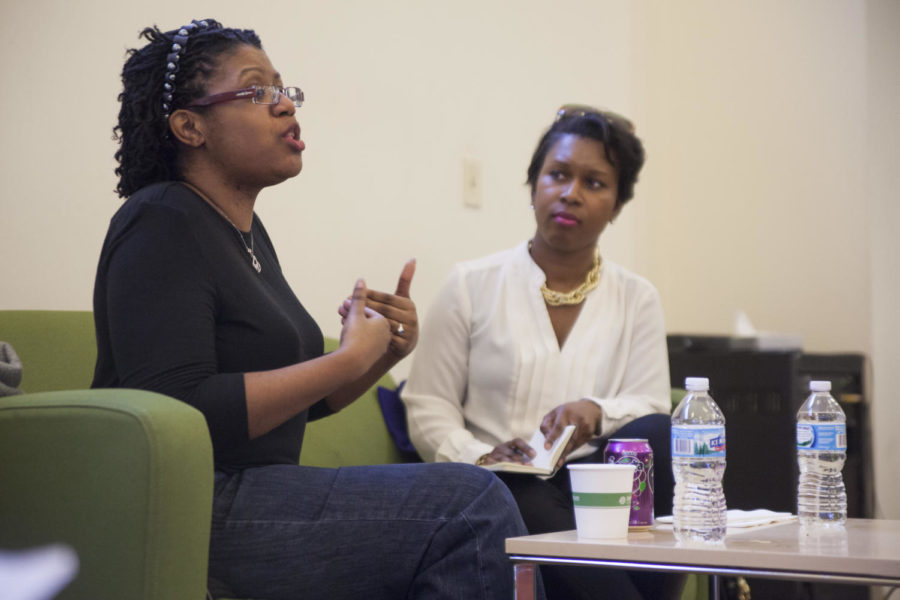 Sydney Combs
Writer Mikki Kendall and ethnomusicology Ph.D. candidate Alisha Lola Jones discussed issues surrounding women, race, and social media in a panel discussion and conversation entitled, "Is Solidarity Just for White Women? A Community Conversation on the Role of Women of Color in the Feminist Movement" at the Office of Multicultural Student Affairs (OMSA) yesterday.
Both panelists have backgrounds in social media as well as race and women's issues. Mikki Kendall is a writer and public speaker who co-founded the website Hood Feminism and coined the hashtags #solidarityisforwhitewomen and #fasttailedgirls. Alisha Lola Jones is a Residential Fellow at the Center  for the Study of Race, Politics, and Culture and a Ph.D. candidate in ethnomusicology.
To begin the discussion, Kendall explained the origin of her hashtag #solidarityisforwhitewomen, which she first used in August in defense of another friend on Twitter.
"#solidarityisforwhitewomen was a hashtag.  It was not intended to be a definitive discussion of race and feminism and whatever…. We have to remember it started out of a place, yes of anger, but also out of protection," she said.
Throughout the conversation Kendall and Jones discussed the definition and implications of solidarity, the history of Chicago as well as their experiences in Hyde Park, and visibility and insults that come with their work. They both touched on their personal experiences, ranging from Kendall's service in the military to Jones' social experiments on Twitter.
Kendall, who also frequently uses Twitter, discussed her experience as a black female on Twitter, where she receives many insults and threats. She described how she once changed her profile photo to a picture of a white male friend, leaving her name and handle the same.
"I didn't get any of the overnight slurs from my retweets. I didn't get called any names…. It was actually sort of jarring, because I didn't realize how much I had gotten used to a volume of ignorance," she said.
Kendall and Jones also focused on the power of social media in connecting people who need community. Kendall emphasized its accessibility and empowering effect, stressing the ideas that social media allows people to speak for themselves and connect to larger audiences.
"I promise you 99 percent of people do not need to let you speak for them. They need you to give them a way to speak for themselves and be heard," she said.
On a local level Kendall discussed her thoughts on the relationships of University students to the neighborhood community, in which she was born and raised. She criticized the expansion of the University of Chicago Police Department and the attitude of some students towards black residents.
"We are home; this is home. I walked to that lake since I was little, I went to these schools, I played in these parks, and so when you have that moment when you pause and you maybe look at someone walking, they're at home," she said.