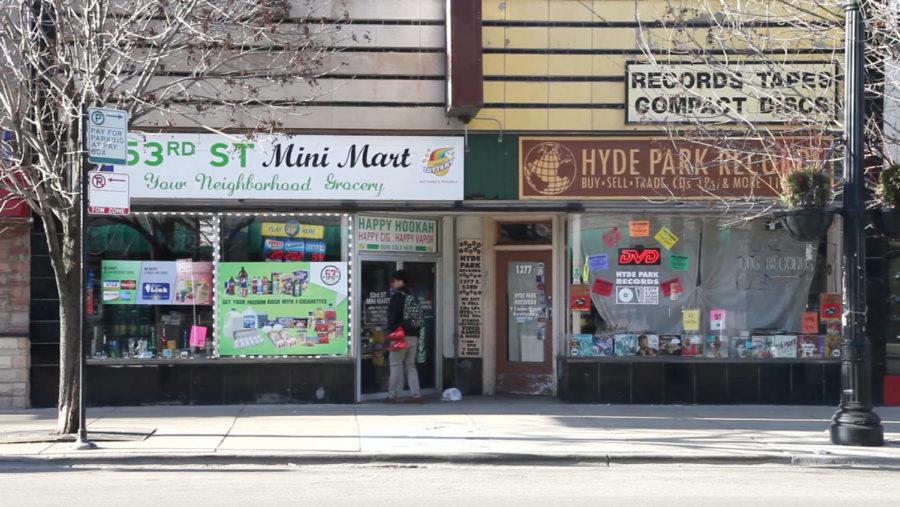 Dove Barbanel
The opening of the Harper Court redevelopment, undertaken by the University of Chicago and opened in November 2013, has brought unprecedented change to the 53rd Street commercial landscape. For a price tag of more than $106 million, 20 new tenants have moved into 518,000 square feet of space. This change has affected and continues to affect 53rd Street businesses in various ways.
The Harper Court project broke ground in 2011 as a response to requests from city officials for assistance in revitalizing the commercial district on 53rd Street. Businesses were recruited by the University based on student surveys and community input, said Calmetta Coleman, communications director at the Office of Civic Engagement.
"[Our focus has been] to build up a kind of area that would have those kinds of amenities that the community wants, that would be beneficial to faculty and students in terms of having things available and convenient," Coleman said. "In the process, we've also been able to help open a number of new locally owned businesses, in addition to having a mix of long-term establishments on the street."
The state of long-standing small businesses
Several of the "long-term establishments" on 53rd Street suggest that the Harper Court project has injured their businesses.
"A big corporation like the University of Chicago should extend some more kindness to the small business community, to the people who are trying to survive in a harsh economy already," said Sekou Tafari, owner of Frontline Books on 52nd and Harper Avenue.
Frontline had an issue with the development early on, when a fence installed for the construction blocked access to the store from August 2011 until June 2013. According to Tafari, representatives from the University met with him before the installation to reassure him. "They said it wouldn't impact us at all," he said. Tafari claims that his revenue declined from $200 or $300 a day to as low as $18 a day during the construction, and that the University did not offer any compensation for the lost income.
Compensation is a significant issue for Laurel Stratford, the owner of international gift and household accessories store What the Traveler Saw. The University asked her to relocate her business from 53rd Street to 55th and Harper Avenue. when the development was being planned, and she moved her store in 2009. When asked about the difference in rent prices between the two locations, she said her affordable rent on 55th street was due to the "generosity of the University." However, Stratford is shutting down her store this June due to the financial troubles that emerged from a sharp decrease in business.
"[Moving off 53rd Street] changed my business platform considerably. I had no walk-by traffic to speak of," she said. "Overall it has been a down-spiral since I moved here."
Opportunities for growth and expansion
Some Hyde Park business owners, such as Dr. Tom Wake, co-founder and medical director of the Hyde Park Animal Hospital, have found new business opportunities as a result of the redevelopment.
The animal hospital had been located in Harper Court's predecessor since 1965, but the University asked Wake to move in 2010, he said. They negotiated a buyout of the remainder of the lease, but the new storefront agreed upon was too small to serve the hospital's needs. "It certainly was traumatic," Wake said. The business bought a new parcel of land in the South Shore neighborhood at 69th and Stony Island and built a new hospital, while maintaining its storefront as a clinic in Hyde Park. Wake said that having two locations has been positive for his business overall.
Jim Hennessy, the associate vice president for Commercial Real Estate Operations at the University, assisted him in looking for a new facility, he said. "Mr. Hennessy was way beyond kind and helpful in his attempts to help us solve our problem [of relocating]," Wake said, though the new hospital was ultimately built in South Shore.
On the other side of 53rd Street, Kilwin's Chocolates and Fudge opened its doors in December 2012 after the owners, Jacqueline Jackson and Kenneth Faulkner, were recruited by the University to open a new storefront in Harper Court in addition to their store in Old Town. According to Jackson, the success of the new store overwhelmed the revenue of the other location, which they decided to close in 2013.
"We live in the community and we were very excited about the 53rd Street development and wanted to be a part of it," Jackson said. "[The University was] very instrumental in helping us get the dollars to make this a reality." Faulkner added that the University provided compensation for the renovations necessary to convert what had been a visual arts studio into a chocolate shop.
Sir & Madame, a high-end boutique offering eclectic vintage styles, is another store that was recruited to the area by the University, opening six months ago as a temporary pop-up store. The owners, residents of Hyde Park, said that due to the success of their store they are now looking to permanently keep their commercial roots in the neighborhood.
University efforts to engage the community
The University would not disclose the ways in which it has supported specific businesses with rent, but last month it launched UChicago Local, an initiative aimed at supporting small businesses across the South Side through workshops, forums, and connections to University procurement personnel, who arrange the purchase of goods and services for the University from local businesses.
"We recognize that we are a major institution on the South Side and in the city as a whole. As such we yield a certain amount of power just by virtue of our size," University spokesperson Steve Kloehn said. "[UChicago Local] is an attempt to say, how can we use our purchasing power and our organizing power to help businesses in the immediate vicinity of the University?" He emphasized that the initiative is not related to issues raised by the 53rd Street development, but open to businesses from specific zip codes across the South Side.
UChicago Local hosted its first programming initiative, a pilot workshop on topics ranging from hiring practices to strategic planning, over three sessions on March 18, April 1, and April 8. The program was led by Next Street, a for-profit business that provides advisory services for small businesses. It was attended by 10 local businesses, including Kimbark Beverage Shoppe and Zberry, who were selected by a group of University representatives from UChicago Local and procurement after a short application process.
Jonathan Swain, owner of Kimbark Beverage Shoppe, heard about the program from the Office of Civic Engagement, he said, after inquiring about additional opportunities to do business with the University. "The program indicated that the University has a strong desire to do business with local business owners, that they're making that a priority," he said.
This initiative is in addition to the South Side Business Development Program of the Office of Business Diversity, which holds a series of free programs geared toward assisting women- and minority-owned businesses ranging in topics from "Doing Business with the University of Chicago" to "Marketing Your Business Using Social Media."
Several of the business owners with whom the Maroon spoke were unaware of UChicago Local, but they pointed to Harper Court as a great opportunity for the Hyde Park economy.
"There is that opportunity for new businesses to come in all the time, [those] who can afford to move into those spaces," said Hyde Park Chamber of Commerce Executive Director Wallace Goode. "The question is, are some of the small businesses that are currently there—can they afford to stay in those spaces?"
"I think it would be wonderful if the University would step up and support the community," Stratford said. "I'm at a place where I am leaving the business and I'd like to see things going forward. If this initiative is going to do that for small businesses, I'm going to be a little jealous it didn't happen in the 10 years I was struggling here."
"The community exists because the University exists because the community exists," she said.