Old band, new marketing strategy: U2 embraces the future
As if people needed another reason to hate Bono…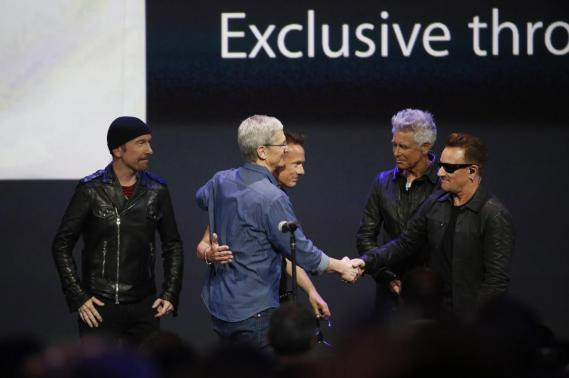 In an age where a common complaint is the price we have to pay for our music ($1.29 for a new release), most have turned to other, non-Apple sites such as YouTube or Spotify for their music needs. And when so much music is available for free already, few feel the need to actually purchase music conventionally from iTunes. Cashing in on the new trend of online radios like Pandora, iTunes has begun changing its marketing campaign by introducing iTunes Radio with newer updates. In addition, more recently, Apple decided to experiment with a new form of viral marketing: providing free albums, and directly downloading them onto their customer's iPhones, iPads, and iPods.
However, when Apple CEO Timothy Cook decided to provide free music by releasing U2's new album, Songs of Innocence, to the public, the response was far from positive. One would imagine that in our capitalistic society, the term "free" would be met with nothing short of cheers. Defying expectations, the September 9trelease, referred to as a "hipster tsunami of whinging" by British critic Neil McCormick, forced Apple to come up with tools that could be used to remove the album from people's phones.
Many violently rushed to Twitter and other forms of social media to inquire about the new songs that had "magically" appeared in their music libraries. It was viewed as an intrusion; someone even created whoisU2.com to document the series of negative reactions. Who is Bono? Who is U2? Why should we care? Unfortunately, despite being recognized as one of the most iconic bands of all time, U2 no longer resonates with the world's youth, which seems to prefer the work of Maroon 5, Iggy Azalea, and Ariana Grande, all of whom produce new hits by the ton. These newer acts are significantly more popular and more widely accepted by Apple's largest demographic: children to young adults. Regrettably, for many, U2 has been tucked away with other formerly popular bands like the Ramones or the Who, to be revived only by true fans and on reruns of Ross-and-Rachel episodes of Friends.
Despite being inspired by William Blake's iconic collection of poems Songs of Innocence and of Experience, U2's album didn't get the best reviews. This was the Irish band's 13th studio album, following its disappointing No Line on the Horizon 2009 release, and has received a similar response from critics. The album was downloaded on 26 million phones, but surprisingly, 81 million actually listened to at least part of the album—whether because it appeared on their iTunes Radio sequences or because they had actually intended to find out more about the band's music. Only one in 20 actually downloaded the entire album and listened to it.
Even if it seems popular to hate on U2 and its lead singer Bono, the songs they have recently released display a significant level of emotional depth, similar to their popular songs "Mysterious Ways" and "One" from the 1991 album Achtung Baby, and "With or Without You" from 1988's Rattle and Hum. The Songs of Innocence song "Iris (Hold Me Close)" reflects on the death of Bono's mother when he was only 14, illustrating the impact that the event still has on his life so many years later with lyrics like, "The ache in my heart/ is so much a part of who I am." "Volcano" and "Raised by Wolves" have more of the rock undertones that the band was appreciated for in Achtung Baby. In a world where music is becoming increasingly electronic and fabricated by machines, U2's album adds dimension to all of our iPhone libraries, bringing us back to what could be considered the good ol' days of music.
The album probably would have received better reviews had it not been prone to so much international backlash from listeners who hated losing storage on their phones. Cook felt that the marketing campaign was worth $100 million and stands behind his decision despite the backlash, considering it to be the "largest album release of all time." Likewise, the band is pleased, praising Apple for supporting musicians and the pay they need in a world where we are all finding alternative means to get free music.
Apple is planning on releasing a deluxe physical version featuring 10 bonus tracks on October 14. Maybe this trend toward releasing free music will continue, increasing the variety of the musical genres people listen to. With the new technology available to remove the songs, there is no reason for people to not leave their comfort zones and indulge in "free" music for a few minutes.