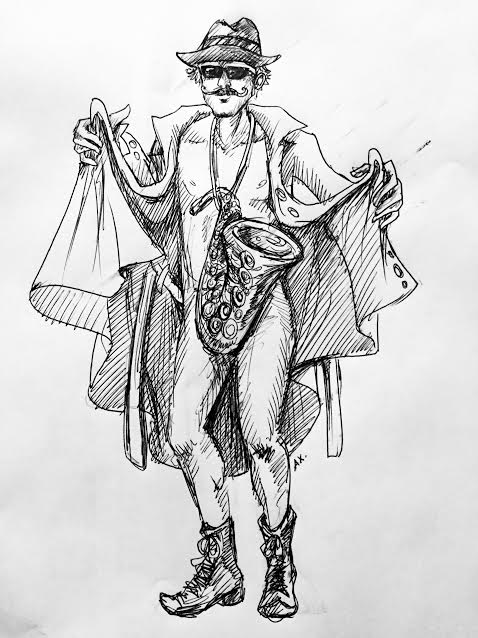 Alice Xiao
My musical career began relatively benignly: like so many disenfranchised young men in the ska-happy days of the late '90s, I took up the alto saxophone. I played a few bar gigs around the Upper Peninsula, applying my own plaintive wails to the greasy runs of Clarence Clemons and Tim Cappello. I was never very good, but then, as Brennan Andes of the Macpodz once told me, the saxophone is an instrument that "gets better the worse you are." This is true.
And then, near the end of that dark winter of 2012, I decided that it was time to use my nefarious skills for good: specifically, the good of keeping our campus weird. It's a noble cause. According to The Maroon, at least, circa 2010 "parts of our community have grown worried that the U of C's unique culture is being diluted by changes in University policy." They were referring to the proliferation of the Common App, then, but they might've been right. Already cargo shorts were beginning to go extinct; Humans vs. Zombies devotees were starting to get on people's nerves.
So I donned a pair of borrowed latex chaps, put on a pair of pink sunglasses, and headed to the BSLC, where I proceeded to serenade a biology lecture with a loving tribute to George Michael's 1984 classic, "Careless Whisper." Not particularly original, but remember: this act was not committed during Scav, that one, University-sanctioned week in which we're kind of allowed to cut loose. It was committed during Reading Period. I then did the same in Harper Memorial and Mansueto Library. A drop in the bucket, maybe, but a guy I met in the bathroom afterward did say he appreciated the music. Mission accomplished.
Two days later I received my disciplinary summons—the members of the UChicago Administration are no great appreciators of George Michael, or of partial nudity in their facilities. What followed was one of the most uncomfortable disciplinary meetings of my young life. Difficult questions were asked: "What song did you play?", the stone-faced Associate Dean wanted to know as though it were crucial to my fate. "And are you good at playing the saxophone?" I told her I was not. All of this is contained in a file in the Mezzanine of Harper Memorial Library, where it will remain for the rest of my natural life.
And so, rightfully chastened by the administration, I was forced to hang up my latex chaps, put on my shirt, and never again appear on University property with a saxophone, under threat of expulsion. My sax now gathers dust beside my futon, along with my commemorative "Keep UChicago Weird" t-shirt and fake Dean Boyer moustache. However quirky and awkward I might've been, the truth is that my spirit just isn't in it anymore. I study in the Reg now. I eat at Z and H. I go to Bar Night. I wear boat shoes. I think it's for the best.