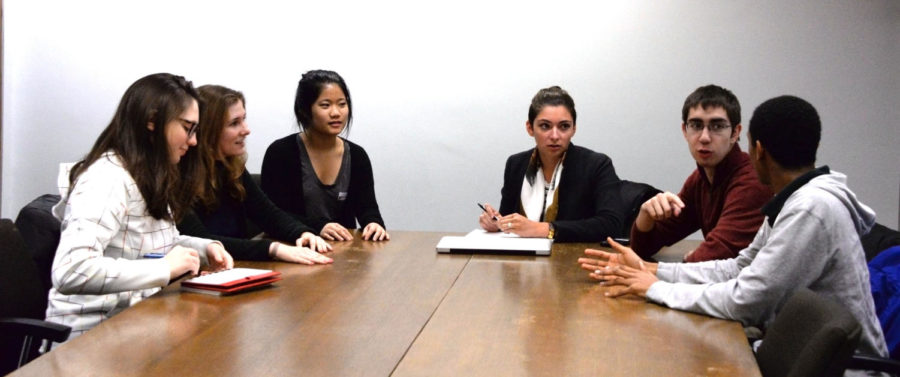 Xueqi Zhang
A student group that supports women in STEM fields, Females Excelling More in Math, Engineering, and Science (FEMMES), has twice been denied RSO status. The group was first denied status on November 19, 2014 and after appealing was again denied on December 4, 2014.
After consideration with members from CORSO (Committee on Recognized Student Organizations) and the Center for Leadership and Involvement (CLI), CLI Director Sarah Cunningham made the final decision. The group is still working alongside the University of Chicago's Office of Special Programs and the computer science department to plan events for the year.
Fourth-year Sarah Li and third-years Megan Renshaw, Emilee Urbanek, and Alice Chang established FEMMES at the University in late spring of 2014. According to FEMMES Marketing Director Morgane Richer La Flèche, the organization encourages young women to help bridge the gender gap in technology through mentorship and first hand experience at daylong FEMMES technology workshops.
"We want to get girls involved in computer science at a young age to encourage more women to pursue technology in college and beyond," Richer La Flèche said.
FEMMES' capstone event's budget sits at $5,000, which will be used to provide supplies, technology, and food for workshops. They currently receive funding from eSpark Learning, Stroz Friedberg, Orbitz, and Jane Street. CORSO and the CLI decided that the group does not need status to organize its events and that the budget would be too expensive to fund.
CORSO, the CLI, and a Student Government (SG) committee provide input on groups that would like to receive RSO status. Third-year SG representative and former CORSO member Mark Sands declined to comment about FEMMES' denial of status, but said that numerous factors are taken into account when determining which groups are eligible for status.
"Some of them include whether the group seems like it would be viable in the long term—including realistic financial expectations and ideas for recruiting more students into the organization—and whether there are currently similar RSOs, and liability concerns," Sands wrote in an e-mail.
Cunningham also declined to comment about her decision to deny FEMMES status, but said the University offers other ways of supporting student-led organizations.
"UChicago is unique in that students have a variety of resources they can tap into to support program or lecture ideas on campus. Becoming an RSO is just one resource, as are funds such as the Deans Fund for Student Life, the Uncommon Fund and the Campus Dialogue Fund. The ideal new RSO is one that proposes a sustainable model for success over time, rather than being organized around a one-time program. Single events or programs may be best supported by the funds or other alternative resources," Cunningham said.
All budding RSOs must first submit an application through Blueprint to be reviewed by CORSO. Each group must give a short presentation and answer questions about its mission and funding. CORSO, which consists of four students and a chair, then votes on a recommendation that is given to Cunningham. Cunningham takes this recommendation and opinions from SG into account, but ultimately determines alone whether if the group obtains RSO status, and makes the final decisions on any appeals.
If the group obtains RSO status, the Student Government Finance Committee (SFGC) and Annual Allocation funds its events, with the exception of sports clubs and community service RSOs. SFGC funds events that are organized throughout the quarter and annual allocation is used for yearly events.
Richer La Flèche says that FEMMES would still like to have RSO status. "We value RSO status because it gives us access to University advising and space. As an official student organization, it would be easier for us to sustain future workshops and reach a wider audience. As we have shown through our fundraising efforts, we always believed that it was important for us to be self-sustaining," Richer La Flèche said.
In the meantime, FEMMES plans on hosting quarterly events. Their first event is the UChicago FEMMES Code Camp, which will be held on February 28. More than 150 middle school girls have been invited to attend the event, which features a keynote address by Chicago Regional Program Manager for code.org Jenna Suarez, followed by a full day of computer science workshops.