For sale: the heart and soul of the house system
The University's impending sale of some of the satellite dorms will put an end to years of house culture
Last week, the University announced the impending sale of Blackstone, Broadview, and Maclean residence halls. This follows last April's announcement that these buildings, along with Breckinridge and New Grad, will be closed upon the opening of Campus North. This decision, which was made without any consultation with or consideration for affected students, is a great loss for the UChicago community and heralds the rise of a new era of homogeneity in student housing. The sale of these buildings, and the closing of satellite dorms generally, deprive students of a true diversity of housing options and erases the unique cultures that have developed in these houses.
Satellite dorms appeal to students who may be overwhelmed by the large house sizes and the idea of constant contact with others found in larger dorms. They appeal to students who desire to easily leave Hyde Park and enjoy the city of Chicago. They appeal to students who appreciate large kitchens or unusual features such as Broadview's grand ballroom or Maclean's rich history as a former sanatorium. These satellite dorms offer ample privacy, independence, and history in a way other buildings do not. But after this year, these options will not be available. In the name of parity, students will instead be presented with far fewer and increasingly similar choices for where to live.
The closing of these dorms also is a death knell for the unique communities that have developed in these houses. While it is true that these communities are ultimately composed only of people, the physical buildings shape both the character of residents and the practices of the community. Housing choices ultimately represent student's ideas about how they wish to live. These ideas shape how students interact with each other and what sort of community they create. A community that enjoys the calm of Blackstone's isolated suites necessarily has a different culture than one that enjoys the centralized and spatially integrated common spaces of North. These effects are particularly pronounced at the house level in single house dorms, where house composition directly reflects student preferences.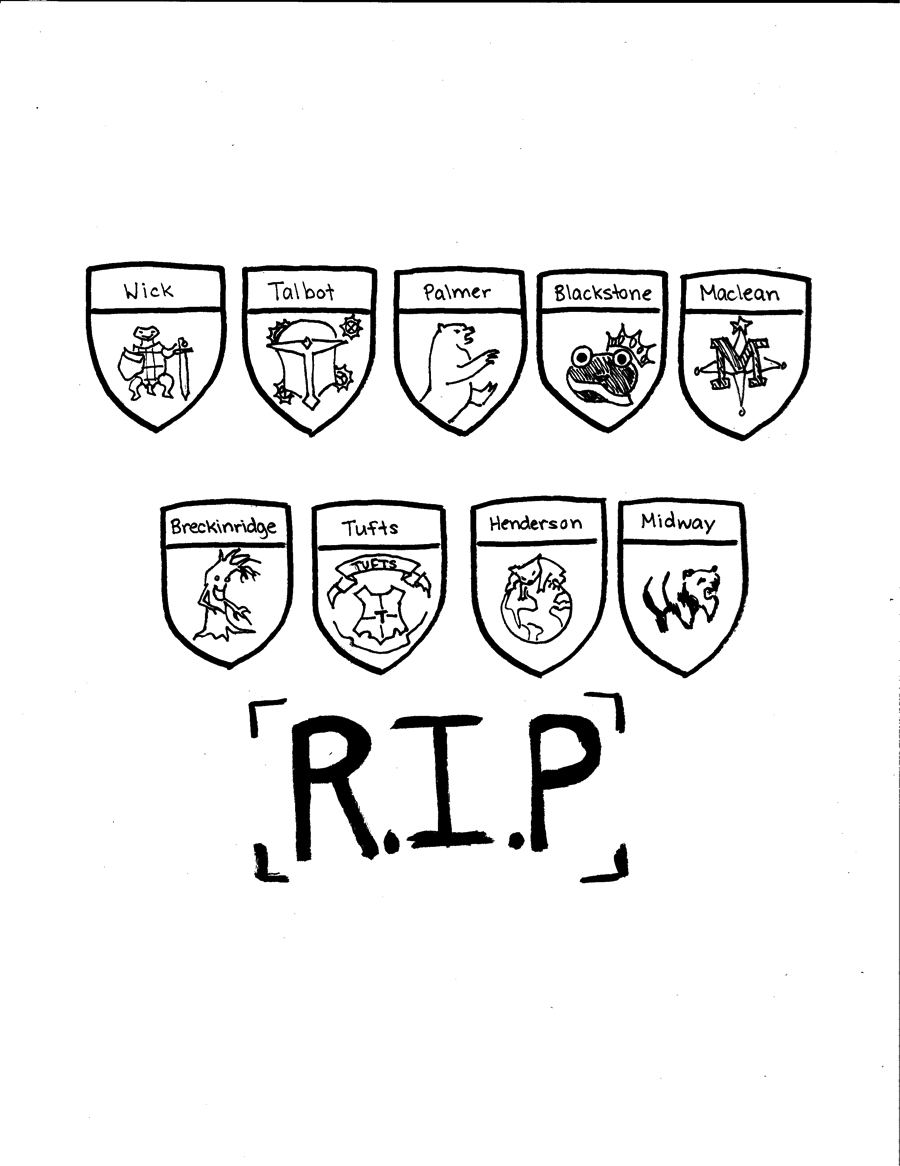 Additionally, house culture often centers on the built environment. Many house traditions depend on the location and design of the spaces they occupy. The former denizens of Broadview and Breckinridge will likely be unable to hold their traditional Halloween haunted houses in North, and many house activities involving the Point and the lakefront will suffer from the distance. Some may argue that traditions are ultimately replaceable with time, but to do so means remaking house culture entirely. This perspective devalues current student experiences and reveals an indifferent attitude toward student culture. In what way can houses be considered the same after the renaming, mergers, expansions, moves to radically different environments, and loss of traditions? To condone these changes is to condone the wholesale, eventual destruction of communities that are valued and desired by many students.
Ironically, these changes are supposedly being made in the interest of the residents of these houses. We are told that things will be better in North, told that we are irrational for desiring the traits we treasure most about our houses that will be absent in North. We are told that maintaining house culture is on us, leaving the cultural stability that was once guaranteed by the environment up to chance. While houses may eventually develop new cultures, this process is long and hugely disruptive. Those that develop will likely resemble the others generated in a similar environment. With the increasing homogeneity of housing options on campus, we move further from achieving a true diversity of student cultures that are comfortable for all students.
With this announcement, the futures of Blackstone, Broadview, Maclean, and New Grad regrettably appear to be set. The future of Breckinridge, however, has not been decided. I urge administrators to listen to the student demand for smaller buildings farther from campus, and maintain Breckinridge as a housing option. And should sales fall through for Blackstone, Broadview, or Maclean, the University should strongly consider reintegrating these properties into the housing system. Students deserve to feel comfortable and connected in their on-campus housing. To achieve this, the administration should preserve a diversity of housing options and take affected students' input into consideration for all major housing decisions in the future.
 Adriana Rizzo is a fourth-year in the College majoring in geophysical sciences.