Harris Student Claims that University Is Violating Disability Laws
"[Student Disability Services] needs to really understand the impact these practices and policies have on students."
Harris student Cecilia Black has claimed that the University is violating disability laws as mandated by the Americans with Disabilities Act (ADA).
Black, a second-year in the Master's of Public Policy program, has used a wheelchair since she was injured in a car accident when she was 16. In an interview with The Chicago Maroon, she stated that while the University offers accessible transportation, it does not appropriately serve disabled students in severe weather.
"When there is snow it's really awful to get around, and I couldn't go a block to catch the buses at all," Black said. "My first year, I was calling Ubers to take me like two blocks away."
"Dial-A-Ride," run by the University's Transportation Services, allows students with mobility issues to schedule pick-ups as long as they send an e-mail request 24 to 48 hours in advance.
"If it was snowing and if I didn't know I was going to the library at least 24 hours beforehand, there was no way for me to get there," Black added.
Black said she was told by Transportation Services that the University could not offer a call-in program since it would divert services away from the Dial-A-Ride program.
According to Black, the inadequate transportation services violate Title III of the ADA laws. A subsection describing transportation states that discrimination includes "a failure to make reasonable modifications in policies, practices, or procedures, when such modifications are necessary to afford such […] accommodations to individuals with disabilities."
According to an e-mail from Director of Public Affairs Marielle Sainvilus, the University's transportation services are in accordance with the ADA.
"Although not legally required, UChicago provides a Dial–A-Ride Program, which is a door-to-door service only available to students with disabilities, or students with short term conditions. Dial-A-Ride does not operate as a taxi service and students must request the service in advance. This ensures optimal efficiency and coordination for students to help prevent long wait periods, especially during severe weather," Sainvilus said.
Black also claimed that the University did not adequately respond to her requests for a hand cycle to be made available at Ratner Athletic Center. She said that when she began going to Ratner in fall 2014, she requested that the facility order one, but Ratner still had not purchased a hand cycle by spring 2015, citing remodeling and space concerns. According to an e-mail from Sainvilus, Ratner made a hand cycle available for general use in December 2015. Previously, Black was offered permission to use the hand cycle from 9 a.m. to noon on weekdays in Ratner's training facilities, which are only for student athletes. Black believes that this practice violated Title III by not integrating the hand cycle with the gym's main facility.
Black said that the summer 2015 renovations to the Harris student lounge also did not properly integrate accessible features. Harris only added a small accessible portion to the lunch table in February 2016 and the small desks in the student lounge only partially complied with the ADA Accessible Design guidelines.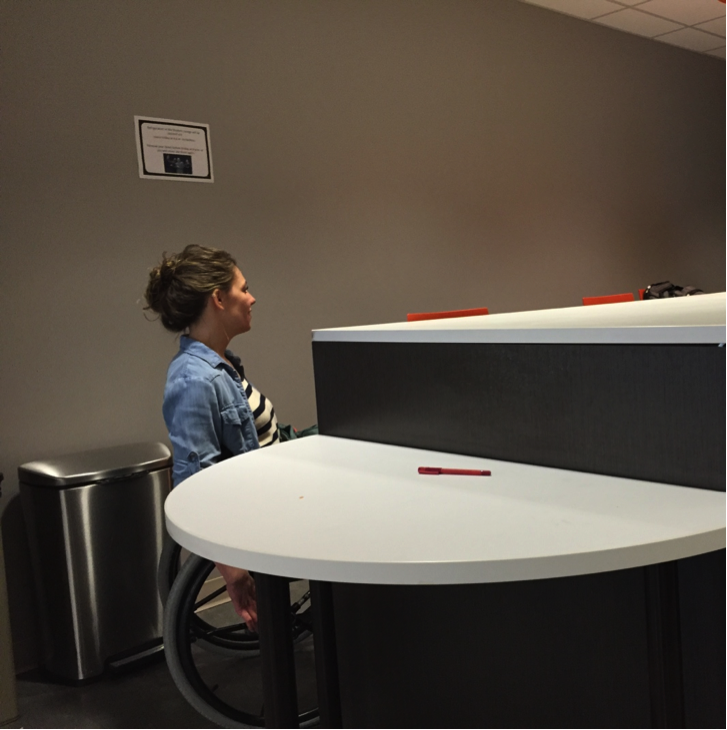 The University has previously faced complaints about accessibility. In 2006, the University settled out of court after it was found that the University did not have accessible features for its bathrooms and buildings entrances and did not provide listening devices in its large auditoriums. Student Counseling Services was inaccessible until it moved to its current location in fall 2014.
Alex Peltz, a second-year in the College and co-coordinator of Students for Disability Justice, said that the University's treatment of Black highlights an overall apathy toward disabled students. Student for Disability Justice is an affiliate of the Organization of Students with Disabilities, an RSO on campus that advocates for the University to become more accessible.
"I think all of this demonstrates a really clear pattern of behavior on the part of the University," Peltz said. "It shows that they don't understand anything about the spirit of the law, and it shows that they really don't have a vested interest in making sure that students with disabilities are treated equally to the rest of students on campus."
Black thinks that Student Disability Services needs to advocate more for students and added that she is more optimistic since the University hired an ADA compliance officer for the next academic year. "[Student Disability Services] needs to really understand the impact these practices and policies have on students, and I think that they don't understand that yet," Black said. "I think they need to be better advocates for students and really stand up when a department is being unfair."