Espresso Yourself Without Stigma
To conclude their second See Through Stigma (STS) Awareness Week, Axis UChicago and Active Minds teamed up to host a thought-provoking evening of visual art and performance.
"A couple years ago, she stretched her legs on the couch next to me and told me she had bipolar disorder," fourth-year Rachel Harrington said. "I'm ashamed to say the first image that came to my mind was a clown."
Friday's first annual "Arts Coffeehouse" was anything but farcical. To conclude their second See Through Stigma (STS) Awareness Week, Axis UChicago and Active Minds teamed up to host a thought-provoking evening of visual art and performance in Hutchinson Commons, where students sang, strummed, and spoke to de-stigmatize dis/ability and mental health.
"I think it's the perfect ending to the week—an informal setting to bring people together to celebrate difference," said STS board member and fourth-year Alita Carbone.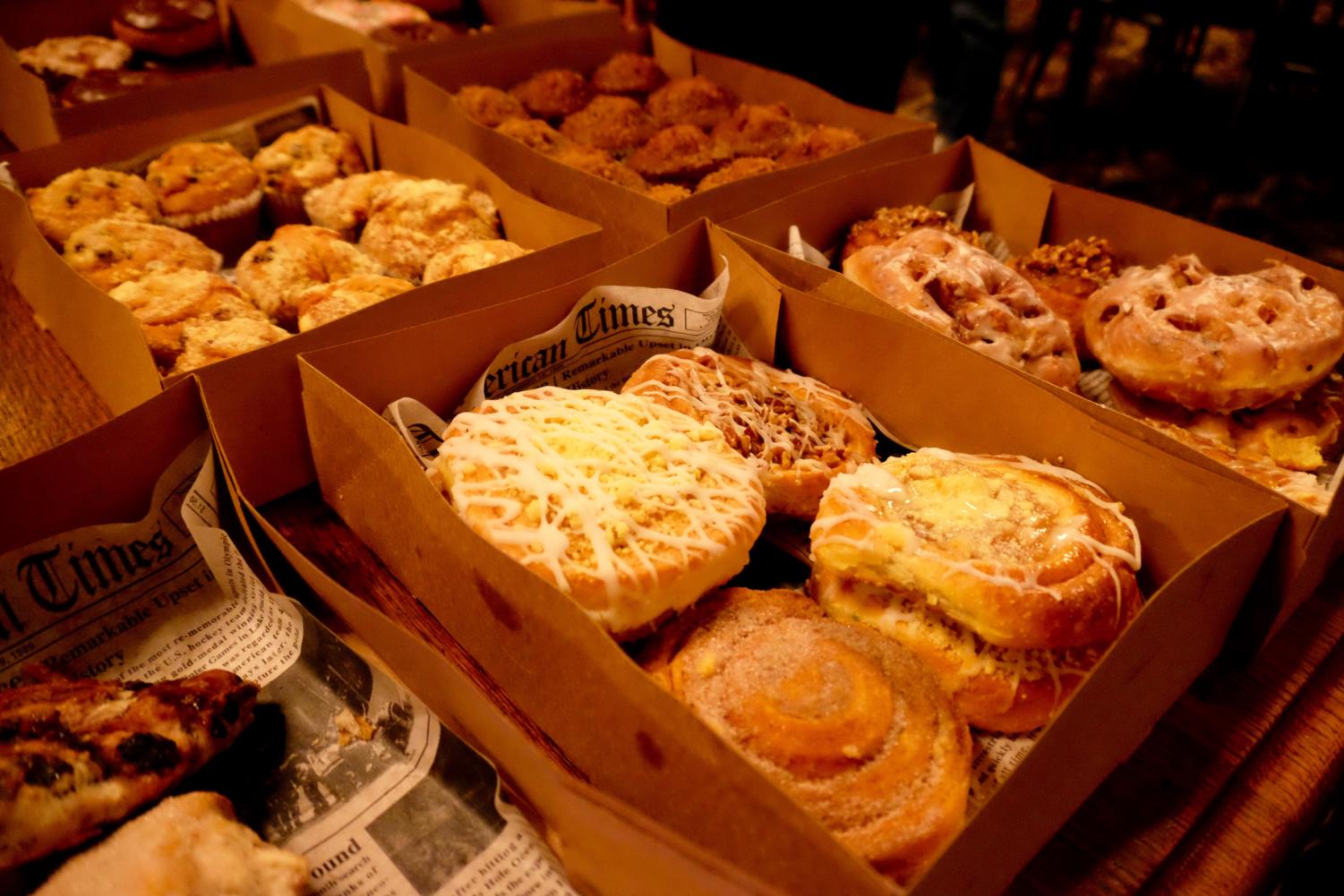 The Robert J. Zimmer? band opened the showcase with a long, low trumpet solo that soon morphed into a selection of jazzy tunes, setting the tone for the evening: a complex cabaret exploring cycles of mourning, healing, and festivity.
As guests—more than 100 throughout the evening—meandered around the room and snacked on pizza and pastries, Harrington and first-year Kelly Elizabeth Collins of UChicago's Memento performance ensemble presented the first spoken-word poems of the night. While Harrington reflected on her role as a supportive friend, Collins spoke about her personal experience of abuse at home—a war that "drafted" her by circumstance.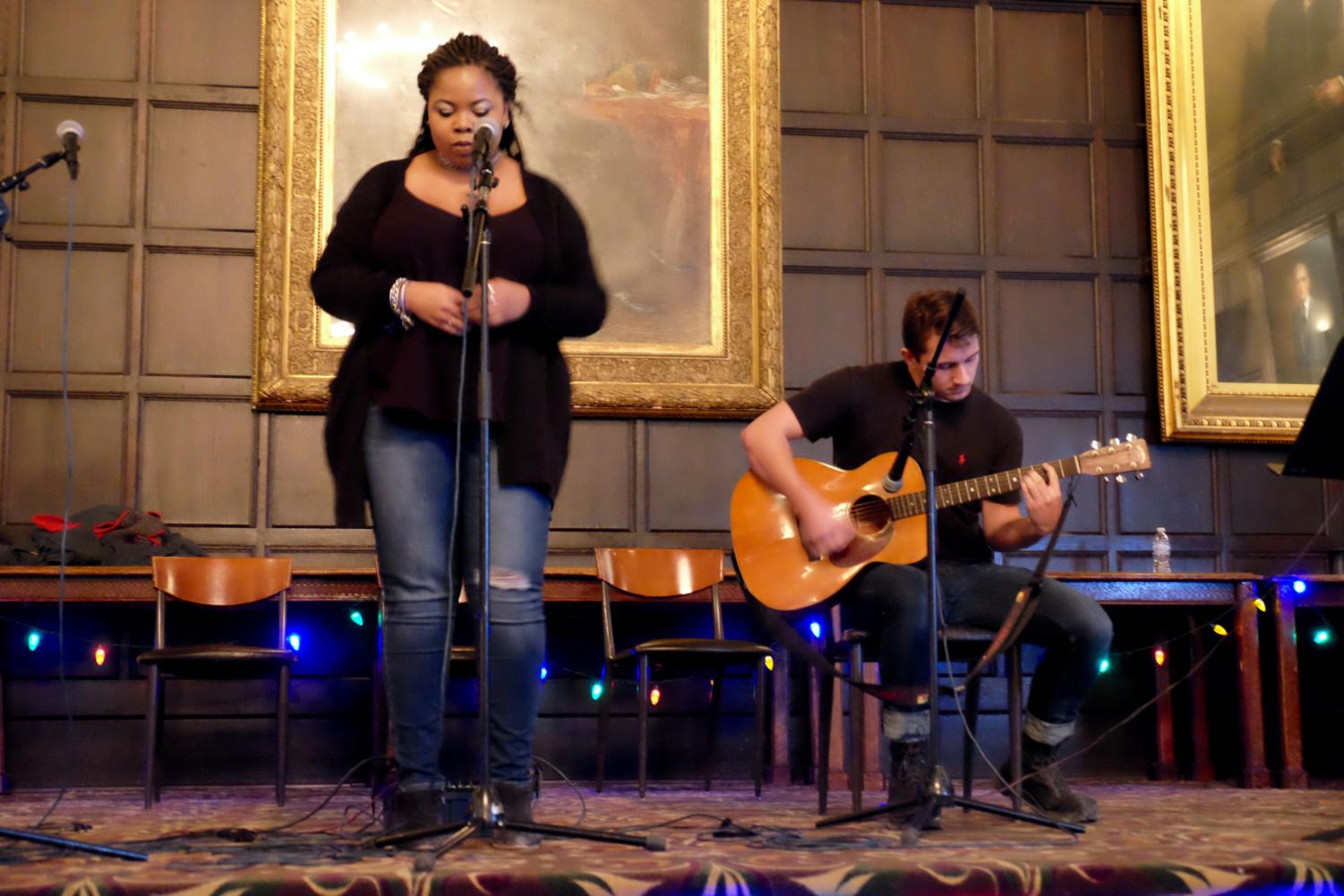 Words gave way to lyrics and rhythm as performers and survivors emerged from the audience to present a short story about pesky spiders, a haunting adaptation of Radiohead's "Creep," a "lullaby" poem, a guitar solo, and, finally, an original piano composition.
Meanwhile, silent faces flashed on two large screens below presidential portraits as the student documentaries "Campus North North North" and "The Last Taboo" screened on opposite walls. Student drawings and paintings hung on either side, along with the culmination of STS's weeklong Polaroid Project.
On one table, fourth-year artist Juliet Eldred showcased her two-part zine series on the impulse control disorder known as trichotillomania: hair pulling disorder. Eldred collages black-and-white images, altered text, and medical surveys to juxtapose the experience of an illness with clinical attempts to address it. A drawing of an enraged, Medusa-like figure is paired with a "Massachusetts General Hospital Hairpulling Scale" survey, filled out by Eldred herself.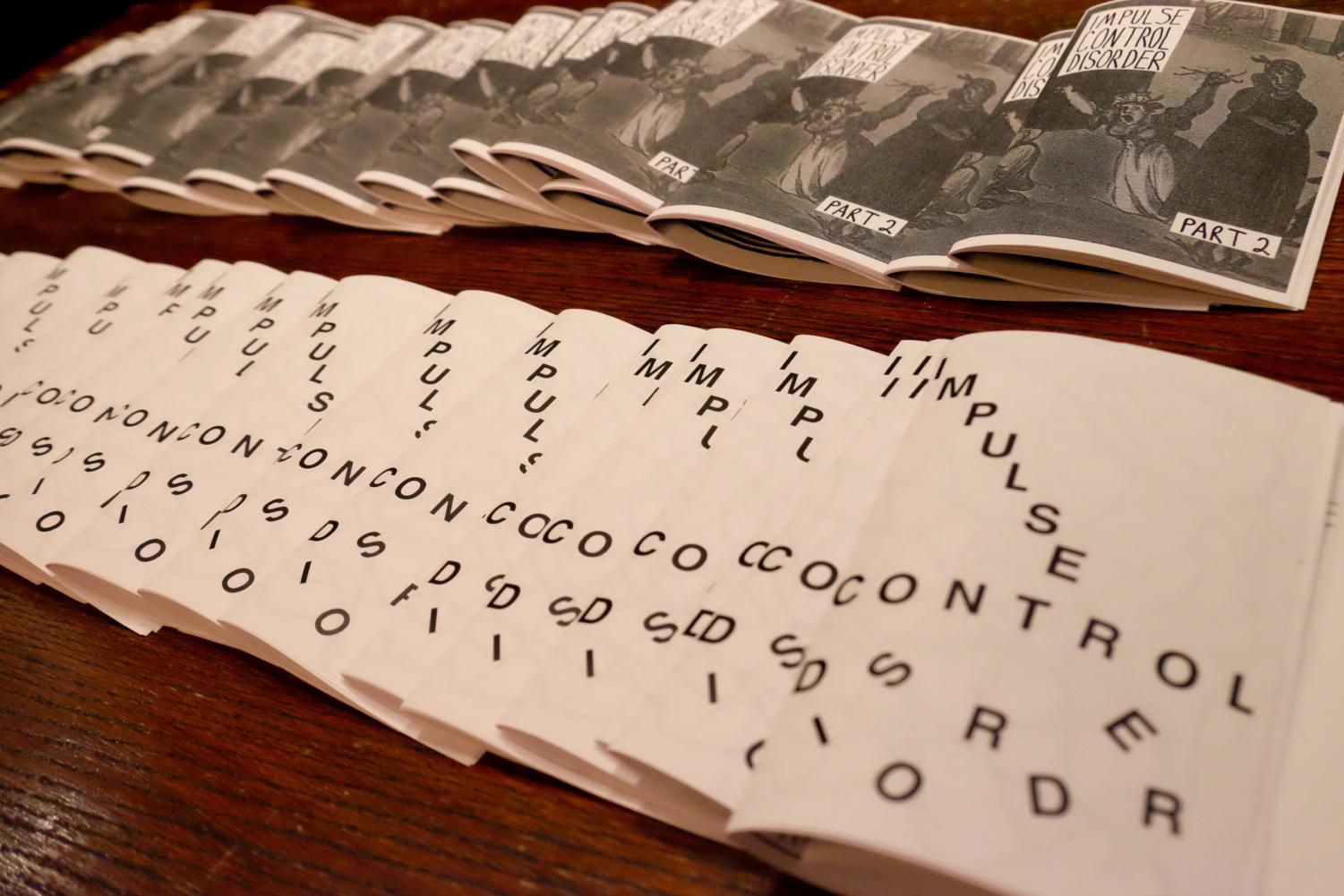 While the performances and visual pieces offered attendees a chance to respond to and process mental illness and dis/ability through artistic channels, other groups offered different resources. Lean On Me UChicago, an anonymous texting peer support network founded last year, ran an information booth at the event. Elizabeth Gerald, a member of the American Foundation for Suicide Prevention and founder of the Marcie Jonea Gerald Movement, spoke with attendees about her work, dedicated to her daughter. A third table provided an array of informational pamphlets and handouts on eating and anxiety disorders.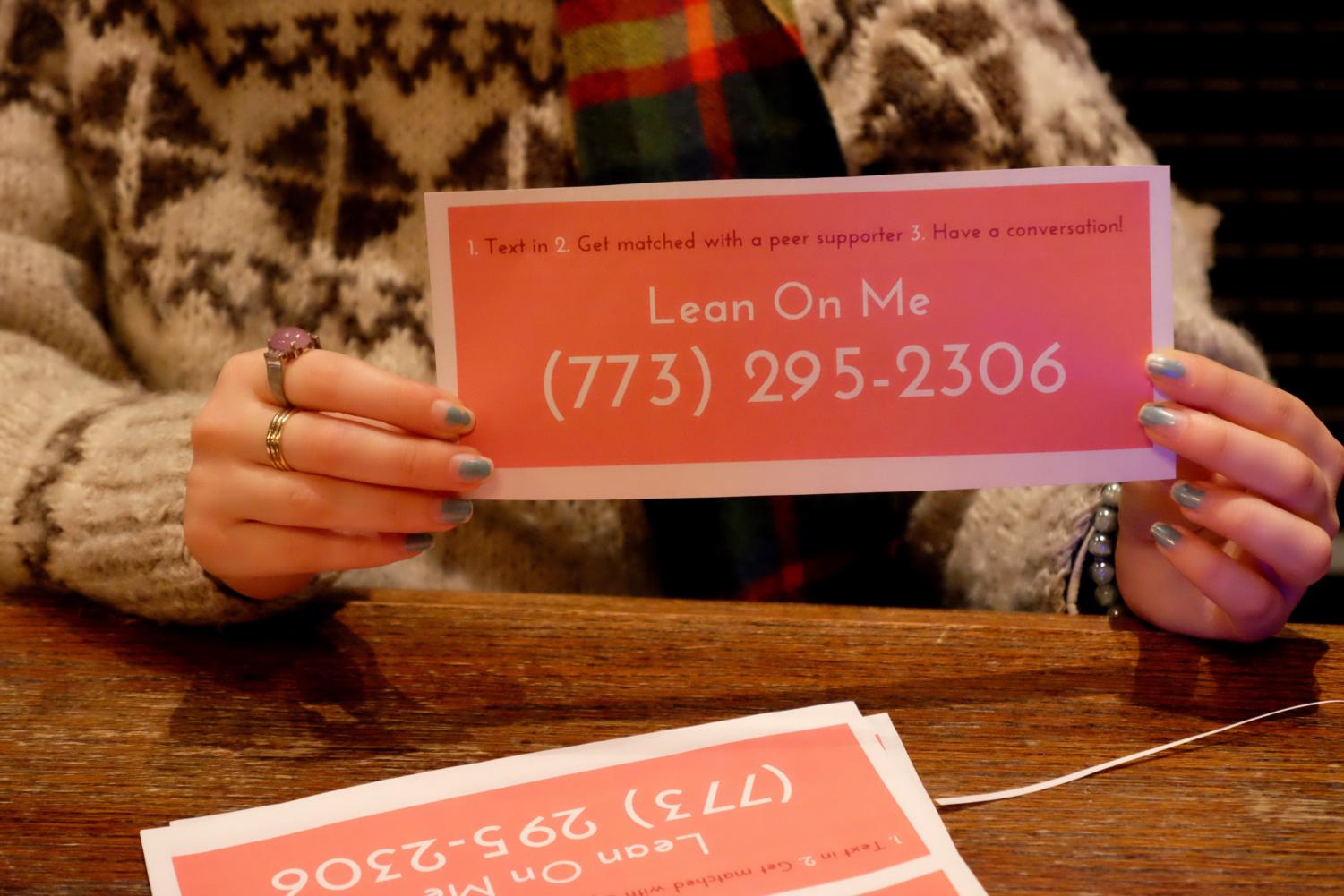 "It's a good opportunity for us to perform about something that really matters and creates discussion," Harrington said.
It may not have been a laugh-out-loud affair, but, over the course of the two-hour showcase, Hutchinson Commons buzzed with intimate conversation. After five months of planning, board members Carbone and third-year Tom Carden were pleased with event attendance and audience response.
"I founded Axis four years ago, and then, it was empty. I've been thinking about how we first started—and how we were nothing," Carbone said. "We're definitely doing the Coffeehouse again next year."