Sliced Bread with Cream Cheese and a Side of Emotion
"Sliced Bread" magazine's celebrated its spring issue with a launch party featuring readings and performances and from student artists.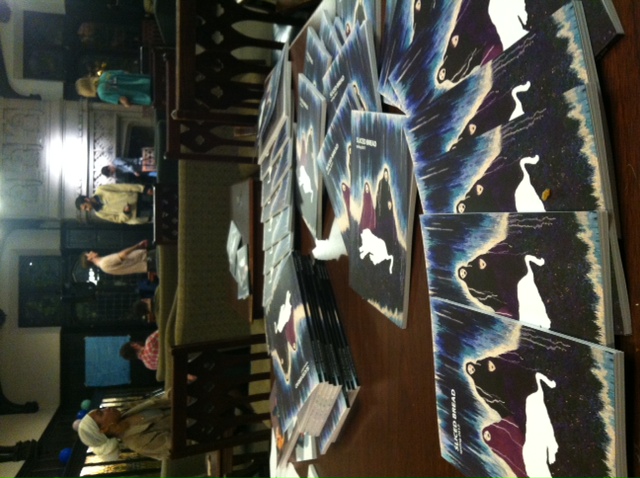 Last Friday, Sliced Bread magazine threw a launch party for its spring issue. For a decade now, the student-run magazine has published UChicago students' writings, drawings, and photographs. For the event, the tables of McCormick lounge were covered with sliced bread—both edible and readable—along with cheese, homemade cookies, and cake. It almost felt like a family reunion, a birthday party from which only the candles were missing. As we sat on sofas finishing our cake and chattering happily, the open mic started.
I was expecting a joyful celebration. "It is poetry," I thought. "What harm can it do?" Or perhaps more aptly, "What harm can it say?" It started on a positive note with second-year Hank Hubbard's cheeky "Haiku to Dad," unapologetically bringing slang and swear words to the constrained Japanese poetic form. But the mood gradually darkened as many of the poems and short stories dealt with violence, pain, or death. First-year Kellie Lu's short story described a young girl's desire to jump into the world (and out of the window). It was followed by second-year Connor Fieweger's "The Barber," a first-person narrative recounting the monotonous life of a hairdresser. Fieweger's droning voice reflected the cold, analytical thinking of his character, simultaneously funny and disturbing ("Sometimes I think about how close I am to the man's brain").
These readings built up to what felt like the hardest and most violent piece: second-year Sarah Saltiel's short story "Your Trial," describing the final 17 seconds of a man's execution by lethal injection. The story is told three times from three different perspectives: the executioners, the man himself as a confession, and the man again in a stream-of-consciousness narrative. Each new sentence was preceded by a number that decreased as time went by—the lethal countdown. The repetition of the same scene over and over again, the same graphic images, the same inexorable countdown: Saltiel perfectly conveyed an irrepressible disgust for this excess of violence. She underlined the vicious circle of violence, where crime is condemned by another crime. It was hard to hear, but deftly written.
From spoken to sung words, the second half of the evening featured musical performances that attempted to heal the wounds exposed in the readings. With his tightrope-walker voice always on the verge of breaking and his guitar, second-year Ilan Haskel plunged the room into a mellow, rainy-day mood. His songs, although centered around break-ups, were pleasantly humorous, such as one titled "I can't listen to Springsteen anymore," because they used to listen to him together.
Second-year Isaac Troncoso, singing with a guitar, presented a more pop-rock repertoire, such as Alex Turner's "Stuck on the Puzzle" or Arctic Monkeys's "No Buses." His bluesy voice was relaxing, especially after an energetic performance by Men in Drag. The all-female a cappella group brought energy and vitality to the room, thanks to the powerful voice of second-year Rebecca Husk on BØRNS's "Electric Love," to the impressive dynamics on Coldplay's "Hymn for the Weekend," and to the warm, deep voice of third-year Mariana Bouissou Lepecki on Young the Giant's "My Body." They all worked in perfect symbiosis, the rhythmic movement of their bodies spreading from one singer to the next before reaching the audience. Following them was the UChicago Wushu troupe, led by second-year Kevin Yu, which brought the energy to the next level. They performed martial arts moves involving kicks, jumps, and splits to an epic soundtrack, reminding us that the body can also speak.
The humorously named Robert J. Zimmer? ensemble closed the evening. The septet performed an intriguing set, blending musical traditions from around the world. There was something primordial, essential, in their compositions, a sense of floating somewhere in space as if life were being created again. With a keyboard, drummer, trumpet, tambourine, clarinet, tuba, and guitar, they were able to recreate a world.
From the initial plunge into darkness to the ensuing resurgence of life and energy, the Sliced Bread launch party was a reflection of the magazine's spring issue: a wide range of emotions, art forms, and messages all in a short period of time.