CSO's "Savior" Pays Tribute to Joan of Arc
A piece of "composed theater," Amy Beth Kirsten's "Savior" remembers the life and legacy of Saint Joan of Arc.
This Monday night at Harris Theater, the Chicago Symphony Orchestra (CSO)'s contemporary music series MusicNow will continue its 20th anniversary season celebration. To commemorate this milestone, it's undertaking one of its most ambitious projects to date: Savior, a world premiere work about the life and execution of Joan of Arc.
Savior is best described as a piece of "composed theater" in the lineage of Mauricio Kagel, Peter Maxwell Davies, and George Crumb—not quite chamber opera and not quite musical theater. The musicians become actors, directed not just to interpret, but also to embody the music: speaking, emoting, aspirating, and even screaming while playing.
The genre is a niche that Amy Beth Kirsten—Savior's composer, librettist, and director—savors. After being trained as a jazz vocalist and gigging around Chicago as an alt-pop singer-songwriter, Kirsten pursued a master's degree in composition at Roosevelt University. While studying under Stacy Garrop, she was exposed to the world of avant-garde composition and works like Crumb's Vox Balaenae—whose musicians perform masked—and Davies's virtuosic monodrama Eight Songs for a Mad King.
"I saw a concert of the International Contemporary Ensemble, [which was] just down the street at the time, at Columbia," Kirsten said in a phone interview. "That concert changed my life, because I saw and heard some music that night that really opened my mind to the possibility of combining music and theater together."
In 2012, encouraged by subsequent collaborations with Chicago-based contemporary ensembles, Kirsten co-founded Howl, an ensemble of musicians and creatives dedicated to performing and premiering evening-length pieces of staged theatrical music. Kirsten aims to embrace the more collaborative, flexible compositional process afforded by theatrical pieces, compared to regular commissions, which can sometimes call for more hermetical writing.
"[Often] you get a commission, hide yourself in a little composer cave for however many months or years, and deliver a score," Kirsten explained. "[But] composed theater can be a long process—we can have five or six weeks of layered feedback and expression. You have to compose the piece on the bodies of the vocalists and instrumentalists who are going to be playing and performing the piece."
Luckily for Savior, Kirsten knows the canvases she's working with. Joan of Arc is musically embodied by a vocal trio of two sopranos and one mezzo-soprano; her "Joans"—respectively, Molly Netter, Eliza Bagg, and Hai-Ting Chinn—are HOWL ensemble members. Flutist Tim Munro, who plays a stag that represents Joan's divine visions, has been a collaborator since his 2010 performance in Eighth Blackbird, though he left the ensemble in 2015.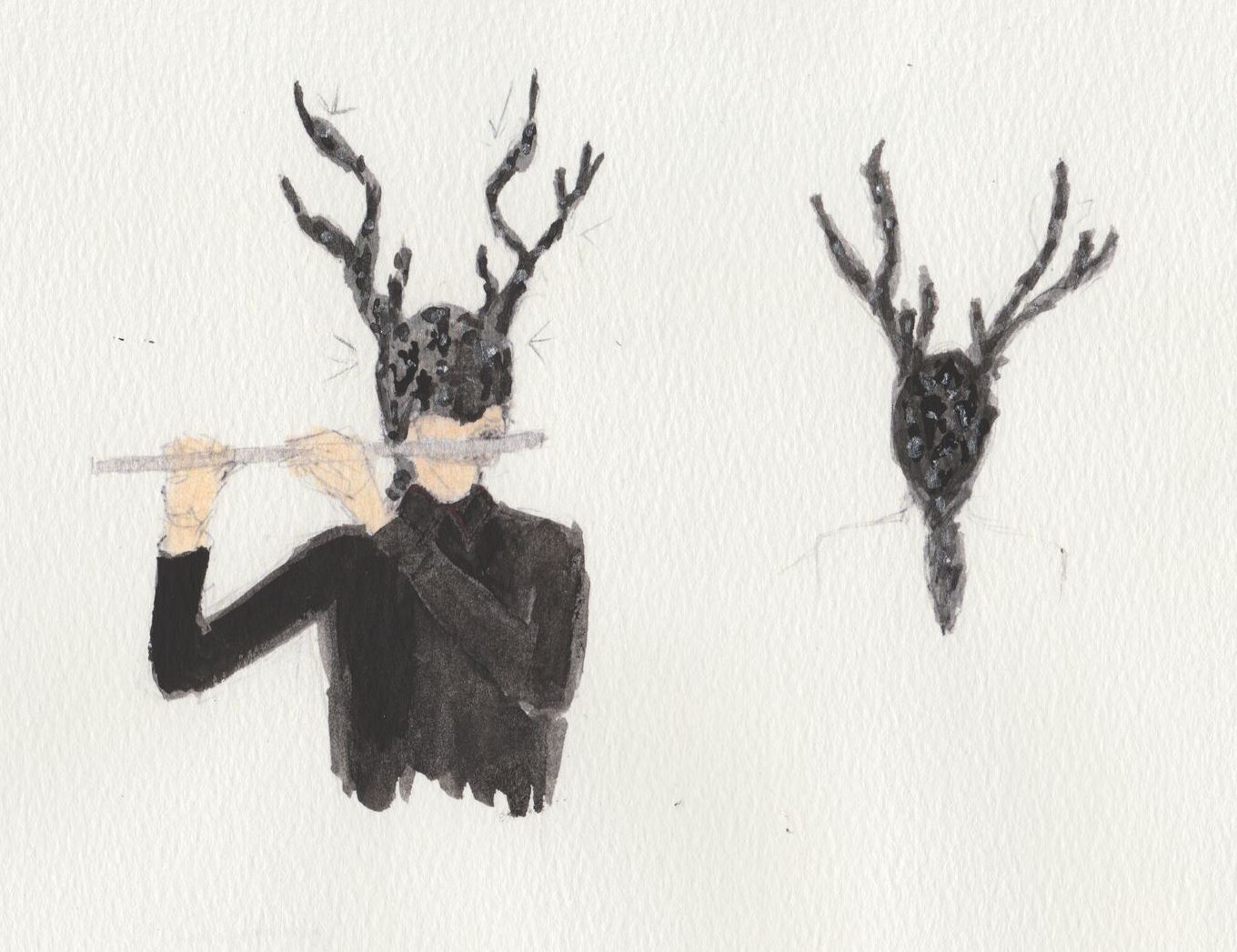 "She struck all of us as a totally original voice—somebody who was completely themselves in whatever they did," Munro said in a phone interview. "That, I think, has always been attractive to me as a musician: to find someone who hits you in the solar plexus."
According to the Joan of Arc legend, a stag rushed into an English regiment at the Battle of Patay, sending troops into disarray and helping cinch a French victory. Kirsten uses the symbol as a greater metaphor for Joan's communal with the Divine—and Its eventual silence. Munro's stage presence will be appropriately striking, with the flutist donning an illuminated, antlered mask.
"I'll be elevated on the stage, and I'm already a pretty tall bloke. It's going to be a pretty physically imposing presence," Munro said. "It feels like I'm unknowable—the mask helps with that."
Also worth noting is that another character never appears onstage: the Chronicler, a fictional English commander voiced by William "Sandy" Smillie (Chicago Fire). Smillie's narration of the Chronicler's war diary will be pre-recorded and manipulated as part of the score. The character is loosely based on John Talbot, a real military commander during the Hundred Years' War; Kirsten, who assembled the libretto mostly from period texts, wrote the Chronicler's text herself.
"[Joan and the Chronicler] are on opposite sides, but they both suffered, they both wanted to be victorious," she said. "It's a reminder of all these things that we have in common when we're on the opposite side of something."
As is de rigueur for MusicNow concerts, CSO musicians also participate. Cellist Katinka Kleijn and percussionist Cynthia Yeh sometimes provide what the libretto calls the "music of Joan's divine visions," but they also embody other symbolic roles—for example, joining the chorus of interrogators during Joan's trial and, later, representing the sound of Joan's labored breathing when her prayers are met with silence just before her execution.
"When I compose, I'm thinking of a character and a story, and how these approaches to music and the expression of sound actually mean something for a character and a story," Kirsten said. "We are in the mind of Joan of Arc, and that's what that is."
When asked about how she interpreted that perspective—and her thoughts on being part of a lineage of female composer-pedagogues in Chicago, like her mentor Garrop—Kirsten affirmed that she felt a kinship with Joan of Arc, albeit one that eschews labels.
"I don't think of myself as a female composer. I just think of myself as a composer, and there are a lot of reasons for that. Mostly, it's because I want the conversation to be about the art and not about me…. That's not to take away from anyone who identifies as a female composer. I think we all have to deal with that thing in the way that feels natural to us, and for me, it's trying to minimize that aspect," she said.
"Actually, one of the things that resonated with me about Joan of Arc is that I don't think she would consider herself a feminist.… She was moved by humanitarian impulses that had to do with her spirituality and what she thought was right…. It was such a pure intent, and I love that about her. I sort of feel the same way in a sense; I want to keep art as pure as I can."
Savior premieres at Harris Theater on Monday, April 2, at 7 p.m. There will be a free pre-concert talk between composer-director-librettist Amy Beth Kirsten and CSO Mead Composers-in-Residence Samuel Adams and Elizabeth Ogonek in the Level 1 Lobby at 6 p.m. $15 student tickets are available for this program (service fees may apply).