Despite being nearly geographical antipodes on a globe, Chicago and Bandung share a musical connection through a fledgling symphony orchestra—and the musicians who founded it.
Born in Bandung, West Java's capital, Airin Efferin has played the piano since she was six years old. She briefly moved to Chicago with her family between the ages of eight and 11 and spent her undergrad years at Calvin College in Grand Rapids. There, she took a conducting class with Robert Nordling, music director of the Baroque on Beaver Music Festival and Lake Forest Civic Orchestra.
"He was a very good teacher. Everyone liked him a lot, and he was a very inspirational person," Efferin recalled in a phone interview.
After completing grad school in Texas, Efferin moved back to Bandung. When she gathered three musical friends over lunch to discuss the possibility of founding Bandung's first symphony orchestra in 2015, the question of a conductor came up. She immediately thought of Nordling, now based in Chicago and living in Hyde Park.
"I needed somebody who was a good teacher and who would be able to work in a diverse, multicultural setting," Efferin said. The admiration was mutual: Nordling remembers Efferin as one of Calvin College's "highfliers" and an "ideas generator."
"She called me up and said, 'We're starting the first professional orchestra in the history of Bandung,'" Nordling recalled. "'Would you be interested in being our music director?'"
Nordling asked if he could bring violist Michael Hall—his friend and, coincidentally, neighbor in Hyde Park—onboard. Efferin agreed, and the Bandung Philharmonic was born. Efferin would helm the finances and management of the orchestra as its executive director, Nordling would lead the orchestra as its music director, and Hall would work with music programs in Bandung as its director of education. Additionally, Nordling and Hall act as co–artistic directors.
The friends Efferin met up with over lunch also became integral members of the organization: businessman and flutist Ronny Gunawan is the Philharmonic's Financial Manager; violinist Sandra Kusuma is the Personnel Manager; and composer–conductor Fauzie Wiriadisastra is on the orchestra's board.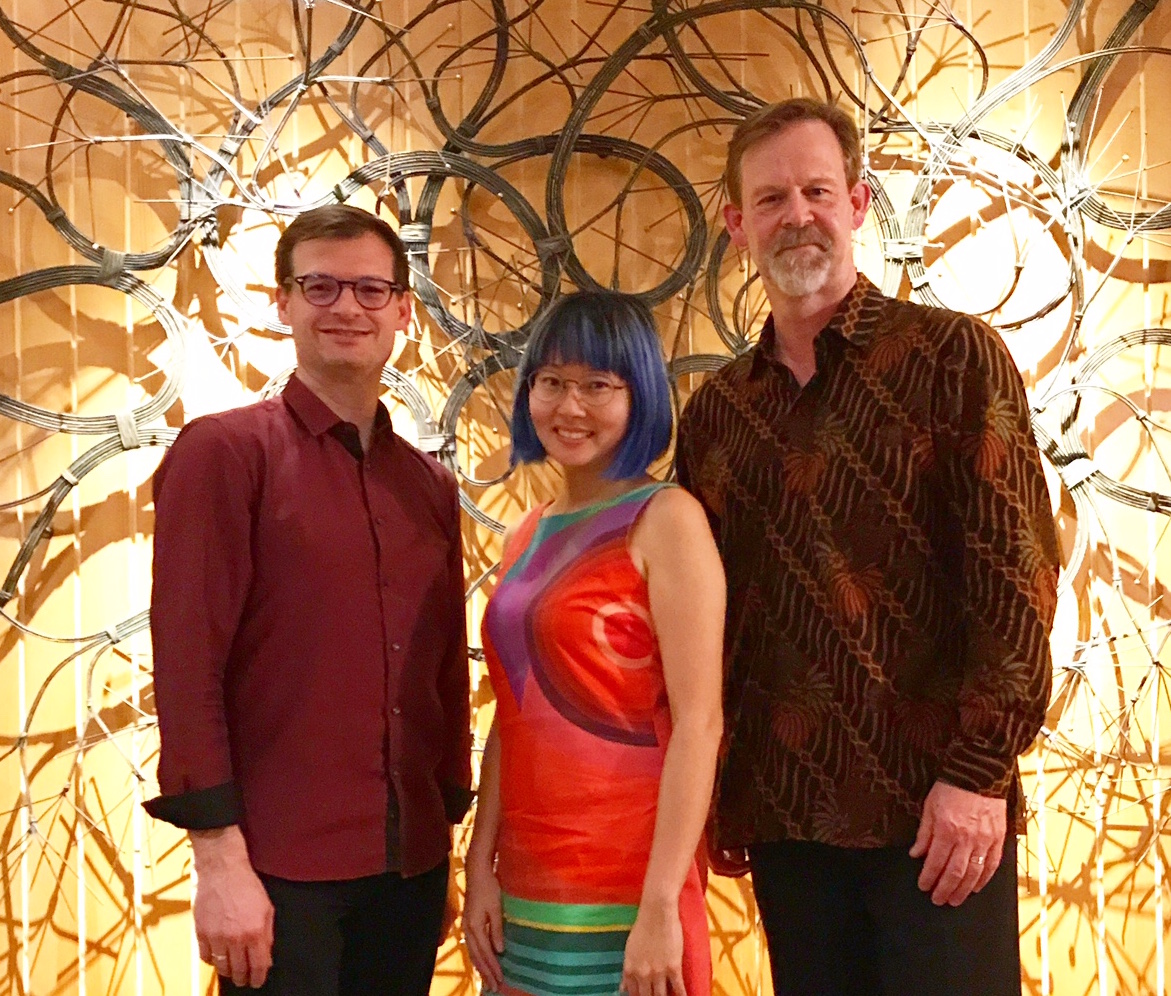 Now three seasons strong, the Bandung Philharmonic has become an established presence in Bandung's cultural life. Musical circles in Southeast Asia and beyond are also beginning to take notice.
"People from Singapore and Thailand are…seeking more collaboration. A lot of [ambassadors] come from Jakarta, where all the embassies are, to see what's happening. The Australian embassy, for example, said they'd love to have an Australian soloist or guest conductor. The U.S. ambassador came to the last concert and officiated," Efferin said.
This Tuesday, the founders of the Bandung Philharmonic are trying to raise the same awareness of the ensemble stateside. St. Paul & the Redeemer in Kenwood will be the setting of the first-ever Bandung Philharmonic Foundation fundraiser in the U.S., featuring Hall and Efferin in recital. Nordling will host.
"The main purpose of the Bandung Bash is to introduce our friends around here to the Bandung Philharmonic: what it's doing, what its mission is, what its cultural exchange and diversity is," Nordling said.
When I met Hall and Nordling at their Dorchester Avenue apartment building last week, they were in good spirits, despite fending off jet lag. Both had just returned from closing out the end of the Bandung Philharmonic's third concert season. Come September, they'll make the familiar trip from Chicago to Bandung to kick off the fourth.
"They know us by name at the Cathay Pacific check-in at O'Hare," Nordling joked.
With a population of about 2.5 million, Bandung is roughly the same size as Chicago and sometimes falls victim to the same "second city" complex. But Bandung's vibrant musical community—especially its underground and indie scenes, which have attracted international attention—is a uniquely integral part of the city's social fabric. The presence of several universities with music programs has created a huge population of classically trained musicians in Bandung who, until recently, had no ensemble to play in.
In January 2016, after nearly a year of fundraising, the Bandung Philharmonic held its first auditions. Some 150 musicians auditioned; 50 were accepted. Only three days after the audition, the orchestra gave its first concert in a headline-grabbing gala event attended by over 200 people.
The Bandung Philharmonic has since grown: Its ranks have increased, its repertoire has diversified, and its budget has doubled. Its audience also appears to be growing.
"People are purchasing tickets sooner, which seems to be a good pattern…. It means that people like it and want to come back," Efferin observed.
But the Bandung Philharmonic's mission of being an Indonesian ensemble—in all the multitudes that designation implies—remains constant. The overwhelming majority of its musicians and donor base are Indonesian, representing a diverse array of faith practices and ethnicities; Nordling rehearses in Indonesian; and the Philharmonic's programs always include at least one piece by an Indonesian composer. Additionally, its Young Composer and Conducting Fellowship programs offer support to Indonesian musicians in the early stages of their career. Just one non-Indonesian composer has written for the Bandung Philharmonic: the Chicago-based Stacy Garrop. Her viola concerto Krakatoa was premiered by Hall and the Bandung Philharmonic in January.
"We want first and foremost to have this outlet for Indonesian creativity. We don't want to create a fast track for American [composers]," Hall said.
The Bandung Philharmonic's founders also view the ensemble as a conduit for cultural exchange. In his capacity as a music educator, Hall has set up a pen pal program with public schools in Chicago and Bandung. For example, students at Hyde Park's Kozminski Community Academy are paired with students at the Bandung Independent School. Hall has also used his social media savvy to share media of himself learning Indonesian traditional instruments with nearly 3,500 Twitter followers worldwide.
The founders note that the orchestra occupies a novel, sometimes precarious place in Indonesia's cultural sphere. After centuries of Dutch occupation, some Indonesians are understandably wary of any presence which smacks of cultural colonialism. It doesn't help that many orchestras in the U.S. continue to launch dubious "outreach" programs positing Western classical music as a moral or socioeconomic catalyst.
"I think raising the specter of colonialism is something that's probably very good to do and to be very, very sensitive to…. We didn't want an American orchestra in Indonesia, nor did we want a couple Americans parachuting in and telling [musicians] how to do it," Nordling said. "We're trying to make a case that there is a place for classical Western symphonic repertoire—intelligently introduced, explained, themed—in conjunction and conversation with Indonesian composed music."
Efferin affirmed that cultural context is key, noting that some aspects of what is considered "professional protocol" in a Western symphony orchestra clash with Indonesian social mores.
"In an orchestra, principals are expected to lead and be more demanding to their section. That's a very hard thing to do for Indonesians, culturally—it's impolite or improper to do so, and they don't want to offend, especially someone older than them," Efferin said.
Another slight cultural difference is how orchestral hierarchy is viewed by audiences in Indonesia. The "cult of the maestro" is common in the U.S., but in Indonesia, Efferin takes that role more readily in the public eye.
"The top is always the boss, the administrator, the person putting this all together that is recognized," Hall said.
According to Efferin, the Bandung Philharmonic's most ambitious long-term goal, aside from establishing a significant endowment, will be securing its own permanent home. Currently, it plays regularly at the ballroom in the Hilton Bandung, but "crossed fingers, we can convince some people to build a real hall in Bandung."
"It's like the movie Inception: we're still incepting ideas into people's minds," Efferin joked. "But if we had a real performance hall, then everyone would benefit—not just the orchestra, but schools that want to have [a venue for] graduations, theater and dance companies…. It would really be a public asset."
The Bandung Philharmonic's "Bandung Bash," a benefit concert and auction, will be held at St. Paul & the Redeemer (4945 South Dorchester Avenue) on Tuesday, May 15 at 7 p.m. The silent auction begins at 7 p.m., the recital at 8:10 p.m. The program includes the world premiere of "Brownian Motion" by Sharon Hartanto, as well as works by J.S. Bach, Christian Ellenwood, and Mary Kouyoumdjian. Admission is free.