Southside Labor Organizations Form UChicago Labor Council
The new coalition of labor unions in the South Side aims to address labor concerns in and around the University.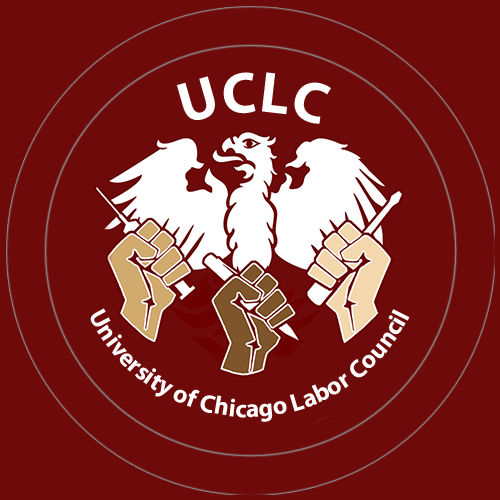 The University of Chicago Labor Council (UCLC) is a newly-formed labor council consisting of several labor unions operating in the South Side. According to the UCLC's social media page, the council aspires to "work together in winning a sustainable, accountable, and democratically-driven University devoted to the common good of all."
The coalition includes several labor unions representing workers from different parts of the University, including National Nurses United; Flood's Hall; Tenants United; Chicago Jobs with Justice; Greater Chicago Industrial Workers of the World; Service Employees International Union; Bakery, Confectionery, Tobacco Workers and Grain Millers' (BCTGM) International Union; and Graduate Students United (GSU).
UCLC is a recent development in the dynamics of labor activism at the University. Labor organizers came together for UCLC's first meeting in December of last year in order to work together to accomplish goals common to workers at the University. Council members feel that their voices are not heard when decisions about the most basic things in their lives are being made, including workers' healthcare plans and working conditions.
"The basis for UCLC is that workers across and around campus have a shared interest in being organized and powerful together," said Claudio Gonzáles, a UCLC media representative.
Citing the University as the South Side's largest employer, Gonzáles said that "University workers have been structurally disenfranchised from having agency in these changes." Council members believe that they "deserve a seat at the table when these changes are made."
One of UCLC's goals is the recognition of GSU by the University, and the resolution of grievances GSU has advocated for on behalf of graduate students.
University graduate students voted 1103 to 479 in favor of unionization in the fall of 2017. Although GSU withdrew its petition from the National Labor Relations Board in February 2018 to prevent a Republican majority from overturning precedent that guarantees graduate students the right to unionize, organizers have continued their efforts to bring University officials to the bargaining table. In October 2018, GSU staged a walk-out of hundreds of graduate students to advocate for better working conditions. The University has repeatedly refused to formally recognize GSU. Gonzáles emphasized that in addition to pushing for formal union recognition, the council would like to "build solidarity with one another in our upcoming contract negotiations."
Anthony Jackson, a spokesperson for UCLC and a BCTGM member, emphasized that one function of UCLC is to coordinate the actions of its constituent unions. "We, the Bakers' Union, have been fighting Mondelēz, parent company of Nabisco, for well over three years for a fair contract," Jackson said in a statement to Maroon.
BCTGM posted flyers on campus last fall calling for Joseph Neubauer, Chairman of the Board of Trustees of the University and a sitting member of the Mondelēz International Board of Directors, to be removed from his position at the University. Mondelēz laid off 600 workers from the Chicago Nabisco plant on 73rd Street and Kedzie Avenue in 2016 and allegedly paid its CEO over $42 million in 2017 for 41 days of work. Neubauer also agreed to the board's decision to eliminate pension contributions for working-class families at Nabisco plants across the country.
Jackson wrote on behalf of the Bakers' Union, stating that their decision to join UCLC was driven by BCTGM's firm belief in "fighting as a labor movement, not as just an individual union." Jackson hopes to further address the unfair treatment of workers by Neubauer and his associated corporations through the collective strength of UCLC.
During the UCLC's first major action since its formation, a May Day March, more than 200 UCLC members and demonstrators from South Side labor organizations marched on 59th Street and rallied on the University's main quad. UCLC aimed to deliver letters to the University administration demanding formal recognition for GSU and the Student Library Employee Union, prioritization of patient safety in the University of Chicago Medical Center by implementing steps to ensure the recruitment and retention of experienced registered nurses, and a promise to work with civic leaders to minimize displacement of community members.