The Obama Center and a CBA: Where Do We Go from Here?
South Side residents continue pushing for a Community Benefits Agreement despite resistance from fellow community members.
On a crisp Wednesday evening, just as students were arriving for an after-school program, Pastor Jeffery Campbell, a born-and-raised Woodlawn resident, took me through the halls and around the wooden pews of Woodlawn Baptist Church. Gleaming with pride he recited the history of the church, which has stood at its 62nd Street location since 1890.
Sitting down in his office, Campbell told me which streets he grew up on, where he raised his children, and his favorite memories of the neighborhood, including shoveling snow as a boy during the blizzard of 1967. "[Woodlawn's] vibrancy has always amazed me, and I say that having been here when they burned it down," Campbell said.
Campbell has noticed growing displacement concerns among his parishioners after the announcement of plans to build the Obama Presidential Center (OPC) in Jackson Park, about a mile from the church. Elderly church members have come to Campbell afraid of having to leave a community they have lived in for over 60 years due to rising property taxes. South Side families feel pressure to move so that parents can afford to retire. The church itself has also begun to feel financial pressure.
"Recently my insurance on this building was doubled.… I am not planning on selling it, so now I have got an added expense at a time when my community is under the same financial pressures," Campbell said. "I look out my window here at the church and the dynamics have changed as to who I see and I ask myself the question, 'Is there even going to be room for me here?' "
The Concerns of Displacement
As anticipation of the long-awaited OPC continues to build, residents in communities around the OPC are already feeling the adverse effects of economic development.
A study by the University of Illinois, Chicago, Nathalie P. Vorhees Center for Neighborhood and Community Improvement, released in August echoed this concern, as it was found that some community members within a two-mile radius of the OPC, an area where 62 percent of residents are renters, may not be able to afford rents and property taxes that are rising faster than the rest of the real-estate market in Chicago.
"Based on current housing costs, most renters earning less than $35,000 and most owners earning less than $50,000 are housing cost burdened (i.e. paying more than 30% of income for rent or their mortgage [and] taxes), and may not be able to afford additional increases to their housing costs," the study states.
Bill Eager, who leads the implementation of the US Department of Housing and Urban Development's Choice Neighborhoods Initiative in Woodlawn for Preservation of Affordable Housing (POAH), a Chicago nonprofit, also expressed his worries about community displacement with the OPC's impending arrival. When considering all of the economic, government, and social factors that affect housing, Eager explained that the issue is more complex than people might initially think.
"[Displacement] is a way more complicated question than you might read about. I think it's certainly an issue for any neighborhood that appears to be on the cusp of economic change. Parts of Woodlawn are beginning to see that kind of pressure," Eager said.
A Proposed Solution
Campbell's Woodlawn Baptist Church is an ally (non-voting) member of the Obama Community Benefits Agreement Coalition, a group that formed in 2017 in response to the growing displacement anxiety and has continued to push for the implementation of a Community Benefits Agreement (CBA).
The coalition's initial goal was to sign a CBA with the Obama Foundation and the University of Chicago. However, after both organizations refused to engage in negotiations with community groups, members turned their attention to City Hall.
This past July, 20th Ward Alderman Jeanette Taylor and Fifth Ward Alderman Leslie Hairston introduced the Coalition's CBA plan as a city ordinance. Taylor, a first-time alderman, and Hairston, a 20-year City Hall veteran, both used support for a CBA as a central part of their campaigns earlier this year.
"The ultimate goal of the CBA is to make sure that we protect the class of people who currently live in Woodlawn and that includes renters and home-owners," Taylor said.
Taylor mentioned that she and Hairston are currently in talks with representatives from the city, including Chicago Housing Department Commissioner Marisa Novara, to discuss the legality of the ordinance and to advance a revised version that Taylor hopes will be passed in January of next year. Taylor is expected to have a meeting with members of the Department of Housing, the City's Law Department and representatives of the CBA Coalition this week and hopes to have a public meeting with her constituents around the discussion soon.
"We will get something that the majority of the community, with renters and homeowners, can be proud of," Taylor said. "There are going to be some gives and takes on both ends."
UChicago Against Displacement, a group on campus consisting of both graduate and undergraduate students, formerly known as UChicago for a CBA, is a member of the coalition. The group advocates against housing displacement and gentrification in the areas around UChicago's campus.
The group's copresident Claudia Yanos, a third-year in the College, explained that the group, a voting member of the coalition, works not only to advocate for the passage of a CBA ordinance but also helps to inform UChicago students about displacement. Yanos wants students to know that "displacement is a very real issue. Sometimes it's easy to get caught up in the numbers and the statistics, but these are real people, real families, having to leave their homes because they can't afford it anymore."
UChicago Against Displacement has helped to write the proposed CBA ordinance, engaged in protests and rallies, and helped build support in a community referendum vote. The February vote on whether to pass some form of a CBA received overwhelming support with about 90 percent of voters in the Fifth and 20th Wards voting in favor. The group also holds Teach-Ins to which they invite other members of the coalition, housing experts, and community members to speak about why they think the proposed CBA ordinance is necessary.
At the group's Teach-In this month, Devondrick Jeffers, a housing organizer for Southside Together Organizing for Power (STOP) and member of the Obama CBA Coalition, spoke to tenets of the proposed CBA ordinance.
Jeffers explained that the ordinance attempts to cement a plan to prevent displacement by mandating that the city allocate 30 percent of development for affordable housing without the option for developers to pay a fee instead of providing affordable housing; a property tax relief for long-time and low-, moderate-, and middle-income residents; the creation of an anti-displacement task force that will produce quarterly studies on their engagement with the issue; the establishment of a community trust fund and the first right to offer, upon sale of a property by a developer, to the tenants of a housing unit.
"I can't answer for the coalition, but I know, [for] me personally, I wouldn't want to give on any part of this [ordinance]… because it makes sense," Jeffers told the audience.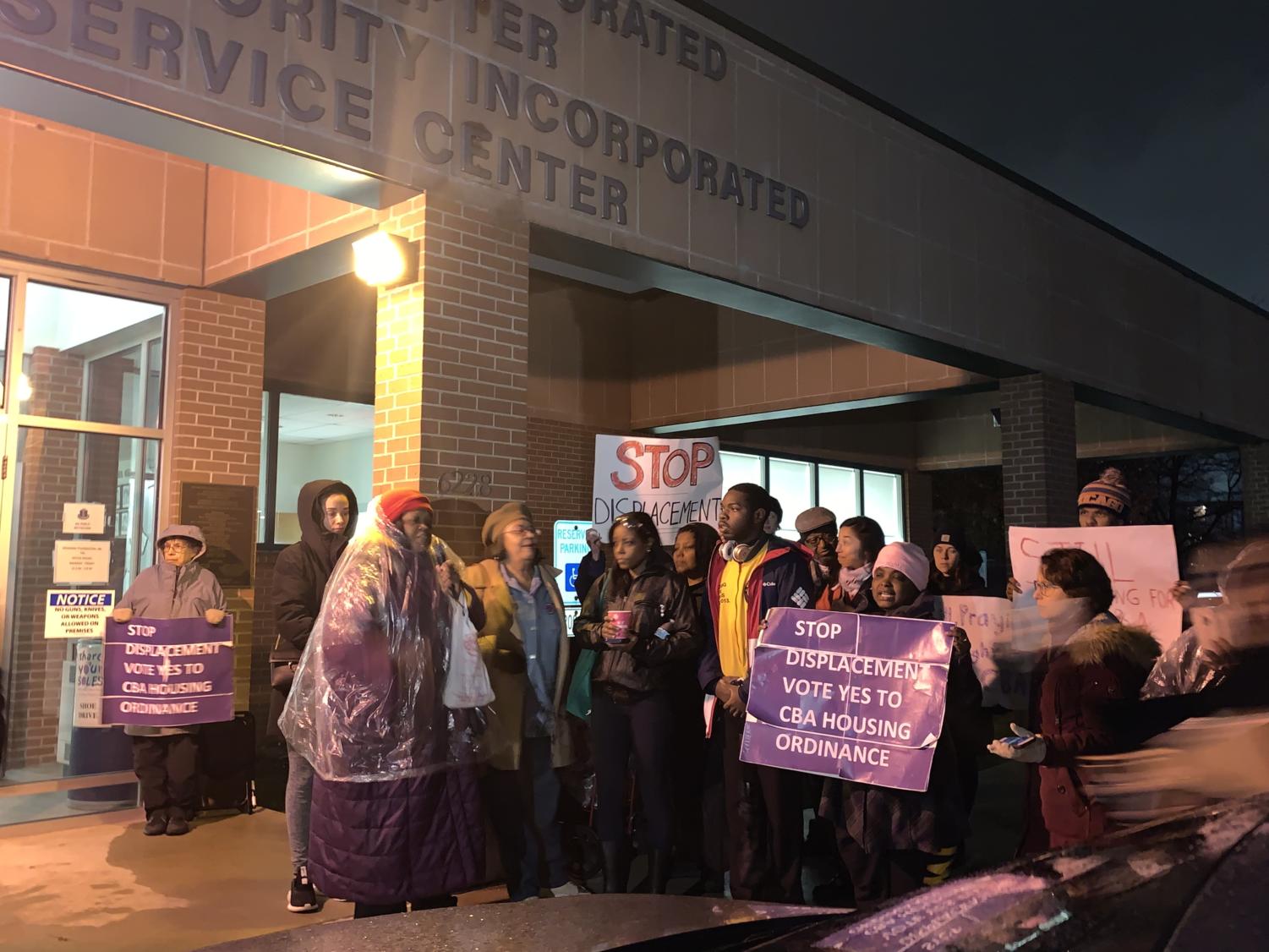 Critics of the Proposal
As the proposed CBA ordinance continues to stagnate in City Council, there are still members of the community who feel the ordinance, in its current form, will not be the right step for communities surrounding the OPC.
I met with two members of the volunteer organization South Side Neighbors for Hope: Erin Adams, a professor at UChicago and a South Side resident for 14 years who currently lives in South Shore, and Maya Hodari, a Woodlawn native, former 20th Ward alderman candidate and development irector for the Chicago Housing Authority.
Along with other community members, Adams and Hodari founded the group to fact-check statements about the OPC and to spread information about what they say the Center will bring to the surrounding neighborhoods, including improved community spaces such as a branch of the Chicago Public Library and a children's park.
As a community member, Hodari feels that the proposed CBA ordinance creates too many rigid requirements around housing assistance with no incentive for income growth and does not focus on economically benefitting areas surrounding the OPC. She stated that she disagrees with the current allocation of affordable housing in the ordinance because she feels that it does not incentivize middle-class growth in Woodlawn. Hodari explained that she wants a policy that addresses the roots of issues surrounding income inequality and greater access to opportunity for South Side residents.
"We have been denied opportunity for far too long; [the OPC] is supposed to be the catalyst that is going to create a whole lot of growth. It's time to fight for black families' incomes to grow, not putting us in another box," Hodari said.
Hodari feels the CBA does not consider the possibility of income growth on the South Side; she worries that the current ordinance could eventually lead to displacement as people who rely on affordable housing rise slightly above the income thresholds to receive such benefits. Hodari explains that in bettering their economic standing, families will lose housing support and then, once again, find themselves rent-burdened and at risk of displacement. She hopes for a more comprehensive policy that takes into account family income growth, so that residents can be incentivized to grow their earnings.
Both Adams and Hodari are frustrated with what they feel is a lack of true community input in the writing and modification of the proposed ordinance by members of the Obama CBA Coalition.
Adams expressed unease about the role played by the CBA Coalition, in particular STOP, in shaping the ordinance and believes there has been insufficient engagement with community members outside the coalition.
"We have had direct conversations with STOP about these very key issues [concerning economic development]. We have given them the feedback in a documented way; nothing has changed. There has been no outreach since then to have discussions about how the CBA [ordinance] is being modified moving forward. So they talk about—I am so frustrated by this—'There's been this open community input about this CBA ordinance' but it is just not true," Adams said.
STOP did not respond to multiple requests for comment.
Adams and Hodari want to ensure South Side residents feel like they have a stake in their community by ensuring more economic opportunities for working families and promoting homeownership. Both want to make sure that an agreement not only addresses immediate effects of the OPC but looks forward to the economic future in the neighborhoods most likely to be impacted by this surge in development.
Taylor, in response to criticisms about how the ordinance will affect economic development, said that she wants to keep her focus on improvements for 20th Ward residents.
"I want investment to happen but not at the price of displacement.… I was elected to protect all constituents of the 20th Ward and that's what I am [going to] do and I am really not concerned with all the people who run businesses or who don't live in Woodlawn to be honest."
Dr. Byron Brazier, Apostolic Church of God's pastor, feels the proposed ordinance will stunt economic growth. The church is a major supporter of the Network of Woodlawn (NOW), a nonprofit that describes itself as a "community building collaborative model that aims to help redevelop Woodlawn in a way that is beneficial to the community." According to Brazier, the announcement of the OPC coming to Jackson Park put NOW on an accelerated path to increase their development efforts in the neighborhood.
Despite any differences in opinion on the proposed CBA ordinance, according to Brazier, one point stands firm at the center of this issue: People in neighborhoods around the site of the OPC want to ensure that long-standing community members benefit from this new development.
"There isn't a community organization or community member that is not for community benefits," Brazier said. "It comes down to, how do you reconcile differences."
In his view, the increasing development and gentrification are inevitable because Woodlawn has 150 acres of public and vacant land along with hundreds of empty buildings.
"Woodlawn will gentrify. The reason for that is there must be displacement; displacement must take place before gentrification," Brazier said to me. "There will always be community growth which will deal with increased rents, increased housing costs and so forth. The question we are dealing with now is, how do we configure Woodlawn to be as affordable as it is today."
Brazier is confident that, going forward, there is a variety of mechanisms he would like to see discussed with the city and community groups to address rising housing costs which would allow the neighborhood to grow economically while also offering a place for all people within the community.
Brazier wants to keep in mind what he feels is the role of the CBA ordinance as a policy to delegate city land for affordable housing. He believes a CBA could inhibit economic development, saying, "…it's designed to protect not build. So you have to ask yourself the question: Will the ordinance set-aside provide a catalyst for development or will it be a de-accelerator?"
Brazier said in talks he has had with community members people do not feel the CBA Ordinance, in its current form, will accelerate community development.
Taylor, however, was adamant that community members in her ward have had multiple opportunities to voice their opinion at public meetings that the Obama CBA Coalition have been organizing for three years. Taylor expressed that she is trying to bring everyone together, but that there must be equal effort on both sides.
"I am trying to do that, so the criticisms really ain't important to me, but I wish people will stop talking shit and not doing any work," Taylor said.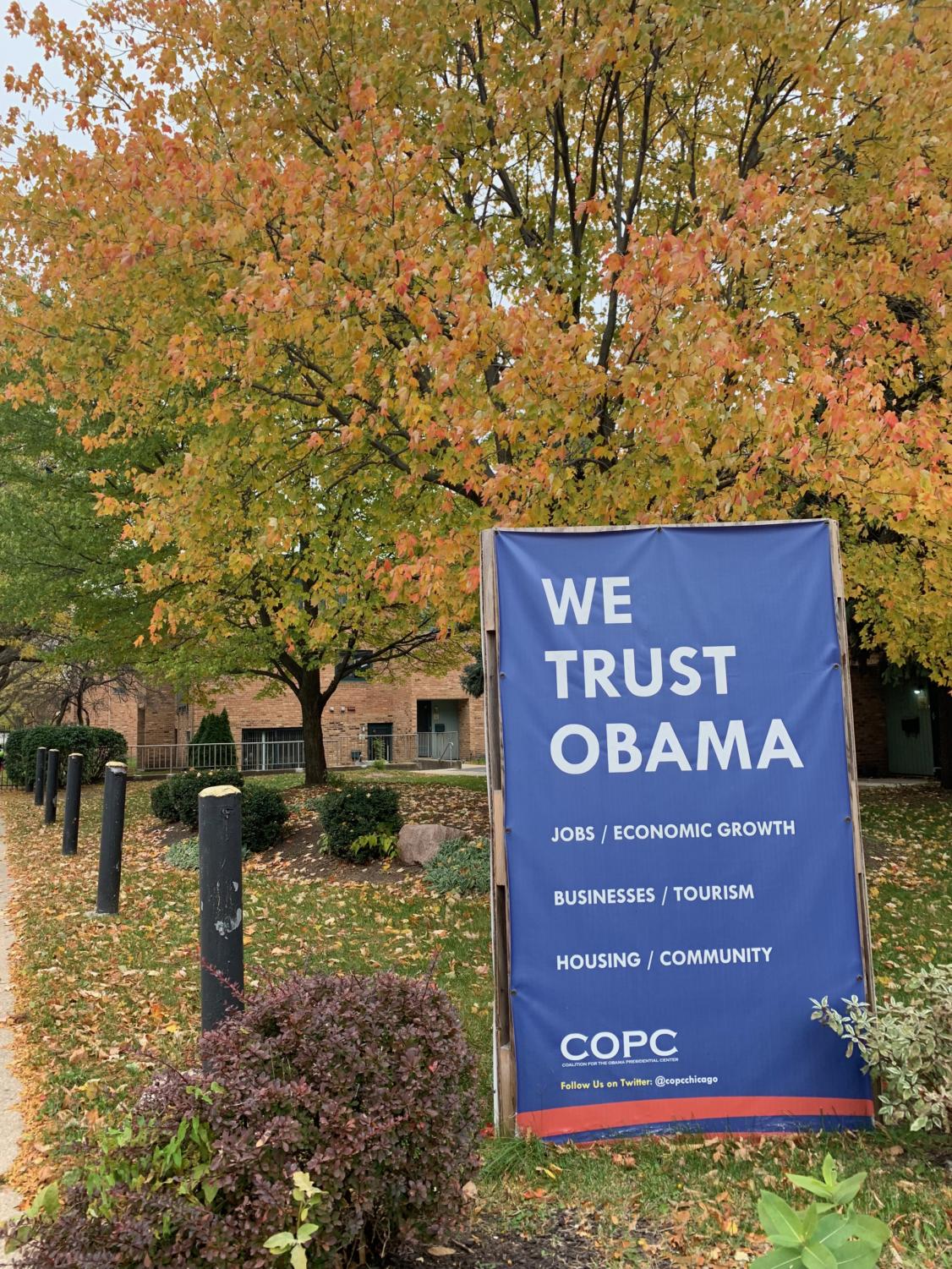 Moving Forward
Community members on all sides of the issue have expressed frustration with the lack of public discussion on the proposed CBA from City Hall.
Hodari wants more dialogue within the community and with the city to address the concerns of those who do not support the current proposed ordinance.
"I have had moments in the last two months where I just wish that we could all come together and build on common ground, but I don't feel like that is welcome from people with opposing views," Hodari said. "I would love to come together in the spirit of collaboration and look at the things that we all have in common to decide a path to move forward."
Brazier wants more discussion on the proposed ordinance's legality, as he has been told by advisors that parts of the ordinance may be illegal. Furthermore, he wants to explore on the ordinance's potential economic development effects. He also cautions all involved in discussions of an agreement to avoid generalities, especially when talking about housing cost in Woodlawn, Brazier pointed out the vast differences in housing costs in the northern regions of the neighborhood closest to UChicago and in the southern parts of the community.
Campbell wants to see more negotiation with all the involved parties to create an agreement that aids South Side residents in his church who have come to him fearing they might experience displacement because of the OPC in Woodlawn and throughout the South Side.
Moving forward, Eager, senior vice president of POAH, explained how consequential the decisions made around anti-displacement are to not only current residents but to future decisions about economic development in Chicago. He advocates that all parties involved need to fully consider their choices in this matter.
"We have the time to plan for a development that doesn't create the sorts of displacement pressures that people are afraid of; we have time to be thoughtful," Eager said. "Woodlawn can serve as a model of how to do economic growth without displacement."
The OPC construction start date is unclear as the center awaits federal review process results concerning a lawsuit filed by Protect Our Parks, an environmental activist group. "We [Obama Foundation] respect the federal review process and will break ground once that is complete," said an Obama Foundation spokesperson.
Even though more meetings are happening to discuss the proposal with city officials, the proposed CBA ordinance has yet to receive a formal public hearing through City Council and is not on the Committee on Housing and Real Estate's posted agenda for the remainder of this year.