The New Popstar Archetype Performs in PJs
Arts Reporter Noor Zalt reflects upon Remi Wolf's fresh, unique stardom.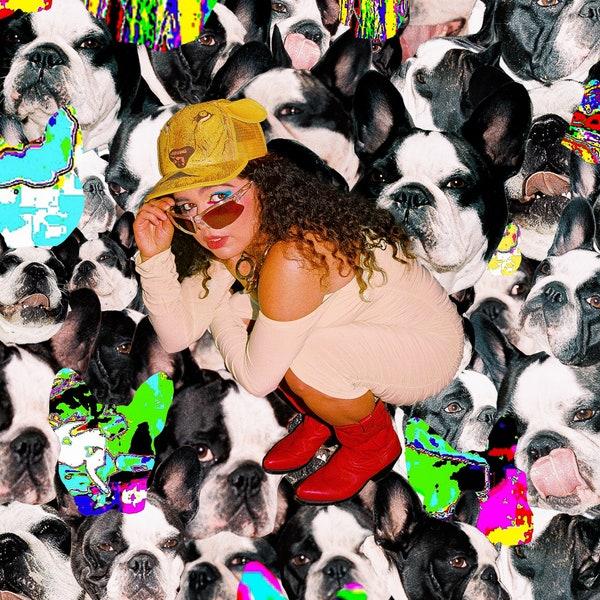 Remi Wolf loves a good headpiece. She doesn't discriminate, sporting all headwear from baseball caps to bedazzled helmets, wonderfully bizarre accessories nestled in her voluminous curls. I was, therefore, somewhat disappointed when she emerged on stage at Lincoln Hall this past Monday in just a standard ponytail.
But my disappointment was quickly rectified when I noticed Wolf's performance attire: a Grumpy Dwarf tie-dye t-shirt and plaid pajama pants. Her outfit—in conjunction with her Raggedy-Anne style makeup and massive, pink, plastic glasses—reassured me that the Remi Wolf aesthetic is as happy and healthy as ever. Wolf's casual dress was perfectly compatible with the approachable tone of her concert; I wondered if I was witnessing the birth of a new pop star archetype.
I am not your hipster music connoisseur—I've never "discovered" an artist—so how did "Sauce" and "Guy" weasel their way into my daily rotation? Wolf inconspicuously pulled up a seat at the table of mainstream pop culture thanks to a TikTok audio—a unique form of sound that has no singular corresponding face attached to it, but rather infinite random ones.
The nature of a TikTok audio facilitates the rise of a novel, deeply refreshing type of pop star: one uncontaminated, at least seemingly, by the discriminatory industry they exist in. The music industry's female icons famously fit a certain archetype—Taylor Swift, Britney Spears, and Olivia Rodrigo come to mind—and the industry rejects and impedes anyone who doesn't fit their ideal image. The facelessness of the TikTok audio, then, seizes that control from the industry, launching artists into celebrity status before executives and the public have a chance to criticize the appearance of the singer.
Remi Wolf, with feathers protruding from her scalp and tie-dye oozing from her pores, might not have enjoyed the rapid growth that she did, had it not been for archetypical individuals serving as vehicles for her success. Pretty-privilege beneficiaries, such as Charli and Dixie D'Amelio and Addison Rae, attached their faces and followings, even just momentarily, to her music, creating widespread traction. Wolf's stardom launched entirely detached from her appearance, and thus we have been blessed with the trailblazing, off-brand pop star.
The facelessness of Wolf's rise to status didn't, however, inhibit her from fostering a deep connection with her fanbase, "RemJobs." If anything, Wolf's unorthodox rise to fame encouraged more meaningful relationships, as her cult following emerged from a shared passion for her lyrics rather than an affinity for her aesthetic. The massive impact Wolf's music had on its fans is unsurprising considering its vulnerability. Her single "Liquor Store," released during the pandemic, is melodic therapy: a two-minute and fifty-two-second snippet of the emotional rollercoaster that was Wolf's battle with alcoholism. Whether listeners personally understand her pain or just appreciate the opportunity to feel close with someone during isolation, the bond fostered between Wolf and her supporters is uniquely powerful.
That's not to say that Wolf didn't wish she could establish a physical relationship with her fans. While her career showcases the strength of social media-derived connections, Wolf longed to break down the virtual walls and finally share a physical space with her listeners. This desire was entirely evident in her Lincoln Hall performance: Wolf treated the togetherness with the utmost respect and humility. Mid-show, the singer let a teary-eyed girl clutch her hand. Affirming her consent for physical touch after a year of self-retraction, Wolf squatted down, existing in and for the moment, appreciating its magnitude. In an attempt to replicate the experience for all three hundred of us, Wolf requested a synchronized breath. On the count of three, the crowd exhaled in unison, beginning to dissolve the chronic fear of shared air.
Wolf sets a precedent: the pop icon of the future doesn't just physically express themself as they please but is also unapologetically raw and intuitive with their audience's needs. In her final song of the night, Wolf accepted a cow-print cowboy hat from a fan. The plastic rim sat naturally in the valley of her curls, and as she whipped her head around to vogue at the audience, I saw normalcy in our midst.