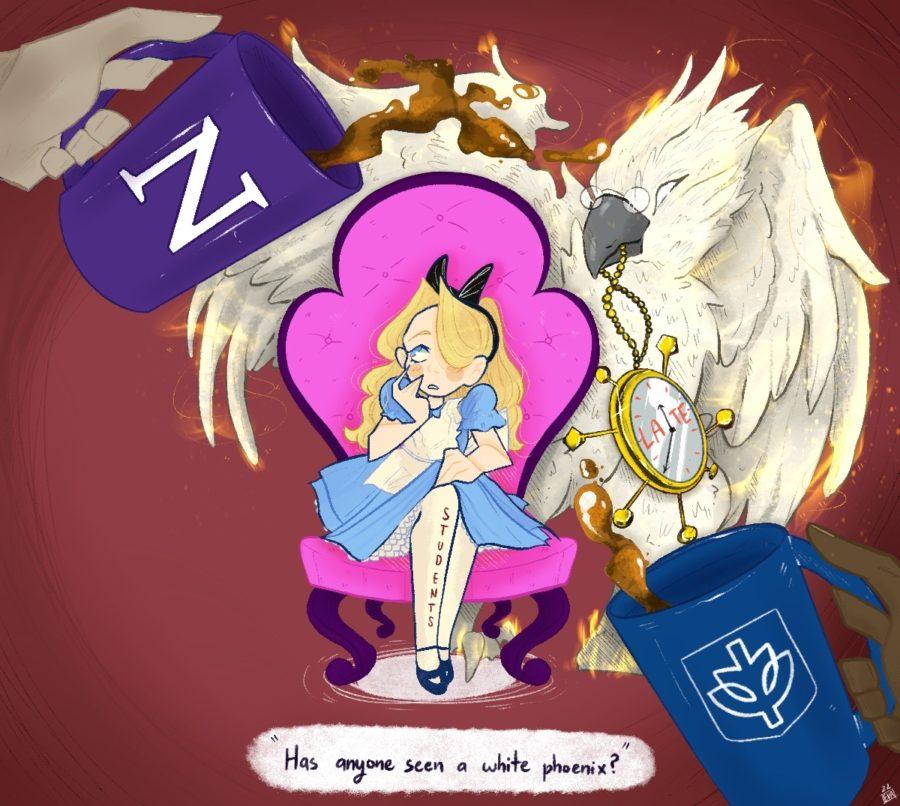 Eva McCord
The University of Chicago's decision to delay winter quarter and begin the first two weeks remotely surprised many undergraduate students, as it came only about a week before most students planned to return to campus. But how surprising is it, actually? This is certainly not the first time the University has waited to make a significant decision during the pandemic. On numerous occasions, it has left students scrambling to readjust to last-minute plans. The University's late decision is a result of poor planning. Moving forward, the University needs to transition from its current, reactive strategy to one that is adaptive, considerate of students' time and finances, and maintains the safety of the community.
The Omicron variant is more transmissible but less deadly, and it is certainly manageable on a campus full of individuals who are fully vaccinated and boosted. Two shots of Pfizer are 70 percent effective against severe disease due to the variant; and while they are only 33 percent effective against an Omicron infection, a booster shot is likely able to raise that number dramatically. Additionally, the FDA recently approved another antiviral pill to treat COVID-19 for those at higher risk. For vaccinated and boosted individuals, the risks associated with the virus are much lower than they have been in the past year. Why, then, would the University decide to delay our return to campus for three weeks?
Despite the lower risk, the University still needs to take precautions to ensure our safety. It is certainly responsible to test students following winter break, considering that over one million positive tests were recorded the Monday after New Years. The University would need to acquire and administer thousands of tests to undergraduate students on a weekly basis (which would likely be impossible, considering that UChicago recently suspended asymptomatic testing to accommodate demand for symptomatic tests). Preventing an immediate outbreak would also require enough workers to administer and process those tests and the proper space to accommodate multiple testing stations.
Now we must think about the situation from the perspective of the University administration. These are actions that need to be coordinated more than a few weeks in advance, which might have only been possible soon after the first case of Omicron was detected in the United States in early December. The country is also experiencing a shortage of PCR tests, which could make the task of obtaining enough tests for the entire student body barely feasible at the beginning of January. Worse yet, the number of staff needed for testing would likely exceed the number of available workers, as the provost's email mentioned reduced staffing capacity. Current conditions present a logistical nightmare for the University, and a three-week delay in our return to in-person learning just might buy them some time to plan for our arrival amid this new variant.
But the unfortunate timing of Omicron's detection is no excuse for the University of Chicago's late decision to move classes online. Within days of the variant's arrival in the United States, DePaul University announced a return to online classes for the first two weeks of its winter quarter. University of Illinois at Chicago and Northwestern University made similar plans soon after. These decisions were made due to the relative lack of knowledge about the emerging variant and the anticipation that testing supply would be low in the new year. UChicago ultimately took the same precautionary measures as these universities, but it announced them weeks later, when many students could not change their travel plans. Whether or not UChicago should have kept classes in-person is irrelevant. The University's decision came much too late.
Our current predicament speaks to the fact that the University administration and faculty have been repeatedly unprepared for the challenges associated with COVID-19. For example, this past autumn, columnist Jennifer Rivera pointed out that professors essentially punish us for absences due to COVID-19 or other illnesses, a policy that furthermore exposes other students to health-related dangers. Even last year's April outbreak led some, including The Maroon's editorial board, to conclude that the University's policies were unaccommodating and sometimes nonsensical.
The University should implement plans and procedures that will make these unforeseen circumstances much less impactful on the student body. Omicron is not the first variant of COVID-19, and it certainly will not be the last. It is conceivable that an even more transmissible or deadlier variant could emerge in the future. How would the University respond? Would they once again send us home to view our college experiences from a laptop screen? Keeping us away from campus is not a solution, but a split-second reaction to an obstacle that could have been anticipated. Considering that Omicron causes less severe illness, it appears as though the move to online classes could have been avoided with better preparation. Those in charge of our health and safety should be better prepared for new periods of uncertainty because they are inevitable.
Additionally, we must push for a more adaptive approach to our education. At the beginning of last summer, I argued that we should retain some of the virtual tools we used during the pandemic to optimize our work in a transition to the post-pandemic world. Some professors, who completed their education in the absence of a global pandemic, might not consider that students face novel difficulties when it comes to their academics. For this reason, the University should implement new policies that specifically accommodate those who have tested positive for COVID-19. This might include requiring professors to offer temporary remote participation, restricting attendance requirements, and demanding that all lectures be recorded. These policies would prevent infected individuals from incurring academic consequences and protect their classmates from exposure.
To the University's credit, keeping many students away from campus for three more weeks is responsible in light of the number of unvaccinated individuals overwhelming our hospitals this winter. However, the timing of the decision has had a largely adverse effect on students. The delayed return to campus affects many different members of the student body, from those struggling with mental health to those who have nowhere to stay for an additional three weeks. In this time, when some of us are confused, upset, anxious, or even angry, we must direct our focus to the future. There are many changes that we can initiate to become more adaptive to the challenges presented by COVID-19. Ultimately, moving to online classes is an avoidable and unoriginal approach to continuing instruction during this phase of the pandemic. We should push for the University to make long-term changes, because we may one day face an even more consequential variant.
Luke Contreras is a second-year in the College.