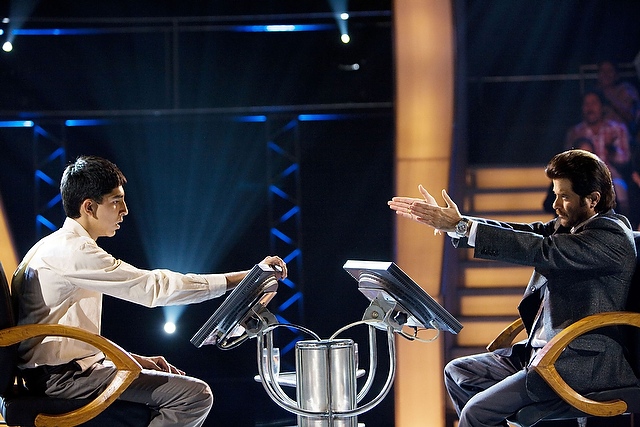 For me, late February brings anticipation. Award season finally reaches its climax with the Academy Awards, and I can remind myself why I sit through hours and hours of repetitive and cheesy award ceremonies all through January. However, this year, I feel estranged from the little gold man. In fact, the ceremony this year is more alienating to more people than ever. The Academy shut out what was easily the year's most popular film, The Dark Knight, because it didn't fit comfortably into any of its favorite prestige genres. With this decision, the Academy continues to make itself irrelevant. Even though The Dark Knight pulled off a nomination, the Academy Awards have never felt like more of a foregone conclusion.
Awards season has been a kind of Bataan Death March towards a sweep for Slumdog Millionaire. I predict that by the end of the evening, it will probably have taken home eight statuettes, including Best Picture. I've never felt so apathetic about a Best Picture winner. The film is not terrible, but it manipulates its audience's emotions in the worst possible way. I feel like the Academy wants to award a hopeful movie to remind the country that we are living in the "Obama Era." While this may be a good thing for the country, it may mean that to get recognition in the future a movie will have to be hopeful, optimistic, and overly simple. It almost makes me miss the Bush years, when such nihilistic masterpieces as The Departed and No Country for Old Men took the top prize. While the picture, director, and tech categories are likely to see a Slumdog sweep, the acting categories are a little more up in the air, and there are serious races in at least two of them. So, I will look at those categories instead of reminding myself of the love fest that Hollywood is having with this Bollywood wannabe.
BEST ACTOR
Mickey Rourke, The Wrestler
Richard Jenkins, The Visitor
Frank Langella, Frost/Nixon
Sean Penn, Milk
Brad Pitt, The Curious Case of Benjamin Button
Should Have Been Nominated: Josh Brolin, W.
This is an absolute dead heat between Penn and Rourke, who both give two of the best performances of the year. If I were an Academy member, I would find the choice incredibly difficult. Penn's performance as Harvey Milk is completely transformative and he often plays the role for comedy rather than going for hero worship, which is definitely a smart choice. Rourke's comeback performance in The Wrestler is brutally physical and incredibly detailed. While I think Penn's performance is slightly better, I think the Oscar will probably go to Rourke. Penn won this prize five years ago, and Rourke needs the win to cap his Hollywood comeback.
BEST ACTRESS
Kate Winslet, The Reader
Anne Hathaway, Rachel Getting Married
Angelina Jolie, Changeling
Melissa Leo, Frozen River
Meryl Streep, Doubt
Should Have Been Nominated: Sally Hawkins, Happy-Go-Lucky
Jolie and Leo are just lucky to be nominated. Hathaway is a potential dark horse for her career-topping work as a recovering drug addict/narcissist in Rachel Getting Married, but the race is really between Streep and Winslet. Meryl Streep hasn't won the Best Actress prize since 1983, and with Mamma Mia! she's really upped her movie star status. The Academy might think it's the right time to give her that third Oscar, but Winslet has been nominated six times and has never won. The good news is that she truly deserves it for this film, in which she plays a former Auschwitz guard. The performance is honest and restrained, and I think it marks the pinnacle of Kate Winslet's decade of memorable performances.
BEST SUPPORTING ACTOR
Heath Ledger, The Dark Knight
Josh Brolin, Milk
Robert Downey Jr., Tropic Thunder
Philip Seymour Hoffman, Doubt
Michael Shannon, Revolutionary Road
Should Have Been Nominated: Eddie Marsan, Happy-Go-Lucky
There's no race in this category. Heath Ledger will be awarded what is only the second posthumous Oscar ever given (the first being Peter Finch in Network). Even though Oscar should have taken notice with Brokeback Mountain, it's nice to see Ledger win for what is probably the biggest pop culture performance of this decade. Honestly, I still think he would be winning this had he not died.
BEST SUPPORTING ACTRESS
Viola Davis, Doubt
Amy Adams, Doubt
Penelope Cruz, Vicky Cristina Barcelona
Taraji P. Henson, The Curious Case of Benjamin Button
Marisa Tomei, The Wrestler
Should Have Been Nominated: Rosemarie DeWitt, Rachel Getting Married
With Winslet shifted to the lead category for The Reader, this race is a lot more open than it was supposed to be. Most people say Cruz is the favorite since she won early acclaim, and Woody Allen has a good track record with getting actresses to win in this category. While I love Cruz's neurotic artist in Vicky Cristina, I think the Oscar will probably go for Viola Davis in Doubt. Her performance is short, but it's the kind of big emotional scene that I think most Academy members will really love. Also, Meryl Streep has been campaigning for her, and that certainly can't hurt. My personal choice would be Tomei's naturalistic performance as a stripper with a heart of gold in The Wrestler, but Cruz and Davis would both be deserving winners.