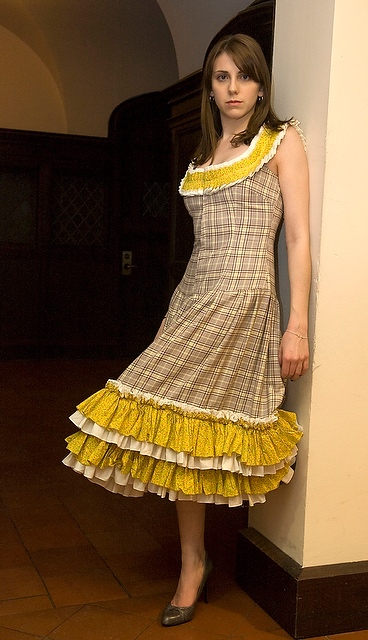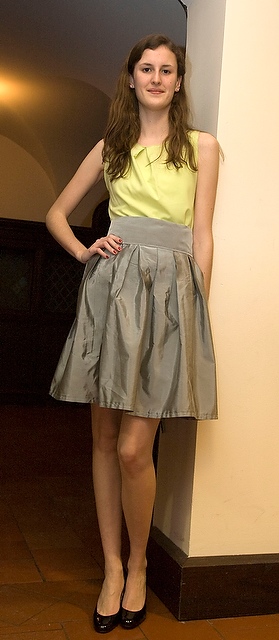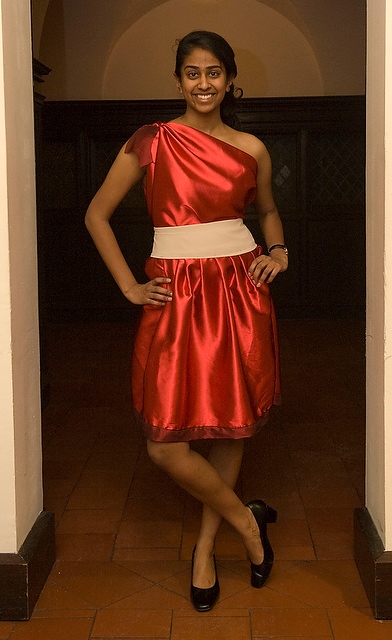 The recent Fall 2009 collections presented at New York's Mercedes-Benz Fashion Week raised questions about how lavishness can coexist with layoffs. Some people suggested that with the economy in crisis, celebrating outlandish luxury was in poor taste. Though some designers, like James Mischka of design duo Badgley Mischka, continued to prioritize extravagant designs over more economical ensembles, others decided to scale back. Some houses opted to stage static tableaus instead of costlier runway shows, and notorious party boys Marc Jacobs and Zac Posen canceled their fabulous fetes.
Here at the U of C, fashion fiends are struggling with a similar question: How can you celebrate luxury when so many people are struggling to make ends meet? MODA's fifth annual spring fashion show provides some answers. You can be cheaply chic by using unconventional fabrics, small budgets, and vintage inspirations. The designers whose work will be featured in "Recessionista: A Lesson in Fashion Efficiency" this Friday use their collections to showcase keen social consciousness and an awareness of fashion's place in today's world.
The show will feature work by members of MODA's Designer Boot Camp (DBC), a year-long designing program that helps students take their ideas from sketches to collections. Other student designers and DBC alumni will also present their work, as will professional Chicago-based designers Alice Barry and Annie Novotny of Frei Designs. Student models will strut their stuff in front of scouts from Elite modeling agency. Attendees will get the VIP treatment with appetizers, drinks, goodie bags stuffed with treats from sponsors like LUSH and Teen Vouge, and performances by dance group Rhythmic Bodies in Motion and emerging hip-hop artist Alex Ludovico.
I asked four student designers, now putting the finishing touches on their collections, for some tips about recession-proofing your wardrobe.
Tip 1: Find Inspiration in Unexpected Places
Former student and current designer Michal Lynn Shumate turns grandma's trash into trendy treasure. Shumate uses discarded domestic items like dust ruffles and doilies to create distinctively retro silhouettes. She believes that recession-friendly clothing should still look like a million bucks. "I think the fact that the dress is made from recycled materials should be secondary. First, it should be a pretty dress," says Shumate. Her impeccable craftsmanship transforms items that once lay forgotten in a linen closet into elegant accents. Colorful ruffles adding volume to a gingham dress don't betray their origins as dust ruffles, and lace accenting the bustline on a white frock looks too delicate to have once been part of a tablecloth. Shumate's beautifully-tailored floral dresses are actually made from pillow cases she picked up at a vintage shop. The result of Shumate's domestic re-design: It's haute in the kitchen when domestic textiles go chic.
Tip 2: Rethink Retro
DBC designer Jetty-Jane Connor revamps retro styles, embellishing '50s-style frocks with funky zippers and other accents that add an androgynous edge to feminine silhouettes. Marc Jacobs shares this aesthetic, but you can get the same look on a dime by adding edgy elements like broaches, zippers, or trim to thrift-store finds. Adding contemporary accents to vintage looks will prevent you from looking stuck in the wrong decade; you'll look trendy, not out of touch.
Student designer Julian Owens also works with a vintage aesthetic. Owens is fascinated by the costumes worn by early R&B groups like the Supremes. His collection outfits three female "singers" and a male "manager" in glittery getups ready to take center stage. Owens's bejeweled designs reference the economizing practice of dressing groups in "uniforms." "It was more cost-effective for bands to dress alike than for everyone to wear a separate outfit," says Owens. If you're a performer aching for the spotlight, take a cue from Owens and opt for decorating your own duds instead of splurging on costly costumes.
Tip 3: Opt for Affordable Artistry
DBC designer Jillian Marshall's collection is more couture than casual—these are not pieces you'd want to wear to class—but her clothes are evidence that beauty doesn't have to break the bank. Marshall's pieces are inspired by some of her artistic icons, including composer Piotr Ilyich Tchaikovsky and painter Vassily Kandinsky. Marshall also found inspiration in the elegant arabesques found on traditional East Asian dresses such as kimonos. "These clothes were created on an extremely tight budget, which in light of the 'recessionista' theme, shows that being artistic doesn't have to be expensive," Marshall says. If you're looking for a one-of-a-kind outfit, remember that couture doesn't have to be costly.
In light of the current fiscal crisis, it's refreshing to see student designers embracing the notion that fashion and frivolity don't go hand in hand. Shumate, Connor, Owens, Marshall, and their fellow designers show that fashion doesn't have to recede along with the economy. Despite Posen and Jacobs's canceled festivities, when it comes to creative, affordable fashion, the party is far from over.