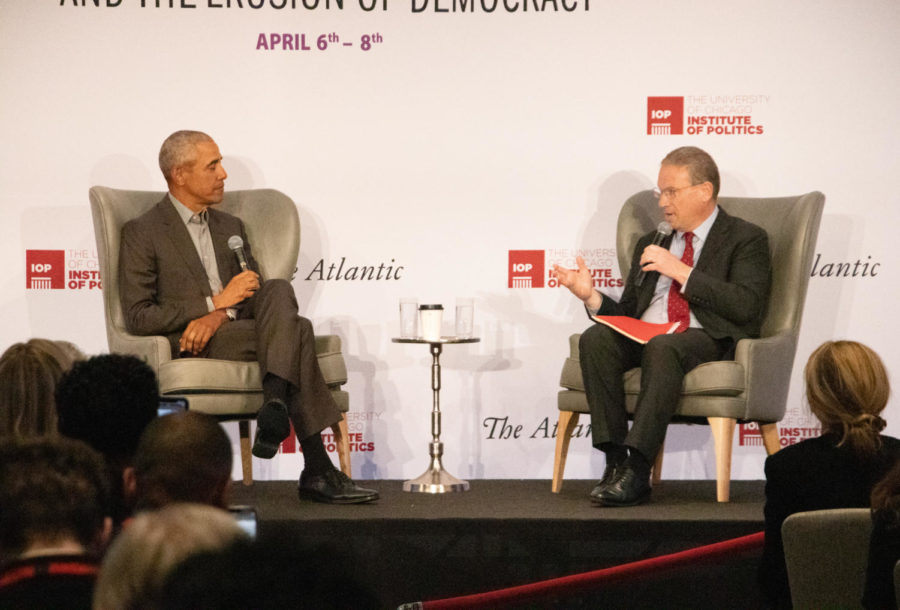 Former President Barack Obama visited the University of Chicago on Wednesday, April 6, to speak about Internet misinformation and its impact on global democracy at Disinformation and the Erosion of Democracy, a conference from April 6–8 cohosted by The Atlantic and the University of Chicago Institute of Politics (IOP).
The conference, hosted in person at the Rubenstein Forum and live-streamed for virtual viewing, focuses on the threat of online disinformation campaigns enabled by social media and weaponized by antidemocratic forces. Obama's talk was preceded by Nobel Prize–winning journalist Maria Ressa and Pulitzer Prize–winning journalist Anne Applebaum.
"We get facts wrong, we say stuff wrong, and we're not going to solve that problem anytime soon," Obama said in a conversation with Atlantic editor-in-chief Jeffrey Goldberg, acknowledging that politics is an imperfect art and mistakes are inevitable. Obama defined disinformation as "a systematic effort ​​to either promote false information [or] suppress true information for the purpose of political gain, financial gain, enhancing power, suppressing others, targeting those you don't like."
"We don't know what we don't know," Obama said. "You have to fight to provide people [with] the information they need to be free and self-governing."
Obama's remarks particularly referenced the ongoing crisis in Ukraine. He called Putin's actions "a bracing reminder for democracies that have gotten flabby and confused and feckless around the stakes of things that we tended to take for granted."
Among what Americans have taken for granted: a free press, particularly at the "local" level. Obama warned that small-town newspapers struggle with "the nationalization of a sort of grievance- [and] anger-based journalism" as well as with "social media and technology whose product design monetizes anger, resentment, conflict, division."
Media disinformation "combined with ethno-nationalism or misogyny or racism can be fatal," Obama said. In a sobering moment, he told the audience: "If you are a woman, if you are a person of color, if you are a trans person right now in certain parts of this country, what's said matters."
Yet despite the threat of online disinformation, Obama described himself as "close to a First Amendment absolutist." He's concerned with particular efforts to overregulate speech in the digital landscape, including the removal of Section 230— a clause of the Communications Decency Act that prevents social media companies from liability for speech on their platforms. "We don't want to be policing everything that's said on the Internet," Obama said. He noted that regardless of how corporations are regulated, there will always be "a demand for crazy on the Internet."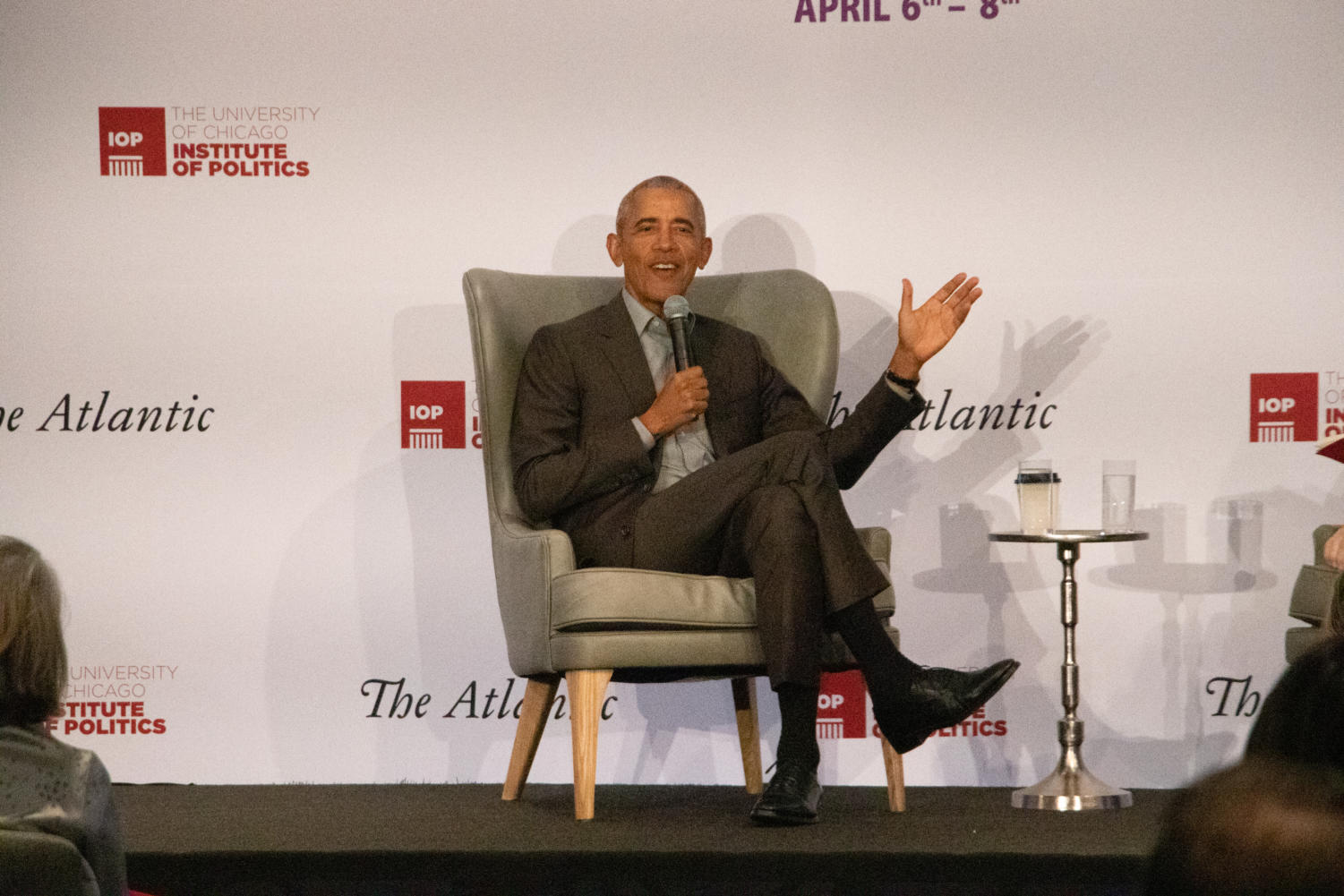 Obama sees the fight against disinformation as one front in the fight between democracy and authoritarianism. "It is difficult for me to see how we win the contest if we are not able to agree on this baseline of facts that allows the marketplace of ideas to work," he said, recalling a past in which news was distributed by a few key, dependable sources relied upon by all Americans.
According to Obama, the Internet needs change from the ground up. "​​I think young people are going to have to help us reinvent, for a primarily virtual social media space, the same kinds of rules, norms, practices, processes that existed before [social media]. And I think that's going to take a while."
Obama's keynote conversation concluded Wednesday's discussions on disinformation led by journalists, among them Nobel Peace Prize laureate Maria Ressa, who talked to Adrienne LaFrance, executive editor of The Atlantic. Ressa discussed her efforts to combat misinformation as a journalist in the Philippines through Rappler, a digital media company she leads; the harassment female journalists face; and the lack of an ability to hold constructive debates on most social media platforms. In the age of social media and technology, Ressa said, journalists have lost the power to moderate content, with emerging artificial intelligence–driven algorithms instead controlling the spread of content: "The tech platforms that now distribute the news are actually biased against facts, and they're biased against journalists."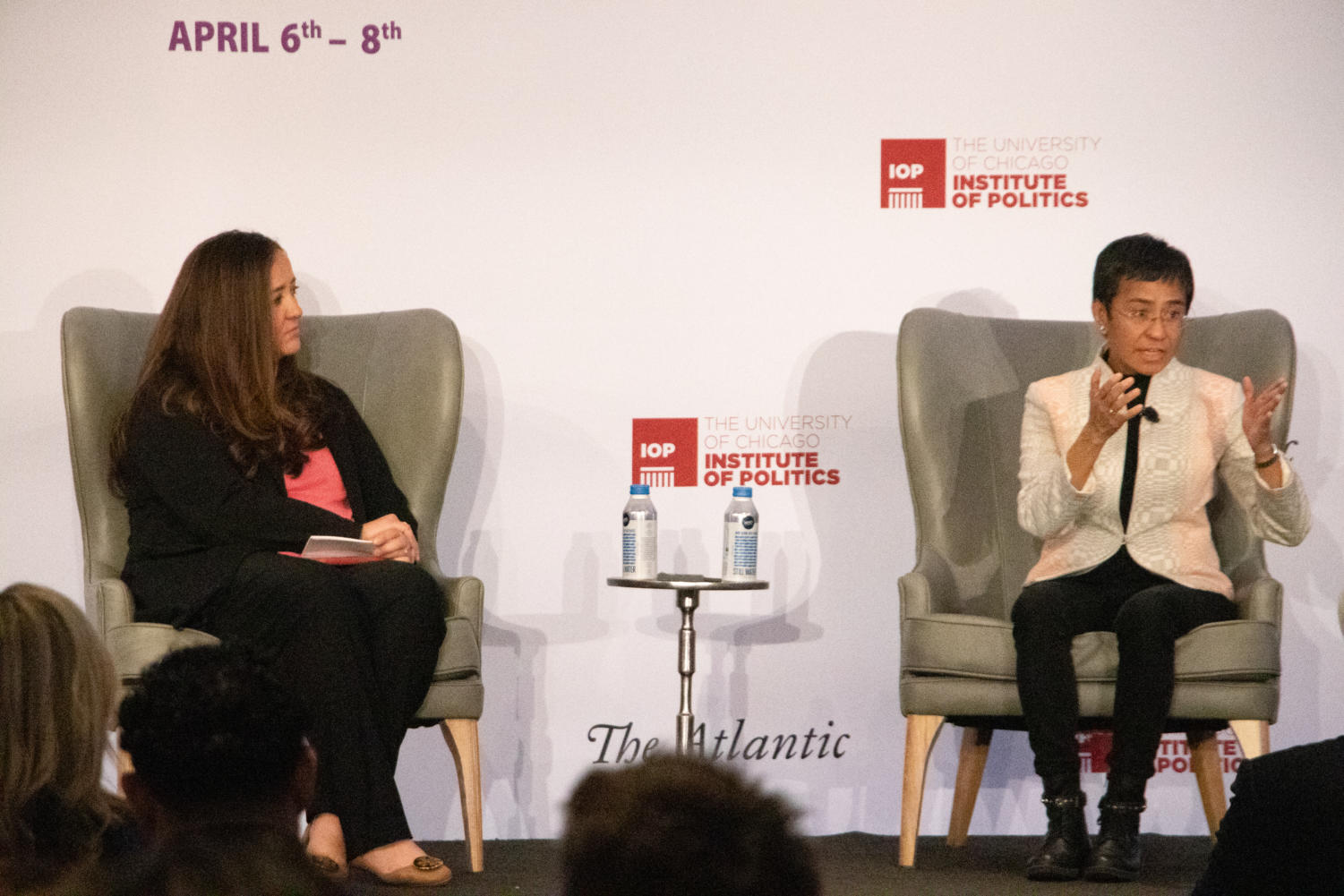 Pulitzer Prize–winning journalist Anne Applebaum then spoke in conversation with Axelrod. Reflecting on the evolution of propaganda in Russia, Applebaum said that Russian propagandists can now spread conspiracy theories in as little as 10 minutes.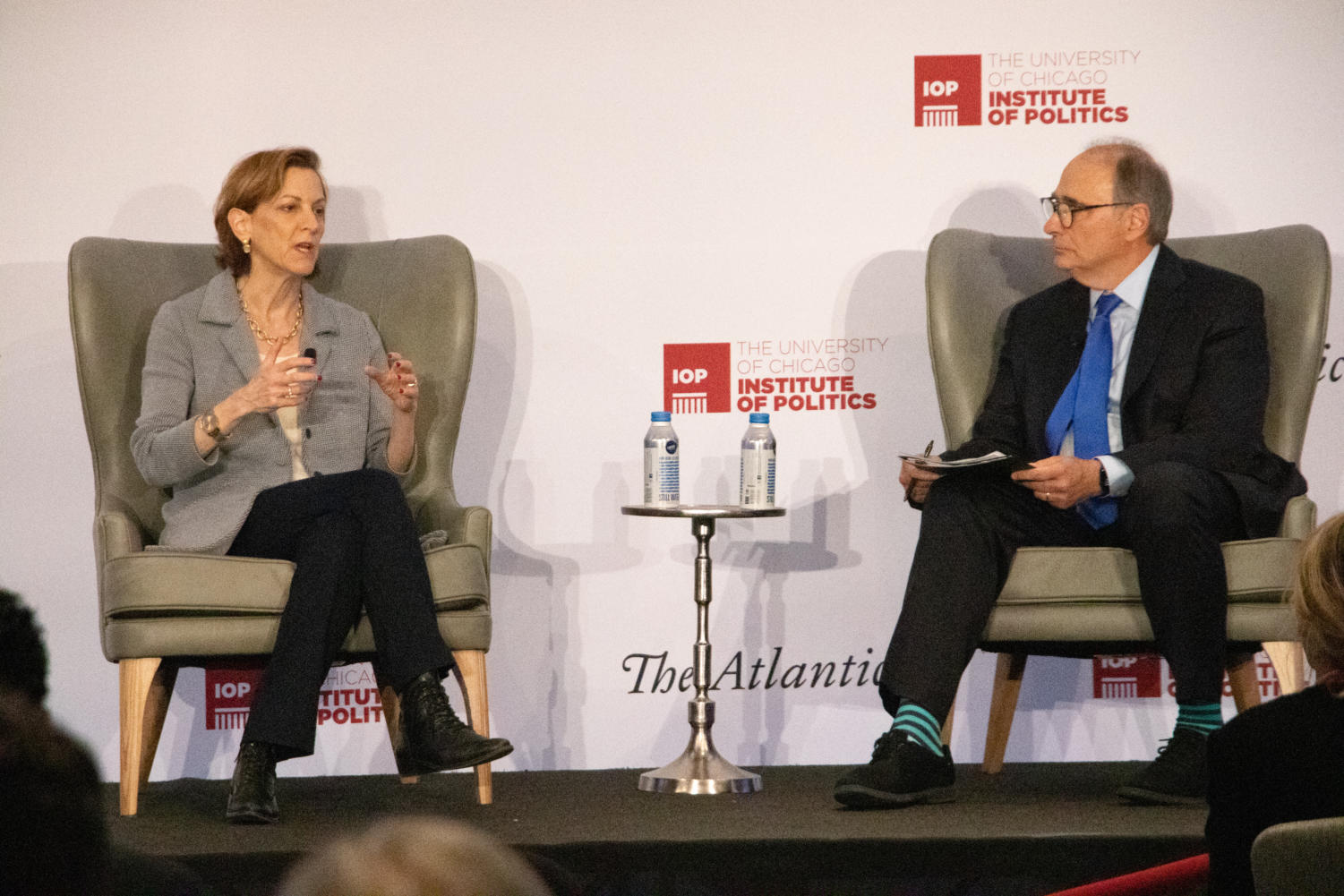 "You can have a network of fake or semi-fake websites [that] will echo each other, [and] people will then see that there are several sources repeating the story," she said. "You can create a bot net of trolls or even real people…[and] give the impression that there's a conversation and discussion on something."
University President Paul Alivisatos invoked the values coined by University founder William Rainey Harper in his welcome speech at the event's kickoff. "Academic freedom and freedom of expression are the essential values that enable our university to thrive," Alivisatos said. "It is very special that this event is held here today."
On Thursday and Friday, the conference will feature speakers like Frances Haugen, Adam Kinzinger, Amy Klobuchar, Kara Swisher, and Lauren Underwood.
UChicago history professor Kathleen Belew, who is slated to speak Friday morning, told The Maroon that she was looking forward to discussing the real-life ramifications of disinformation, including the January 6 insurrection. "Events like [the conference] are really exciting because they're bringing together people who don't usually talk to each other across tech, journalism, and policy," Belew said. "A lot of these issues are located at the intersection between all of those groups, and none of us can deal with this on our own."