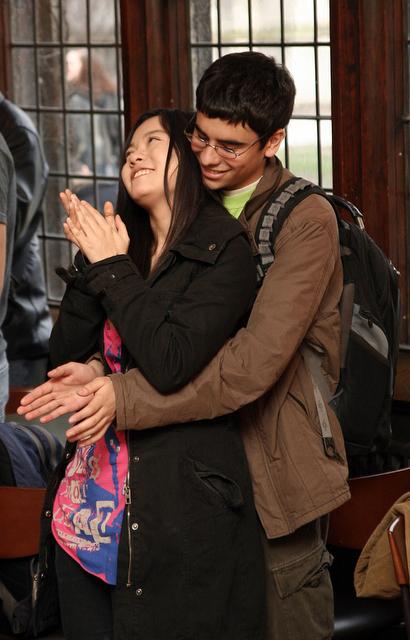 Matt Bogen
Corrections appended
YouChicago won this year's Student Government (SG) slate elections Thursday night, garnering 989 votes, almost double that of the nearest competitor. United Progress and the Moose Party placed second and third, with about 30 and 20 percent of the votes, respectively.
Second-year Greg Nance was elected undergraduate liaison to the Board of Trustees, beating out third-year Kara Elliott-Ortega and first-year David Akinin. Nance, who previously planned on studying abroad in Paris next winter, said he will remain at the U of C for the full year.
Write-in candidate Joseph Bognanni will be the graduate liaison to the Board of Trustees. When Bognanni found out that no one ran for graduate liaison, he decided to wage a write-in campaign. "I hope to offer the board my perspective on long-term problems I have seen regarding the administration's lack of reaching out for input too often in the past before making major decisions that affect drastically the lives of many grad students," he said in an e-mail interview.
College Council (CC) representatives were also decided in the election.
1,731 undergraduate students and 408 graduate students voted, a significant decrease from last year, when 2,755 students voted, including 839 graduate students. Writing on the SG blog after the election results were announced, current SG President and fourth-year Matt Kennedy said that "Grads had understandably lower participation due to no official candidates."
Amongst graduate students, the Social Sciences Division had the highest turnout, with 120 students voting. Two Pritzker Medical School students voted, five School of Social Service Administration students voted, and 20 Booth School of Business students voted.
Executive slate winners YouChicago plan to start their term by addressing smaller issues that they hope can bring quick change, beginning with bringing more bike racks to campus. They also plan to immediately begin reexamining the Kalven Report and gathering the input of students, especially current fourth-years. Other plans include institutionalizing the end-of-the-quarter airport shuttle, bridging the one-hour no-transportation gap, and ending the thrice-quarterly SG dinners, paid for out of the Student Activities Fee.
"I look forward to a challenging year," third-year and President-elect Jarrod Wolf said.
Vice President for Student Affairs–elect and third-year Chris Williams said that the slate plans to spend the rest of the quarter getting a firm footing in SG procedures while continuing to push their platform via their current roles in SG. First-year and Vice President for Administration–elect (VPA) May Yeung and Wolf are both CC representatives.
Third-years Prerna Nadathur, Jay Kim, Wolf, and Williams won CC seats, running unopposed. Wolf's and Williams's seats will be filled by a special election in the fall, concurrent with the election of first-year CC members.
Second-years Mark Redmond, Marie Joh, Arthur Baptist, and Jason Cigan, also running unopposed, earned seats.
First-years David Chen, Sohrab Koli, Tara Levens, and Chen Kuan won seats as well. Yeung did not win her re-election campaign.
Kholi, United Progress's VPA candidate, said that he will continue to work for his slate's platform as CC representative. "We're still going to take our thoughts and ideas and put them into fruition next year," he said. Kholi said he will also consider running for slate again next year.
Kennedy said that he was excited for the YouChicago slate. He recommended that the slate focus on taking small steps while concurrently making efforts for longer-term plans. "I learned a lot of things that Student Government can and cannot do," he said. He pointed to open forums with President Robert Zimmer, putting SG minutes online, and establishing an SG blog as some of the accomplishments during his term.
Kennedy encouraged CC to be more active. "It's important that they step up and find their place," he said, adding that the administration doesn't take the input of the council as seriously as the executive slate.
Kennedy said that he hopes YouChicago utilizes the improvements in communication with the student body that SG has made in the last year. "I hope that these avenues of communication enable whoever comes up with us to use a high-quality apparatus," he said.
Correction: the original version of this article incorrectly identified the year of first-year David Akinin. It also misquoted SG President and fourth-year Matt Kennedy. His final quote included "communication" not "community."