Chicago Manual of Style—11/10/2009
On the prowl for Stylish students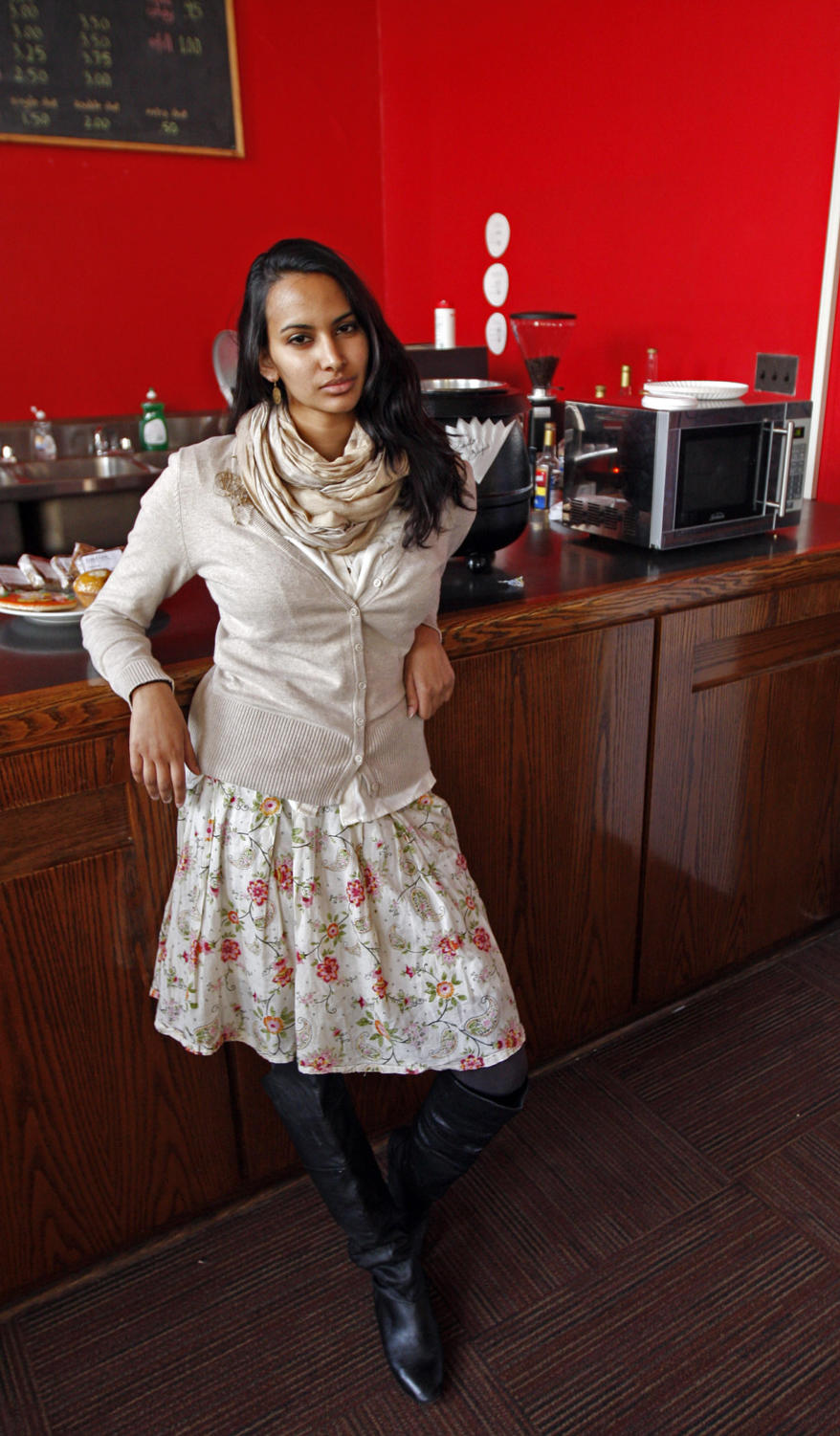 Although many University of Chicago students spend more time with vectors than with Vogue, brainiacs can dress smart, too. This week, I profiled some students who earn an "A" in style. They were even helpful enough to provide tips on how you can also make the grade on a student budget.
Amulya Mandava, fourth-year
The outfit: Boots from Chinese Laundry, H&M cardigan, earrings and silk scarf from India
Budget-friendly tip: "To make your shoes last longer, get them re-soled. Try Mr. T.'s Shoe Repair on 53rd, between Greenwood and Ellis. Also, don't fall into the trap of buying something just because it's on sale. You should never buy something that doesn't really fit you, no matter how cheap it is."
Whether curling up for an all-night library session or getting decked out for a night on the town, Amulya always manages to look comfortable, chic, and confident. She attributes her fashion fluency to dressing for her body type, without regard for other people's expectations. "I wear a lot of layers and high-waisted skirts and pants because they flatter my figure," she said. She often swaddles herself in cozy shawls and oversized cardigans, meaning she sometimes feels as though she dresses like someone twice her age. "I dress like a lot of older or middle-aged women. Women at that age are good at expressing a powerful femininity while dressing for themselves, instead of trying to project a specific kind of image," she added. For Amulya, getting dressed in the morning is more than finding clean clothes or putting together an outfit that matches—it's about dressing for who you are and who you want to be. She finds that dressing well helps her feel invigorated and prepared to conquer any challenges. "Fashion gives me a sense of stepping out of the house with faith in my day, and with the confidence to face anything," she said.
Patrick Gallagher, first-year
The outfit: Cardigan and shoes from Urban Outfitters, pipe jeans from Levi's
Budget-friendly tip: "When you're going shopping, have a plan. Don't just go browse aimlessly—you'll end up spending a lot more money than you mean to."
Patrick's dressed-down take on men's suiting is casually chic. "I like layers, which are the basis of men's dress clothes," he said. Here, he plays with suit-inspired pieces like the cardigan, cut to resemble a men's blazer, and suede shoes that reference timeless wing-tips. He keeps the look youthful and fashion-forward by pairing the pieces with low-key Levis and choosing a cardigan with interesting detailing, like wooden buttons.
Liz Baker-Steimer, second-year
The outfit: Boots from Steve Madden, blazer from Unique, vintage Banana Republic skirt, silk scarf from France
Budget-friendly tip: "Check out Unique, a chain of vintage stores with shops on the North Side. Everything is half-off on Mondays!"
Though she looks right at home in well-tailored woolen pieces like this skirt and blazer, Liz says that her personal style is still under construction. "My look is always evolving as I get more exposure to different styles," she said. Since she's an avid traveler, Liz is constantly finding new fashion inspirations. "I've done a lot of shopping in France, so my outfits often have a European flair," she said. Liz's ensemble is a great example of how an accessory—in this case, a silk scarf—can add a little je ne sais quoi to an outfit.