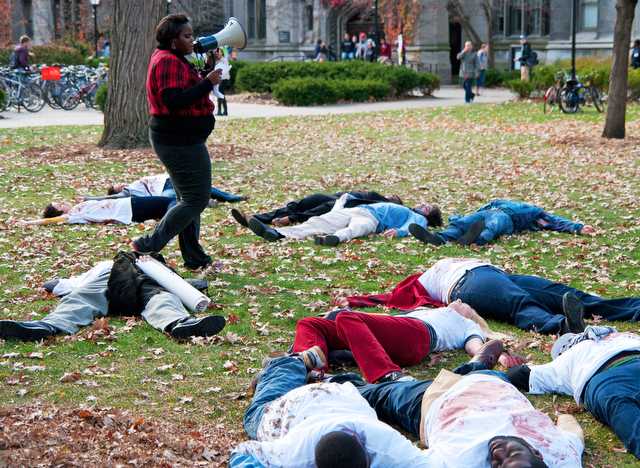 Darren Leow
More than 50 young people wearing t-shirts splattered with red paint, among them a handful of University students, dropped to the ground on the main quad on Friday as gunshots echoed out from a loudspeaker.
The protesters were staging a " die-in" to dramatize a need for trauma care on the South Side, part of a campaign to pressure the University of Chicago Medical Center (UCMC) to reopen its level one adult trauma center.
The UCMC closed its trauma center in 1988 because overwhelming need made the center too expensive to maintain, the University said. Trauma centers are staffed 24 hours a day by doctors and surgeons who specialize in trauma medicine.
"Stand up if you are alive," said a protester over the loudspeaker as others lay on the ground and University students looked on.
"How you can you ignore, we're dying at your door? How can you ignore, we're bleeding on the floor? How can you ignore, we're shot next door?" the protesters chanted from the ground.
At a press conference held outside the Medical Center, on East 58th Street and South Maryland Avenue after the die-in, the protesters demanded a meeting with UCMC administrators. UCMC spokesperson John Easton said the UCMC agreed to set it up.
In a November 12 press release, the UCMC said it recognizes the increased strain on remaining South Side hospitals as others have shut down, but also stressed that the UCMC's ability to provide unique services on the South Side, such as pediatric and advanced specialty care, would be compromised by trying to expand its efforts.
"Achieving geographic balance in trauma care will require a regional solution that does not come at the expense of other lifesaving services," the press release reads.
Many of the protesters were members of Fearless Leading by the Youth (FLY), a youth activist organization founded by 18-year-old Damien Turner. Turner was shot August 14 at 61st and South Cottage Grove Avenue, but was taken to Northwestern, where he eventually died, because the UCMC does not have an adult trauma center.
The hospital has a youth trauma center, but Turner was two years too old to receive care there.
Cierra Williams, an 18-year-old friend of Turner's and a member of FLY, said the group thought the die-in would raise awareness among the University community. " [We felt] it would make a big impression, this campaign," she said.
Turner planned to lead a FLY campaign for a trauma center at the UCMC; that he did not receive care from the hospital blocks away from where he was shot, motivated FLY members and local residents to rally around the issue.
Many members knew others who had to be transported north for trauma care, as the South Side has no hospitals with level one trauma centers of its own.
"We were going to start this before he passed," FLY member Darrius Lightfoot said. " We're in it to win it now."
20th Ward community activist Wardell Lavender said he joined the protest because he wanted the UCMC to increase its care for South Side residents overall. " We don't have a decent hospital around," he said, referring to South Side hospitals besides the UCMC. " They are the lowest you can get. They are third world hospitals."
At the press conference after the die-in, members of FLY and Turner's mother Sheila Rush, demanded that the UCMC open a trauma center.
"We feel they should specialize in serving the community they live in, as much as we serve them by letting them be in our community," said Veronica Moore, a member of FLY.
"[Turner] was the victim not only of violence in the community but injustices in the society and injustices in the healthcare community," she said.
"The main thing they need they don't have—that's a trauma center," Rush said through tears.
Two candidates for 20th ward alderman came to the rally—Reverend Andre Smith and Che "Rhymefest" Smith–and both committed themselves to FLY's goal.
Che Smith said as alderman of the 20th ward he would work to get a trauma center besides improving health care in the ward overall. " I will make sure to do everything in my power to make sure that… the South Side has access to health care," he said.
Andre Smith said he would demand a trauma center, as well. " Our children are dying in our community, and I will not allow it," he said.