O-Issue 2013: Campus cinema
At UChicago the pictures may move, but you don't really have to; there are plenty of excellent resources for the collegiate cinephile right on campus. If you're not looking to stray too far from the Midway, Doc Films is an exceptional choice. Doc began in 1932 as a student-run film club that exclusively screened documentaries (or, as its founders called them, "the realist study of our time via nonfiction film"). In 1940, the organization became firmly established as the International House Documentary Film Group. Since then, Doc has expanded its repertoire and now screens everything from flops to favorites.
Roger Ebert (X '70), an Illinois native and brief UChicago student, once called Doc Films "cinephile heaven," and at $5 per ticket or $30 for a quarterly pass with discounts for renewing members, it's hard to disagree. Many esteemed directors from Woody Allen to Alfred Hitchcock and, more recently, Darren Aronofsky, have even graced Max Palevsky Cinema with their presence and led discussions about their films.
Films play every night throughout the entire quarter (excluding the dreaded finals week). Doc features seven film series per quarter, one for each night of the week, and covers highly varied cinematic ground. This past year students enjoyed Miyazaki in the fall, Wong Kar-Wai in the winter, and Chris Marker and Agnes Varda in the spring. On the weekends Doc screens more recent releases, alternating between blockbusters and classic, established crowd-pleasers—just about anything you could think of from Frances Ha to Fight Club. Don't miss Doc's spring mega-screening—last year's Good Burger featured a burger-eating contest and random giveaways—that always promise a good time. Doc is run by UChicago students and community members with encyclopedic knowledge of the moving picture, and it's worth noting for the benefit of the thrifty film-buff that Doc volunteers are rewarded with free entrance to all Doc shows in a given academic quarter.
The Max Palevsky Cinema is also used, along with the Reva and David Logan Center for the Arts, to play movies produced by Fire Escape Films, UChicago's student filmmaking RSO, which also hosts the 48 Hour Film Festival and, for cash prizes, the ShortScript contest. New members are initiated by filming and editing shorts as part of a production crew. Members also are allowed to propose projects of their own, which can receive funding from the student group if approved by the Fire Escape Films Committee.
If you're not feeling up to the brouhaha of a public screening, or would like to watch as many films as your heart desires—free of charge—the Film Studies Center is an excellent alternative. Located on the third floor of Cobb Hall, the FSC boasts an impressive collection of films, from the highly decorated to the relatively obscure, and you don't have to be a Cinema and Media Studies major to borrow from their cinematic archives (though you do have to remain on the premises to watch them). The FSC also conducts events and film screenings, including those produced by members of Fire Escape.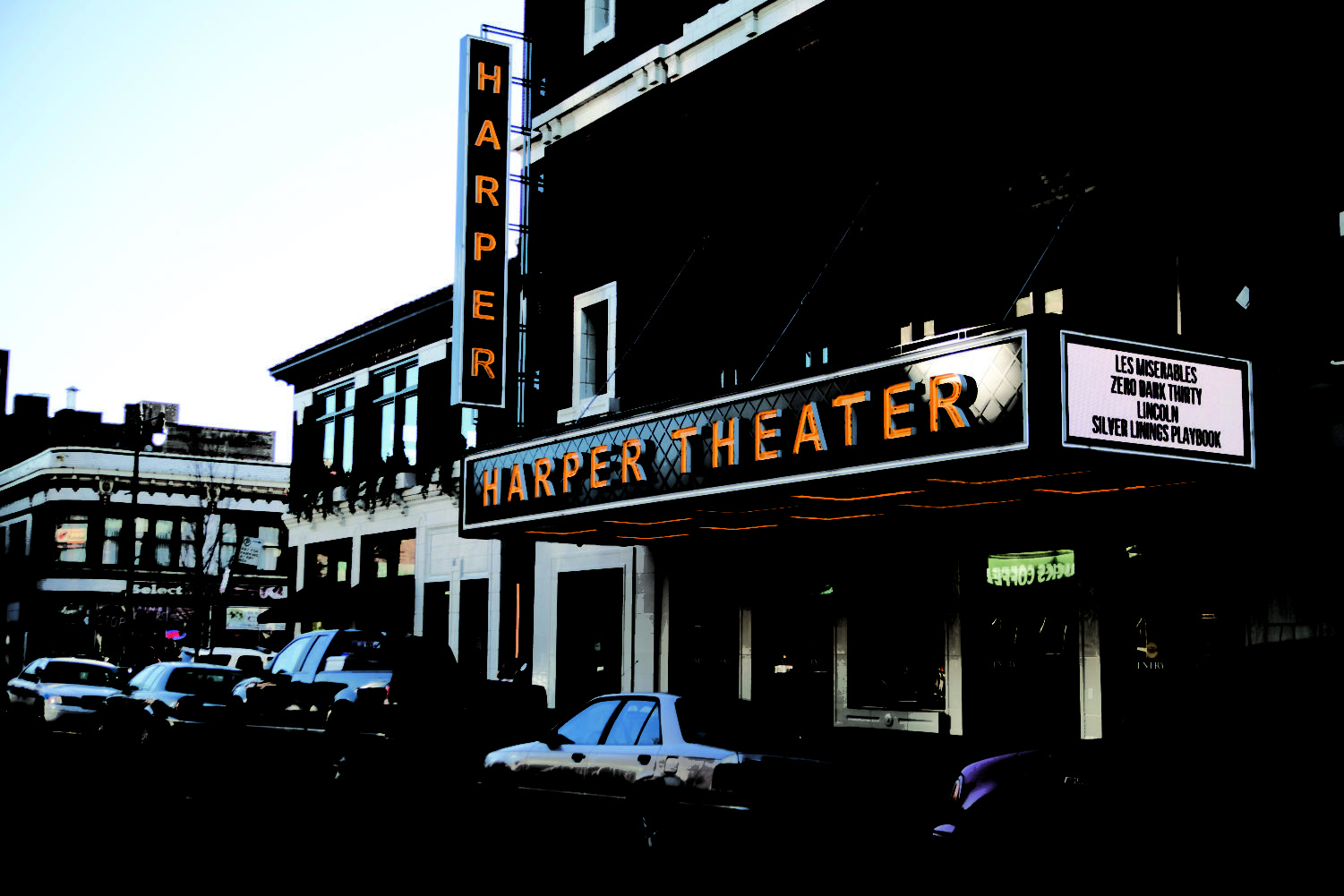 Just a few steps farther away from campus, Harper Theater, located at East 53rd Street and South Harper Avenue, opened its doors this past winter. For $7, students can check out new releases on one of five screens in this historic building designed by Horatio Wilson in the early 20th century.
If you're a cinephile—or just need a breather from that backbreaking essay—look no further than the silver screens right at home.