If you go to the cubicles in Stuart while Humans Versus Zombies (HvZ) is in session, you are sure to find at least one of the nine moderators who keep the game running. "Everyone works pretty much twenty-four hour days when we're not in classes," said HvZ moderator and treasurer third-year Elliot Mertz.
They have a hot-chocolate maker. That's probably the most important point. The cubicles provide temporary storage space for players and a chance to tell the stories of their day.
As the mods typed away at their computers, a zombie raced into the cubicle to drop off her bags. "We have his schedule, we got this," she told the mods, before running off to lay in wait for an unlucky human.
Their job is basically "being parents," one of the mod joked. They have leg warmers at the ready, though the weather hasn't turned cold enough this game to require them.
"One of the things we do we very religiously is sit on our email," said HvZ Vice President third-year Matthew Cartier. The game requires precise tallying of the points zombies and humans receive.
The atmosphere in the cubicle is idiosyncratic. "It's our prerogative to continuously listen to the same song on loop for as long as we can stand," Cartier said. They recalled listening to a Bill Nye the science guy video for a couple of hours.
"There have been some pretty infamous videos," Cartier said. "It got to the point last year where I was like, 'we're not listening to that anymore.'"
"You just don't realize the time that's passing," fourth-year moderator Helena Ambrose added.
"It becomes so ever-present in the background you don't notice anymore and then Elliot will turn off his computer and it's like oh, it's so quiet," Cartier said.
"Then it starts again and you're like, no," third-year moderator Maria Llanos said.
But for all the work the mods do, it wouldn't be enough to keep the game going without the background structure that keeps them from working on note cards – the HvZ website. "If it was just the eight of us in a room, this wouldn't work," Mertz said.
"The first thing that I have to mention is that we have an absolutely fantastic website maintained and developed by absolutely fantastic people," Cartier said.
Kevin Zhang, now an alum attending medical school, developed the website. It is currently maintained by third-year Chris Eidsmoe, who is also this game's lead zombie. The website features various graphs and statistics about the game and has a leader-board that shows the top humans and zombies.
"We would be absolutely unable to run this game if it weren't as good as it is and they weren't as vigilant as they are," Cartier said.
Ambrose cited an example of Zhang's commitment to the game. "The website went down on Wednesday, Kevin helped us put it back up even though he had a medical exam on Thursday," she said.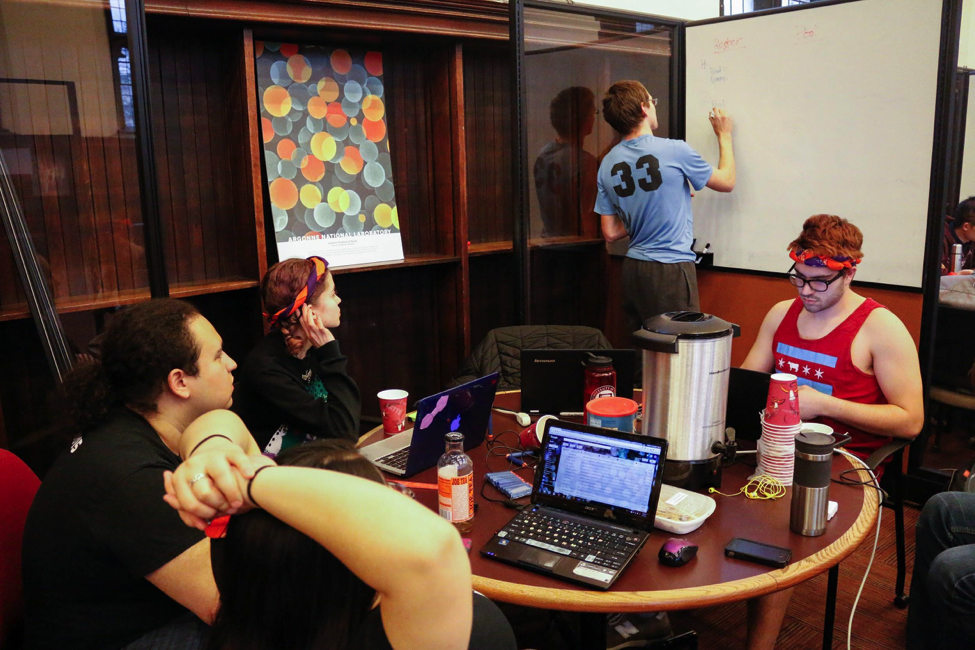 The mods have to consider many possible scenarios in running the game. The question of suiciding – the practice of humans self-infecting to become zombies – used to be a controversial topic, after one game when a large number of humans suicided and the game had an extremely high kill rate. The issue is relevant to this game, where a number of humans have suicided – most prominently the Snell-Hitchcock squad "Secretly Not a Suicide Squad."
The mods have discussed the issue, and decided that they will not penalize suiciding. "We are not going to discourage players from playing the game the way they want to play it,"' Cartier said. "We can't dictate a correct way to play the game."
They have considered the scenario where the humans are all wiped out before Extraction and agreed that if that happened the game would end there. "We'd be like, that game was insane and went really fast but ultimately this is all being driven by our players and we don't want to interfere with them doing what they want to do during gameplay," Cartier said.
Llanos, who self-infected her first game, does have some advice. "We encourage people to go out in style," she said. "Take one sock and go and meet the horde in the center of the quad. If you want to self-infect do it, but do it in a fun way."
Every game of HvZ has a different flavor, as well as different catch-phrases. "Our players like to create what you would call memes because all our players are heavy browsers of the internet," Cartier said.
"It's a re-contextualization of memes into a more physical space, into an everyday life-style, rather than just perceiving them on the screen," Mertz said.
This game, one such phrase is "doot-doot." This game's lead zombie, or patient zero, is known as Skeleton Jack, and "doot-doot" is a phrase associated with zombies on the internet. "People have run with the skeleton theme so far," Cartier said.
Last game, a major meme was centered around John Cena's song, "You Can't See Me," though this had little to do with that game's flavor. "It was completely unrelated, but it got incorporated because it's so pervasive," Ambrose said.  Other past memes include "potato shrimp" and "Blame Jim."
Every game the memes change. Someone has an idea that spreads to the other players, "and then you sort have a player cultural theme – it's so niche, and it's like 'what are you doing?' and at the same time we love it because it creates a shared culture," Cartier said. "I'm always excited to see what they come up with because they're actually the best."
"Everyone is dooting now," the mods agreed.
Cartier started playing HvZ the fall of his first year, after attending the RSO fair and seeing a table of people with Nerf guns.
"I played and it was a crazy experience and I had a ton of fun, so I played again. In the the winter I ended up surviving until extraction and made it out with ten other people who lived," Cartier said. "The first game was really fun but the second game was far and way above that."
He soon got involved with organizing his fellow humans. Becoming a moderator and then Vice President was a natural transition. "My job as vice president is to set the agenda, help sort of funnel discussion towards specific points in the meeting," he said.
Though Cartier would like to play more, he has accepted that the increased responsibility means that he can't. "I've accepted that to do this job means sacrificing the pure amount of game-play, which I think in the end is a worthwhile trade-off," he said.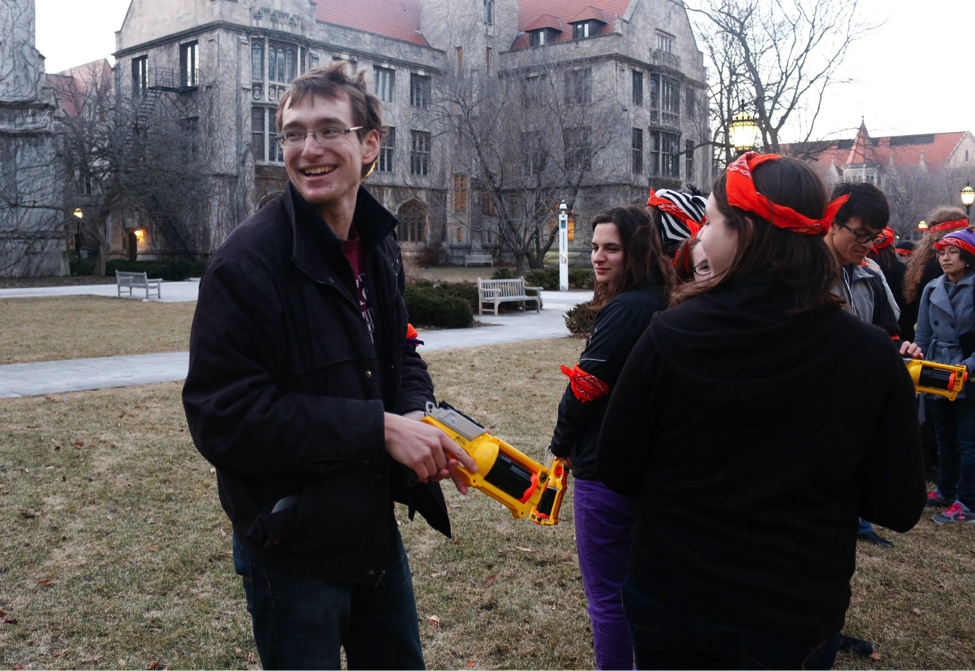 HvZ President, fourth-year Michael Procassini, is currently on leave as a mod. This is his last game, and the other mods want him to have the chance to enjoy it. "I just pop in every so often," Procassini said. "I get to go outside and sort of play the game with people and know how things are from the people's perspective."
Procassini has played in every possible HvZ game except fall quarter first year. He was interested in the game even as a visiting high school senior. "There were two things I wanted to do: HvZ and Scav. I'm that sort of person," Procassini said. "Game design has always been heavily interesting to me." But he missed sign-ups in the fall, and regretted it as he saw how much fun everyone seemed to be having. As president, he's focused on advertising the game, since the lack of it caused him to miss his first game.
Moderator Helena Ambrose, a fourth-year, got involved with HvZ in Fall of her first-year because she "was bored and had nothing to do and lived far away so I was like, I need to meet people."
What really drew her to the game were the emails that talked about the backstory of the game's flavor, which was, in that year, aliens. "It was so unlike any of the other emails I was getting from the school," she said. "Here's this cool event, show up, there will be food, find out information about your major – and all of the sudden, aliens. The fact that you could incorporate a story into UChicago, that was what drew me in."
Now as a moderator, she is responsible for helping write the game's flavor. The process takes place exclusively online, trading ideas, commenting on Google docs, until the flavor is well developed enough to present to the other mods.
Last quarter the flavor was Indiana Jones, and the mods worked hard to present a specific narrative. This quarter they've focused instead on world-building, on developing Dead Man's Bluff, the town where the game is supposedly taking place.
In keeping with this theme, many zombies have begun to wear their bandanas over their mouths as opposed to on their heads. The mods have agreed that this in within the game's rules, since what matters is that the bandana is visible from all angles to humans.
To Ambrose, flavor is another way for people to participate in the game, even if they're not the best shot or the fastest runner. Alumni and students studying abroad will often post on the chatter and "still feel like they're interacting with the game," she said.
Mertz describes this mode of storytelling as different from any other because of its scale.
"There is this problem where people are living their normal lives underneath the level of the game," said Mertz. "It's more authentic because people are doing exact same things they would do in normal life – there's no artifice. But at the same time, you do have to say, I am a zombie outlaw and also a UChicago student – it makes this really big, really complex, really enjoyable game to watch and take part in. Everything we do is double contextualized."
Third-year Maria Llanos did not play the first game of her first year, but "followed it obsessively." What really got her involved, though, was a back-and-forth between her and Will Adkisson, another player in Breckinridge. He ultimately challenged her to a duel over the HvZ-Chatter listhost. The duel never happened, but she said, "because of that email chain, everyone knew my name. They'd be, 'Oh, Maria Llanos, the girl who was fighting with Will on chatter." This recognition and sense of community made Llanos stick with HvZ.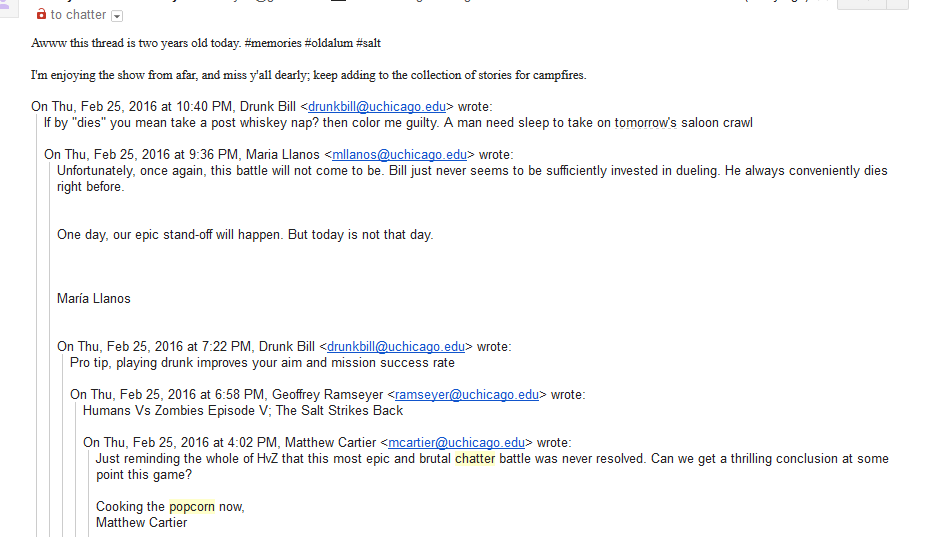 The chatter is an important part of the HvZ dynamic. The mods recalled a winter game from two years ago where the chatter was particularly active. "There were ten to fifteen new threads on chatter every day and everyone was responding to them and there was a lot of banter going back and forth," Cartier said.
Chatter is accessible to all the players and allows them to meet people outside their usual social groups.
"I like chatter a lot as a method of interacting," Cartier said. "The great thing about chatter—I met so many people through chatter—is that offers a sort of broad cast to the community."
Mertz takes issue with the idea that there's a prototypical Hvz player. "Sure, we can list the qualities of a prototypical player," Mertz said, "They tend to be little bit nerdy —  it's a zombie game — but at the same time the prototypical player is not the majority. This a game of a bunch of different people, about finding your own niche and your own  way to play the game. While [the prototypical player] is a thing that exists, it's not an overwhelming majority of people."
Mertz got involved with the game on a friend's recommendation. At first he didn't think it was anything special. "I would have continued playing the game because it's a game," he said.
But it was a Thursday night mission that changed everything for him.  "There was a charge and the humans went crazy and the zombies went crazy and everyone was fighting and no one knew what was going on," Mertz said. "It was fantastic."
Afterwards he heard four versions of the same story. They all agreed that someone had run away during the fight, but no one had the same answer as to who that person was. "I'm a history major," Mertz said. "Specifically, I'm a history major who focuses on the classics and battle narratives. And I was looking at it, like, this is the exact thing I'm super interested in. It's the way people tell these stories and way they circulate and it becomes almost a mythos."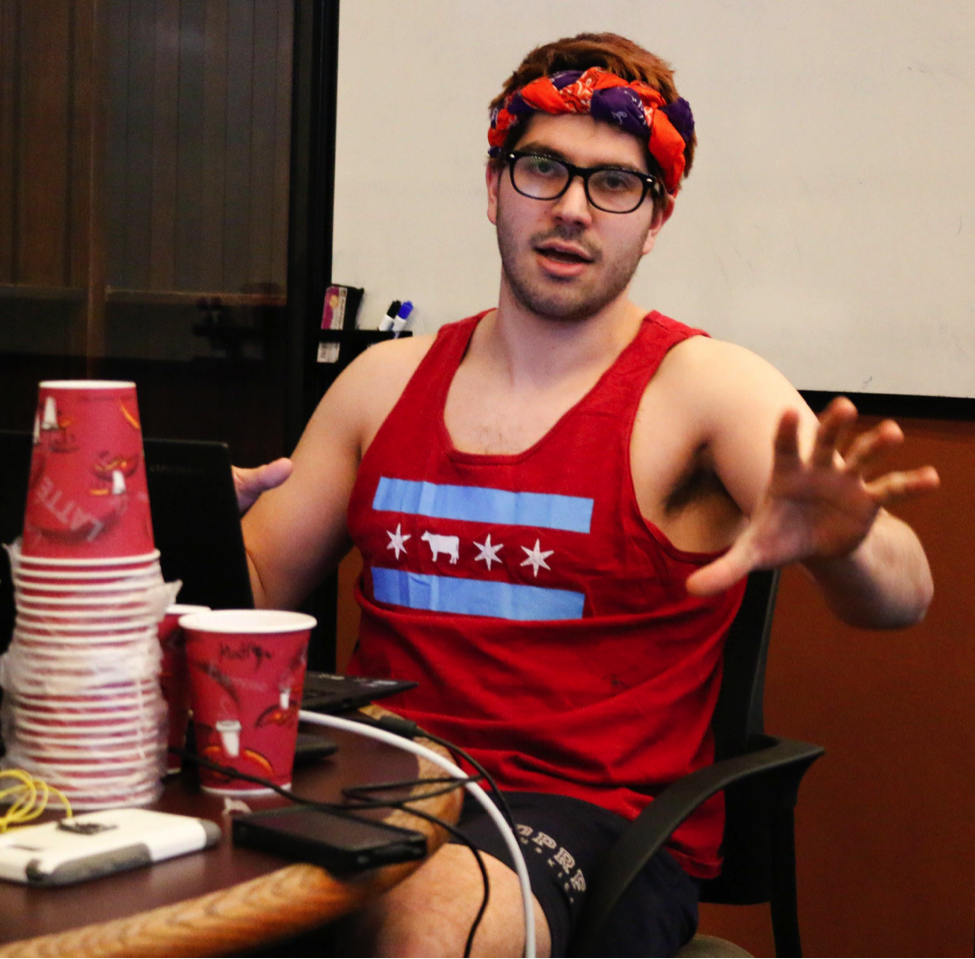 One such figure of legend among HvZ players is Nicky Dover. "There's a story about Nicky Dover where he walks into eight zombies with only six darts and shoots them all," Mertz said. This actually happened, according to Cartier—Dover picked up his darts as he went.
But this is the kind of story that becomes an HvZ myth. "[HvZ] is a culture in the historical or archeological sense of culture, in that it is a set of myths and stories that hold themselves together—that was what really got me going," Mertz said.
The laser mission has gone down in HvZ history for its impossibility. Humans were supposed to bounce a laser off several mirrors, but the laser was too weak and the humans were slaughtered as they tried to get it to work. "Things like that go into legend and the larger HvZ mythos," Llanos said.
The mods swear that the generator mission was well designed—the humans just messed it up. Tasked with guarding four "generators" that maintained a safe-zone, the humans decided to focus their efforts on guarding only one of them, Llanos. But when the zombies swarmed, the humans broke ranks and ran. "I'm standing there and I'm finally surrounded and a zombie was like, have you been tagged yet, are you down, and I'm like no, the humans just ran away," Llanos said.
Llanos said that Holly Kassner [https://chicagomaroon.com/2016/02/26/hvz-holly-kassners-last-stand/], who called the human retreat, swears to this day that she heard someone say, "the fourth generator has fallen, the safe zone is gone!'"
"That had not been said at that point," Llanos said.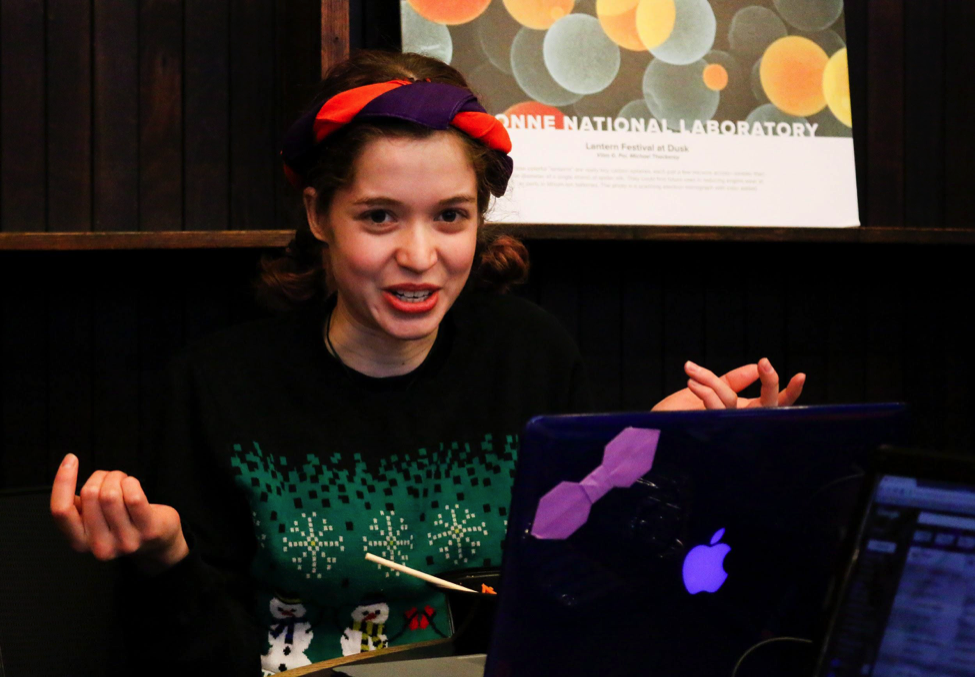 Kassner gave her side of the story over email. "I do swear to Castor and Pollux that I didn't call a retreat until I thought I had heard that the final generator was down and thus the humans had lost. I emptied my 25 clip during the charge, turned around to pick up darts so I wouldn't have to use my three 6-clips instead, and after a few seconds heard the mods shouting that the generator was down. Remembering that the others had been tagged earlier I called the retreat to at least save human lives since we would have already lost and our safe zone had disappeared. This was to prevent people from dying in an impossible mission like the laser mission, though at that point it was more 'since we lost it's impossible to win' rather than ;literally physically impossible even without zombies.' Apparently, and many people will agree, that was not the case and I called it early, but I swear that I would not have called a retreat had I known it was still active."
"Miscommunications do happen," Cartier said. The mission, which was supposed to take twelve minutes, was over in about a minute's time.
According to the mods, the mission was "an unmitigated catastrophe" but they often joke about bringing it back and seeing if the humans can pull it off.
"There's always going to be that mission that's infamous," Mertz said.
Three mods told the story of a mission that happened in the winter of their first year, 2014. The mission was for humans and zombies to try and tag chess timers. Whichever side had more time on the timer would win. Llanos remembers the mod explaining the mission to the zombies, and then "Alex (the lead zombie) turned to us and said 'fuck the mission, we don't care about the mission, we're going after humans'."
So together the zombies march through the quad, chanting "brains." "We just see this mass of zombies at some point," Mertz said. "We can see through the darkness that there are fifty zombies walking towards us."
The resulting firefight killed several humans and left the zombies respawning.
"Humans at this point panic and start running backwards," Mertz said. "Eventually they decide to make a stand on the steps of Harper, where they can run inside at the first sign of trouble. "[The zombies] charge. At this point the back line just runs away. But they can't run away. Because the doors have locked between the time when we left."
Eventually a group of humans got the doors open from another entrance just as the third charge happened. "So most of the people about to be completely slaughtered come inside," said Cartier. "The humans who were just killed and are sticking around to play zombie are bringing their guns and ammo into central harper and saying  'take the ammo and use it, if this is any help.' So we strip all the ammo and follow Holly Kassner and go into archway between Haskell and Harper off of the West Tower. It's freezing, literally ten degrees, just the four of us sitting there, waiting for the zombies to leave, hoping they won't find us."
Meanwhile, as the humans retreated through the doors, Mertz decided, "I'm not giving up on this mission." Taking a group of four people, he was able to capture all the points. Once the zombies realized, they began to chase them. "It's just me with half the horde behind me," Mertz remembered. "I'm just like, 'gotta go, gotta go fast!'"
Thanks to Mertz and the players who went with him, the humans ended up winning the mission.
Meanwhile, Cartier was still in the archway. "It's actually so cold and our phones are dying, and it's just like, 'what are we even doing?'"
A human ran into the archway with zombies on his tail. "My heart just sort of hit my stomach," Cartier said.
He ended up escaping, and spent the night sleeping on Mertz's floor. Half-asleep, he remembered hearing Mertz tell someone who asked, "'Oh, this is a friend from HvZ.' And I was like, 'I don't care, dude, I'm alive.'"
"I think this story is just an absurd example that there's different perspective on everything that happens," Cartier said. "The thing is, this story is crazy, but if you ask any single person with a bandana on to tell you their favorite HvZ story, it will be insane, it will be just like this, every person has that story. All of our players have these amazing stories and I think that's one of the things that keeps me going, that this environment we're creating allows every single person who plays to have one of these stories."
"I can tell stories forever," Mertz said.