The Maroon Gives Thanks
What we're thankful for (and what we aren't).
It's been a long year, but The Maroon prevails. As Thanksgiving approaches, here's what we're thankful for:
We had the highest voter registration of any university in the United States, according to TurboVote. It only took thousands of e-mails, Facebook events, and balloon-intensive pop-up events from UChi Votes.
The Trauma Center opened in May, becoming the first adult Level 1 trauma center the South Side has had in nearly 30 years. Especially after nearly a decade of activism, this is a huge victory.
While we're on the subject of activism, Graduate Students United has stayed strong in the new school year, demanding that the University bargain willingly with them. The Columbia University administration agreed yesterday to acknowledge a graduate student union, so perhaps UChicago will follow its lead.
Eve Ewing wrote a comic book. Ironheart will focus on a Black teen superhero in Chicago who becomes Iron Man's apprentice. Ewing is a poet, activist, visual artist, and associate professor in the School of Social Service Administration. The book will be released by Marvel on November 28.
The Center for Leadership and Involvement, especially Regina Filomeno and Karen Pryor, helped us establish paid staff positions at The Maroon.
Our women's soccer team made it into the NCAA Division III finals last season. Although sports are widely overlooked on this campus, many of our teams are at the top of their brackets, both last year and today.
We're also thankful for the several places near campus hosting Thanksgiving events for students without a place to go:
Of course, there were a few things that didn't quite make our list this year:
The Clinton Global Institute visited, providing campus another reason to avoid going to Ratner.
There will be at least three more Fantastic Beasts movies, allowing the admissions department to ride Harry Potter hype for years to come. Thanks, J.K. Rowling and Eddie Redmayne, for our applicant pool.
David Axelrod, eternal Believer, crossed party lines to teach a MasterClass with Karl Rove. We probably won't pay 90 dollars to watch it, but the trailer gave us a good taste of what it's like.
Phi Delt is starting a fresh, new chapter on campus. We had just been thinking that what campus needed was another fraternity.
The inevitable IOP event featuring both of the UChicago alumni planning to work for the Bolsonaro administration.
Our fans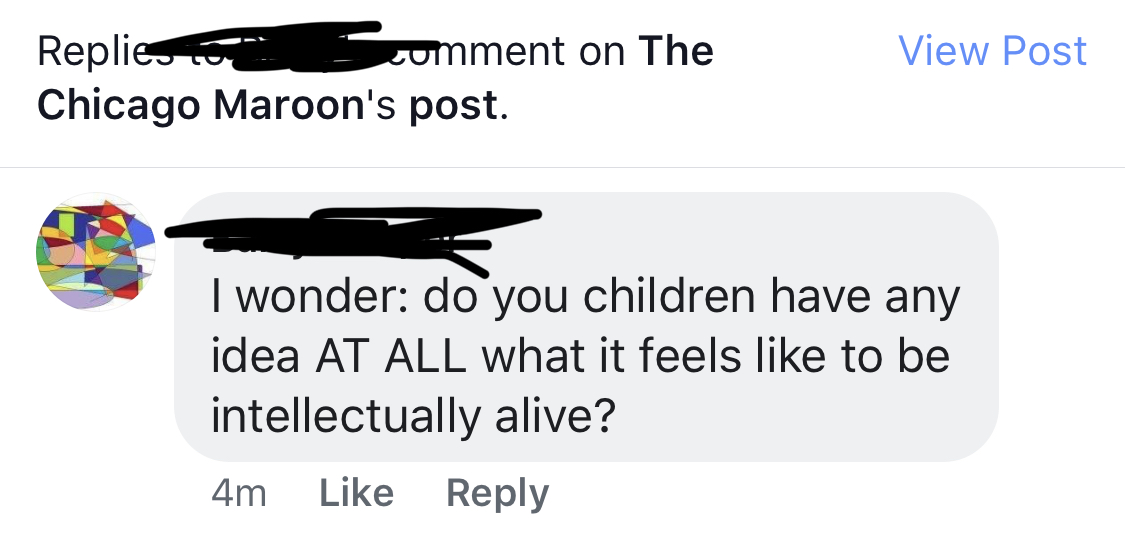 Finally, we would like to reflect on some fallen heroes from this year. Always in our hearts:
Treasure Island

Stony Island

Yerkes Observatory