#CareNotCops Stage Multi-Day Occupation Outside Provost Lee's Home; Lee Rejects Demand to Abolish UCPD
In a statement released Tuesday, Provost Lee said "the actions that are currently taking place on my doorstep go beyond any civil bounds."
Since Saturday, organizers with student activist group #CareNotCops have been occupying the block outside University of Chicago Provost Ka Yee Lee's home, with the stated goal of pressuring Lee into agreeing to a public, recorded meeting to hear their demands: that the University disband UCPD and create campus cultural centers and an ethnic studies department. The action is the second occupation by #CareNotCops this summer following the occupation of University of Chicago Police Department (UCPD) headquarters in June.
As Provost, Lee's office oversees the University's budget planning, and thus the budget for UCPD. While the Provost offered to meet privately after #CareNotCops occupied UCPD headquarters overnight in June, organizers say that, because prior closed-door meetings with the administration did not result in concrete action, a public meeting is the only way to ensure transparency and accountability.
Confrontations between police officers from UCPD and the Chicago Police Department (CPD) and protesters have been sporadic since Saturday, though none have escalated as of Tuesday afternoon. Protesters say they have made plans in the event that police begin making arrests for trespassing, street debris, or erecting tents on the sidewalk.
According to the ACLU of Illinois, the state of Illinois prohibits protests targeting individual residences, writing that "the First Amendment has been interpreted to not protect sidewalk protests targeted at particular Homes. An Illinois statute prohibits such targeted residential picketing." In Illinois, it is unlawful for demonstrations to purposefully block streets. Recently, laws against residential protests have been invoked to block demonstrators seeking the abolition of CPD from Mayor Lori Lightfoot's block in Logan Square.
As the protest began on Saturday, two UChicago Deans-on-Call arrived to speak to both protestors and UCPD. At the time, organizers said their demand was for a statement iterating a commitment to abolish the University of Chicago Police Department, released that day, and then a public meeting 24 hours after that.
At least seven CPD officers issued an order to disperse around 2:00 PM on Sunday, commanding organizers to move bedding and belongings out of the street and removing barriers and signs that had been hung on the fence of the Provost's home. A CPD paddywagon lingered on the block that afternoon for several hours.
Around 3:00 PM on Monday, UCPD and CPD officers returned and issued two more orders to disperse, requiring organizers to take down the tents that had been set up to cover food and provide spaces to sleep in and move supplies off the sidewalk. Police said they were permitted to begin arrests after three dispersal orders.
At approximately 8:00 PM on Monday, during a rally in which protesters simulated a public town hall with an empty chair standing in for the Provost and chanted toward the house "good night, good evening, we're not fucking leaving." When several CPD cars approached the protesters, organizers formed a barricade out of bicycles and locked arms, directing chants towards the police while the demonstrators' police liaison attempted to negotiate. Forty minutes later, organizers agreed to move out of the street and stand on the sidewalk in front of Lee's house in exchange for CPD leaving.
Several pieces of graffiti rendered in Chinese characters on the pavement near Provost Lee's home, alleged spray-painted by demonstrators, raised accusations of anti-Asian racism from commenters on social media. Some argued that they contributed towards a perception of Asian immigrants to the United States as 'eternal outsiders' who are inescapably defined by their place of origin. Lee, who is from Hong Kong, graduated from Brown University with a degree in Electrical Engineering in 1986 and has been a faculty member at UChicago since 1998. In a statement released on Monday, Lee decried the spray-painting of "messages, in both English and Chinese," outside her home, calling them "offensive."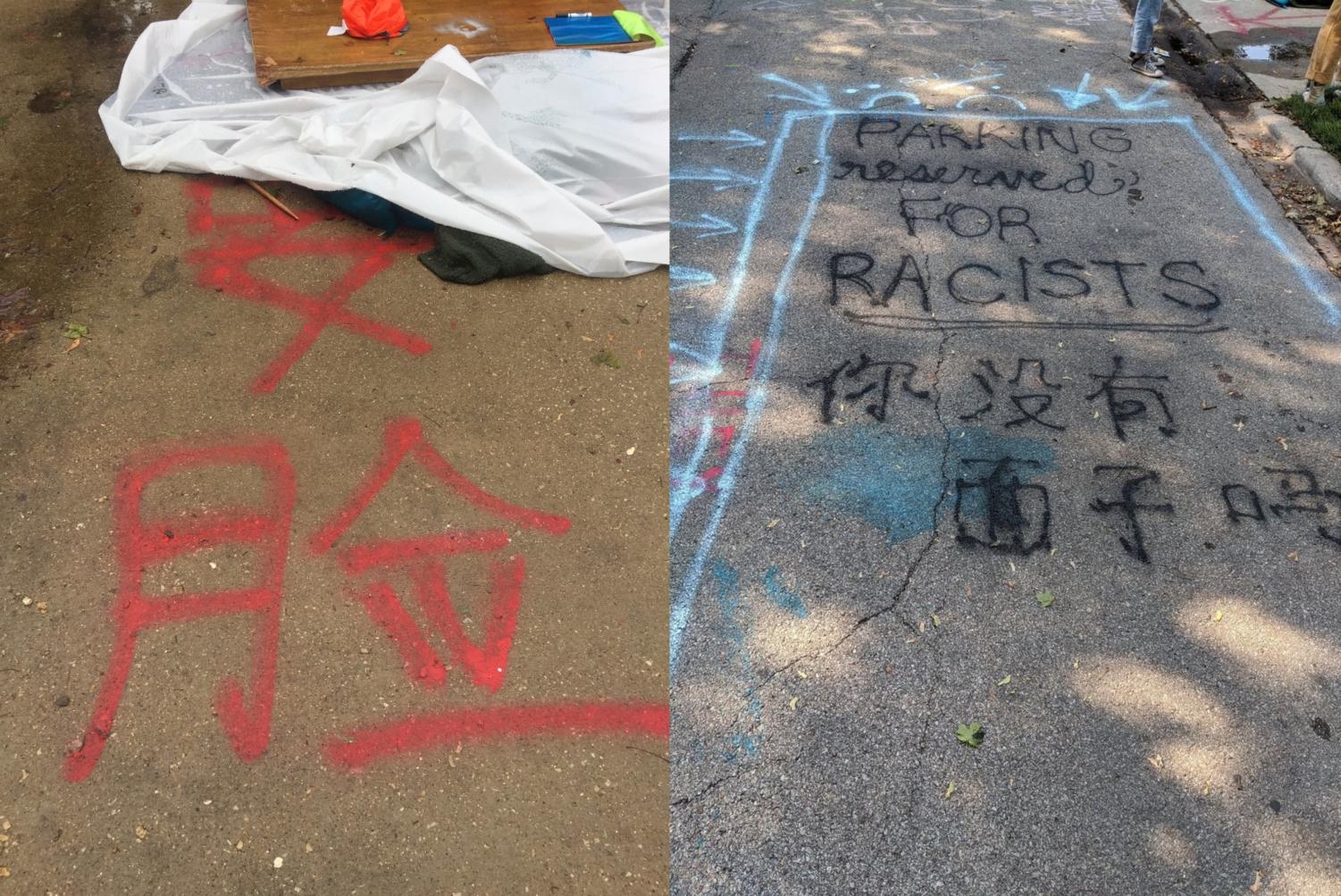 Translated into English, one set of characters means "you do not have face," or more colloquially, "don't you care about your reputation?" Another, not pictured, contained a Cantonese vulgarity that, in English, means "fuck your mother."
In a statement released to the University community on Tuesday, Provost Lee condemned the demonstrators' tactics, writing that "the actions that are currently taking place on my doorstep go beyond any civil bounds." She also wrote that "vandalism and personal attacks against an individual" are inconsistent with "civil discourse about societal issues".
Provost Lee flatly rejected the idea of abolishing the campus police department, writing that "I want to be clear that the University has no intention of disbanding the UCPD."
#CareNotCops released a statement responding to Lee's on Tuesday night in which organizers disputed several of Lee's claims and reiterated their demands. "Sit-ins are some of the most storied means of social change in the United States, and whatever inconvenience we're causing pales in comparison to the displacement, stress, and institutional violence that the University causes continuously," organizers said.