Chicagoans Rally Downtown to "Defend the Election"
Hundreds of demonstrators, UChicago students among them, took to the streets after President Trump prematurely claimed victory.
Hundreds of Chicagoans gathered downtown Wednesday evening in a "Rally to Defend the Election," as President Donald Trump's campaign laid the groundwork to contest election outcomes in several key swing states.
UChicago students, including second-year Alexis Florence and fourth-year Beth Awano, joined a coalition of more than 30 activist groups in organizing the event. Awano, who helped to organize the rally as a member of the Sunrise Movement's Chicago chapter, said that the groups started planning the rally in response to the President's refusal to commit to a peaceful transfer of power. Their urgency only increased after the President's election night remarks, which Awano described as "terrifying."
"Today was about showing solidarity in opposition to the destruction of our democracy. We feel pretty confident that Biden is going to win, but it's so important to hold strong, and count every vote," she said.
March attendee and recent UChicago graduate Antonia Stefanescu told The Maroon that she wouldn't be satisfied with a Biden win, since "it suggests just the tiniest first steps" towards the progressive agenda she supports. Still, she attended the rally out of concern for American democracy in the short term.
"Democracy just feels really on edge," Stefanescu said. "I feel like the only tangible thing I can do right now is be out here with other people…to try to protect the vote."
The demonstration comes the day after Trump claimed to have "already won the election," despite trailing former Vice President Joe Biden in both the electoral college count and the popular vote as of Wednesday evening. The Trump campaign also announced on Wednesday that it filed a lawsuit seeking to halt the vote count in the swing states of Michigan and Pennsylvania, with similar efforts underway in Nevada and Georgia.
Mask-clad attendees marched from Daley Plaza to Trump Tower, carrying signs that bore slogans like "STOP TRUMP'S RACIST VOTER SUPPRESSION" and "COUNT EVERY VOTE."
During the march, protestors sang expletive-laden chants expressing disapproval of both major party presidential candidates, also chanting "defund the CPD [Chicago Police Department]," and "CPAC/fight back"—a nod to the proposed Chicago Police Accountability Council, from which Mayor Lori Lightfoot has withdrawn her support.
Police presence in the area was heightened for the duration of the protest, though organizers said there were no violent interactions between police officers and marchers.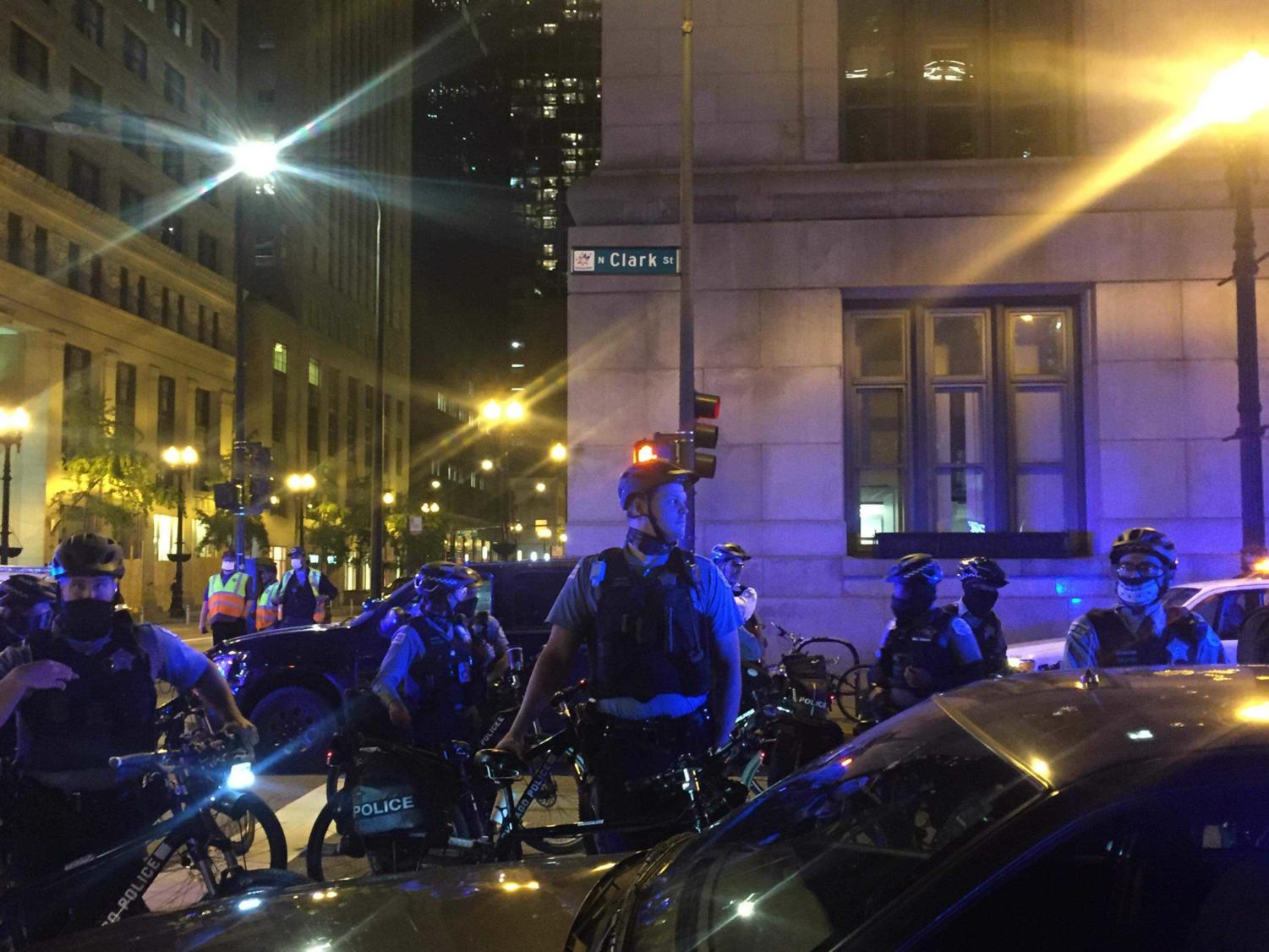 After the official march dispersed, a group of youth organizers spontaneously held a separate second march, focusing their attention on the lines of CPD officers surrounding the marchers and chanting, "Who do you serve, who do you protect?"
During the second march, tensions between police and protesters came to a head in a series of standoffs at Daley Plaza and several nearby intersections as protestors asked several unmasked officers to put on masks and police prevented marchers from crossing the bridge near Trump Tower. Despite a heavy police presence and warnings from officers that "whoever shoved a cop would go to jail," the protest concluded without arrests.
Awano said that regardless of the election's outcome, Sunrise and other activist groups' work is not done, noting Biden's opposition to the Green New Deal.
"Whatever happens, we're going to be on the street, continuing to fight for what Sunrise believes in," she said. "The fight is not over once the election is over."