Content warning: This article discusses sexual assault and violence.
Earlier this week, 16 T-shirts in various colors hung in the courtyard outside Hutchinson Commons as part of The Clothesline Project. Each T-shirt, decorated by a member of the UChicago community, reflects the voice of someone who has experienced sexual assault, violence, or abuse.
"It really puts something that is insidious but incredibly common in plain view of a lot of people. It takes a truth that people don't want to acknowledge, and it makes it so that you can't help but see it. That comes from pain, but it also comes from survival," said incoming Phoenix Survivors Alliance (PSA) co-president Kelly Lo, who helped organize the installation.
The Clothesline Project at UChicago is a collaboration between PSA and Student Government's Sexual Assault Awareness & Prevention (SAAP) Committee. The installation was displayed on Tuesday, May 18 and Thursday, May 20; and it will also be displayed on Monday, May 24 from 10:30 a.m. to 3:30 p.m. Photos of each T-shirt are also posted on PSA's Instagram page.
The Clothesline Project started in 1990 when a group of women, many of whom were survivors of violence themselves, organized an installation on Cape Cod, Massachusetts, to pay homage to those who had survived violence and those who were lost to it. Each woman decorated a T-shirt to reflect her stories and experiences and hung it on a clothesline—traditionally a place where women worked and talked with one another—for public viewing.
Since then, the project has spread across the United States and to several other countries, and a number of colleges and universities have held installations. UChicago students organized multiple Clothesline Project installations between 2012 and 2018 through a now-defunct RSO called the UChicago Clothesline Project.
When PSA and SAAP members brought up the idea of reviving The Clothesline Project on campus, they received an enthusiastic response from the student body. Many artists signed up to contribute T-shirts, and other student volunteers helped to table and prepare materials.
"The artist solicitation process this year was mainly just publicizing on social networks," Lo said. "We didn't go and ask anyone personally to do it."
Each T-shirt color for The Clothesline Project corresponds to a specific form of violence. Of the 16 shirts on display at UChicago this year, many are orange, a color which represents survivors of rape or sexual assault. There are also blue T-shirts to represent survivors of incest or childhood sexual abuse, gray T-shirts for survivors of emotional, spiritual, or verbal abuse, and white T-shirts to commemorate those who died as a result of violence.
"Clothing is a very relevant item to sexual assault, but it is also relevant to other forms of violence. When it is aired out like that, you can't help but look at it," Lo said. "When a group has lacked power and voice for so long and they, through their own trauma, are forced to do this to get attention, I think there's a power to that, even though it is fueled by trauma and pain."
In February 2020, PSA put on the Lost, Not Found art installation, a concept developed by Lo and newly elected Student Government President Parul Kumar, another incoming PSA co-president. Like The Clothesline Project, Lost, Not Found also included both physical and virtual displays.
"It was kind of nice to have a precursor project like that that went so successfully. That made it possible for The Clothesline Project to adopt a similar medium," said Anne Havlik, the chair of SAAP and PSA's co-president for the last two years.
Lo believes there are similar takeaways from both installations.
"When we did Lost, Not Found, it was a very painful experience for all of us involved, but through the project, we got a lot of messages from survivors who finally felt heard, who felt that it was okay to speak up, who felt that it was okay to have experienced things that they thought were disgusting or their own fault or [that] they didn't know how to handle. And that is part of what we're trying to go for for The Clothesline Project," they said.
T-shirts at The Clothesline Project feature personal reflections as well as poems, quotes, and messages to other survivors. "I was blamed for what YOU did to me. I was seen as DISGUSTING and TAINTED for years. You might not remember, but I can't forget," a blue T-shirt reads.
An orange T-shirt reads "Consent 101: You are not obligated to have sex with your boyfriend/girlfriend/partner," with "Dating ≠ Consent" written below and outlined in red marker. Next to it, a white T-shirt features a poem titled "The Red Ant," written by a survivor who later took his own life.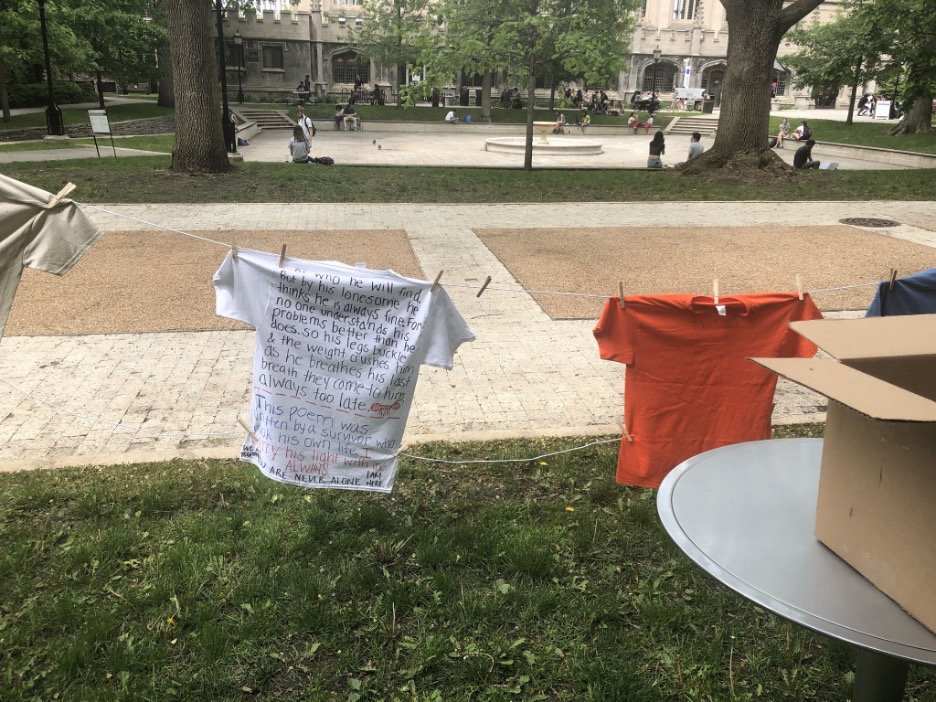 The Clothesline Project also features art by Zain Jamshaid, a former Ph.D. candidate in the Department of Cinema and Media Studies who was dismissed from his program in 2020. Jamshaid filed a Title IX complaint against the University, alleging sexual assault and a pattern of harassment by a professor in his department, but it was rejected by the University's Panel on Unlawful Harassment in August. According to Lo, Jamshaid had been in contact with both PSA and SAAP prior to publicizing the allegations over the winter.
"We are trying to make a physical installation and a physical impression on a place that has systematically denied a lot of us what we need and what we deserve. It is an act of speaking out against the University specifically as well as an act of solidarity with other survivors of violence on campus," Lo said about The Clothesline Project's impact at UChicago.
Havlik hopes that the installation can combat the stigma against survivors of violence and the dehumanization they face.
"When we go through all of these trainings every single year for sexual violence on campus, we're bombarded with statistics and things that are sort of dehumanizing…. You forget that there's a broader impact than just a statistic of one in three [women experiencing violence]," she said. "This is one of the ways that people can share their own voice and create that human factor that goes into the suffering of survivors of sexual violence and also the strength that goes into honoring survivors' lives and their ability to continue."