The University of Chicago Labor Council (UCLC) organized a rally on Sunday, May 1, in Nichols Park in commemoration of International Workers' Day. Organizers and members from several unions with bargaining units at the University of Chicago—including National Nurses United, Graduate Students United (GSU), and Faculty Forward—attended the event alongside community activists from #CareNotCops (CNC), UChicago Against Displacement (UCAD), Tenants United Hyde Park/Woodlawn, Students for Justice in Palestine (SJP), and the UChicago chapter of the Young Democratic Socialists of America (YDSA).
The event ran from 2 p.m. to 5 p.m., with groups setting up tables where they distributed flyers and signed up new members. There, newly-elected GSU co-presidents Neomi Rao and Andrew Seber spoke to The Maroon. "We have an amazing ecosystem of folks who are all engaged in struggles that are deeply connected, so I think this rally is really about building power together, building solidarity together, and celebrating," Rao said.
Speaking about GSU in particular, Seber said, "We have a number of things that we're involved with. First and foremost, we're interested in bringing democracy to the workplace. We do a lot of work in this university, and they refuse to ever speak with us as an organization or acknowledge us. But we're just trying to improve working conditions, increase funding for graduate students, and get some legally enshrined rights to bargain with the University."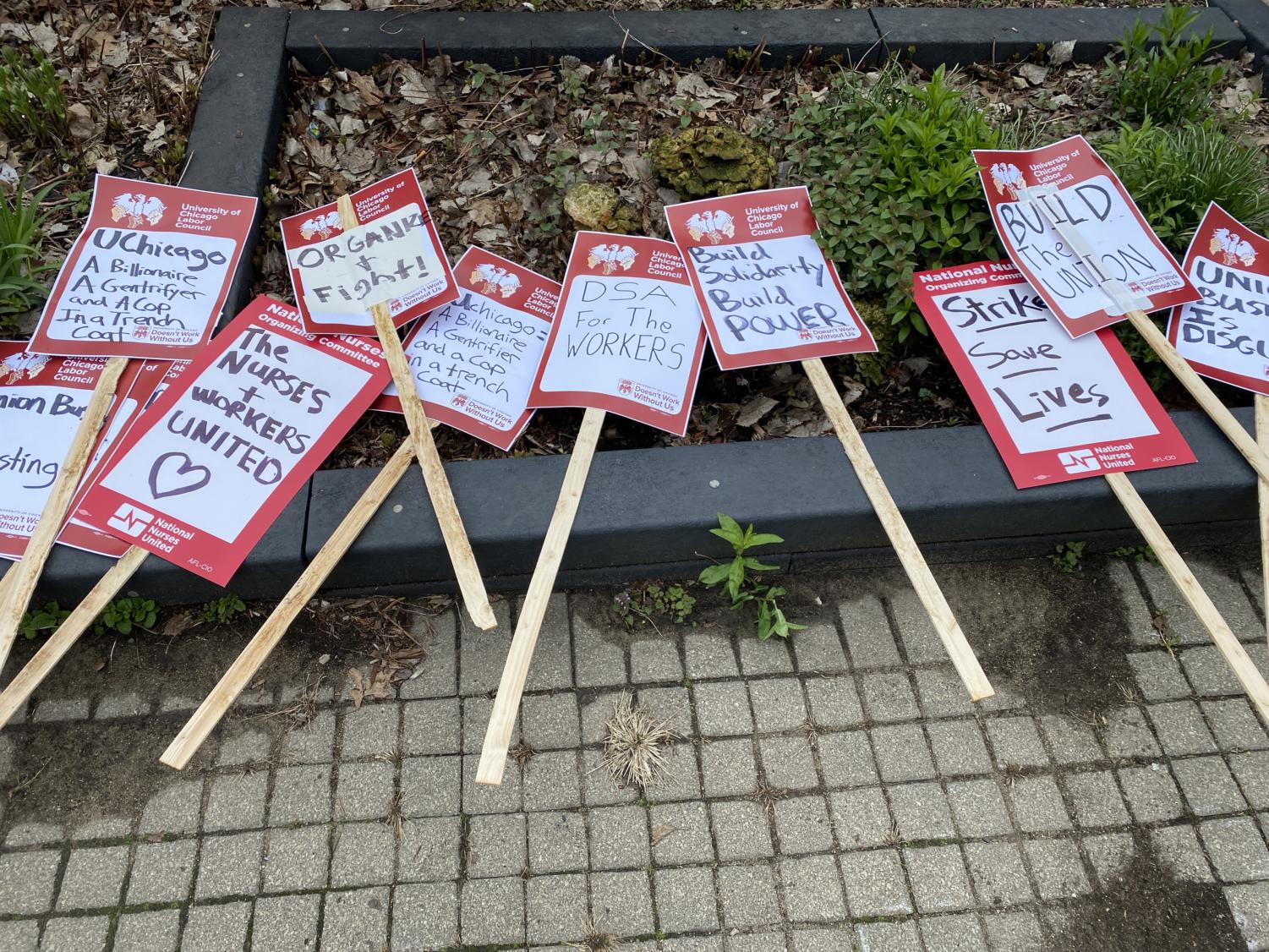 The main event of the rally, a march through Hyde Park, began at 2:30 p.m. Ralliers marched east on East 53rd Street and then south to the Hyde Park Shopping Center on South Lake Park and 54th Place, where a UCAD member named Jasmine addressed the group.
"[The University] has a long history of racial discrimination, such as supporting racially restrictive covenants and urban renewal projects in Hyde Park that have displaced Black people. The University has continued to do this. The Obama Presidential Center is a great example. The University's bid to host it on the South Side will only increase displacement without proper protections," Jasmine said.
Ralliers then stopped in front of the Starbucks on East 55th Street, where a GSU member named Irene spoke about GSU's struggles and victories in its fight with the University, notably the cancellation of the Student Services Fee for Ph.D. students.
The group then marched north up Woodlawn Avenue and then turned east towards Nichols Park. University of Chicago Police Department vehicles followed ralliers when they marched on the street, separating them from the cars backing up behind. The march was originally supposed to end in front of the offices of Mac Properties at the intersection of East 53rd Street and South Kimbark Avenue, but it instead ended at its starting point in Nichols Park.
After the march, Andrew Basta, the communications secretary of UChicago's chapter of YSDA, told The Maroon, "We're here to support labor first and foremost. Our goal is to be in solidarity and the power of labor back, so we have a relationship with the Nurses Union now, we have a relationship with Graduate Union."
The Maroon also spoke to Anna Lendabarker and John Hieronymus, registered nurses working at UChicago Medicine who attended the rally. Hieronymus noted that the UCLC had organized May Day commemoration events in 2019 and 2020. "This is a time for all the different unions, community, and student groups on campus to get together, show support for each other, and get word out about what's going on with our particular bargaining units and the things we're working on," Hieronymus said. Lendabarker added, "It's a nice event where unions can show support for fellow causes and union causes as a whole."