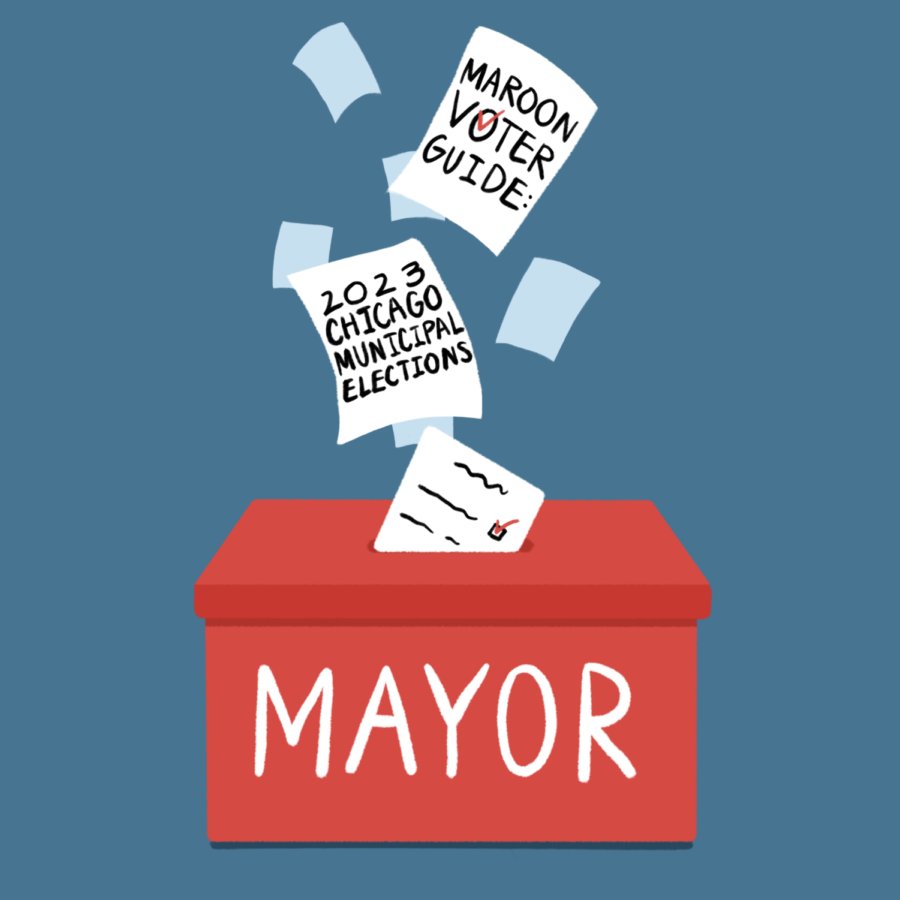 Who's Running for Mayor of Chicago?
Recent polling in a race heavily focused on public safety suggests none of the nine candidates will receive a simple majority, making it likely the top two will compete in an April runoff.
Nine candidates are running to lead Chicago as the next mayor in an election to be held on February 28.
The field includes incumbent Mayor Lori Lightfoot, who is running for a second term. Challenging Lightfoot are activist Ja'Mal Green, Alderman Sophia King, State Representative Kambium "Kam" Buckner, businessman Willie Wilson, Cook County Commissioner Brandon Johnson, former Chicago Public Schools CEO Paul Vallas, Alderman Roderick Sawyer, and U.S. Representative Jesús "Chuy" García.
Chicago's system requires candidates to receive a simple majority—at least half of the total votes cast—to win. If no candidate receives more than half of all votes cast, the top two candidates proceed to a runoff election on April 4.
Recent polling has shown that no candidate is expected to win a majority, making February's election likely to be a contest over who makes the runoff. Polls generally show a close race between Lightfoot, Vallas, García, and Johnson for the top two spots.
Lori Lightfoot
Lightfoot is a graduate of the University of Chicago Law School and has served in city government for nearly two decades. Prior to becoming mayor, she was the president of the Chicago Police Board and co-chair of the Chicago Police Accountability Task Force. She was elected in 2019 after receiving 17.5 percent of the vote in the preliminary election and 73.7 percent in the final round. Turnout for both elections in 2019 was 35.45 percent of Chicago's roughly 1.58 million registered voters.
Lightfoot has spent much of the campaign defending her actions as mayor against attacks from the eight challengers in the race, especially on crime and policing. During a debate hosted by WTTW in early February, several candidates criticized Lightfoot over the Chicago Police Department's lack of compliance with a 2017 court-ordered consent decree that mandated broad police reforms following an investigation that found significant civil rights violations within the department.
"I appreciate that all these folks want to throw bombs from the cheap seats," Lightfoot said at the debate. "The fact of the matter is the facts are really clear. We are in compliance or improving our compliance every single day. And this nonsense that you're hearing from some of these folks is really completely belied by the facts."
Lightfoot's website touts raising Chicago's minimum wage, creating a civilian police oversight board, and attracting $7.9 billion in venture capital investments to the city as her most notable achievements as mayor.
Ja'Mal Green
Ja'Mal Green is a community activist who previously ran as a write-in candidate for mayor in 2019 before endorsing Lightfoot in the runoff. In 2016, Green was arrested while participating in a Black Lives Matter protest. According to his website, he currently runs the My Turn to Own initiative, which he claims has facilitated more than $10 million in mortgages for first-time homeowners. The initiative's website was not active at the time of publication.
Green's public safety proposals focus on addressing the root causes of violence and holding police accountable. He proposes giving 10,000 Chicagoans living under the poverty line $1,000 a month and building 10,000 new homes on vacant lots to improve housing affordability. He supports fining police officers who turn off body cameras or obstruct investigations as well as abolishing CPD's so-called gang database that tracks information on gang activity, including the names of individuals the police believe are affiliated with gangs.
Sophia King
Sophia King is the Fourth Ward alderman on the Chicago City Council, representing a district spanning from the South Loop to northern Hyde Park. King was appointed to City Council in 2016 by then-mayor Rahm Emanuel. Prior to serving on the city council, King helped start Ariel Community Academy, a public school in Kenwood, and was the vice president of Planned Parenthood Chicago. On the city council, King served as the chair of the Progressive Caucus.
King's campaign has particularly focused on public safety. Her public safety plan criticizes Lightfoot's city-wide task forces and calls for a community-based approach to policing. King would expand non-police responses to 911 calls related to mental health issues, drugs, or poverty. She supports hiring more police officers and restructuring officer shifts to attract more applicants. The plan would increase the use of technology, including surveillance cameras and drones, to discourage officer pursuits.
Kam Buckner
Buckner is the state representative for Illinois' 26th district, which spans from River North to South Shore. The district includes most of the University campus and western Hyde Park.
Before being elected to the Illinois House of Representatives in 2020, Buckner worked for U.S. Senator Dick Durbin and led community outreach for the Chicago Cubs. He was appointed to the Illinois House by Governor J. B. Pritzker in 2019 after the previous representative became a deputy governor.
Buckner's campaign has been focused on public safety, education, economic opportunity, and financial stability. He has pledged to hire more police officers and detectives, recruit officers from the neighborhoods they would serve in, and create an internet intelligence unit to monitor crimes planned online. His education plan calls for social workers and nurses in every public school and affordable housing for every public school student.
Willie Wilson
Willie Wilson is a businessman and a perennial candidate who has previously run for U.S. president, U.S. senate, and mayor of Chicago. This election marks his third time running for mayor. In 2019, Wilson received around 11 percent of the vote.
Wilson previously owned McDonald's franchises before starting a medical supplies company. He made headlines in 2022 for giving away $2 million in gas and food to people in Chicago and the suburbs.
Wilson's campaign is focused on lowering crime rates and attracting economic investment. On crime, Wilson proposes splitting the city into four districts, each with its own police superintendent, and supports hiring additional police officers. He also wants to combat poverty and homelessness as well as lower taxes to incentivize businesses to invest in Chicago.
Brandon Johnson
Brandon Johnson represents parts of the West Side and Chicago's western suburbs on the Cook County Board of Commissioners. He is a former Chicago Public Schools teacher and organizer with the Chicago Teachers Union. Although he has had a relatively short political career compared to other candidates, Johnson has enjoyed strong fundraising support, especially from teachers' unions.
According to his website, Johnson's public safety plan focuses on community investment, mental health support, and victim support. Unlike other leading candidates, Johnson does not call for hiring more police officers. Instead, he supports promoting 200 current police officers to detectives to increase the rate at which crimes are solved. On education, Johnson hopes to expand access to childcare, overhaul Chicago Public School funding to make it more equitable, and place more mental health professionals in schools.
Paul Vallas
Paul Vallas is a former education administrator who served as the head of several school districts, including those of Chicago and Philadelphia. He previously launched unsuccessful campaigns for governor, lieutenant governor, and mayor in 2002, 2014, and 2019 respectively. Public opinion polls have consistently placed him among the candidates most likely to reach a possible runoff.
According to his website, Vallas has centered his campaign on improving schools and increasing public safety. He supports opening public schools in the evenings and weekends for student support programs and decentralizing Chicago's public school system with elected local school councils. On crime, Vallas wants to hire police officers, create a city-operated witness protection program, and replace Police Superintendent David Brown and his leadership team.
Other candidates have attempted to portray Vallas as a more right-wing candidate. Multiple candidates have run advertisements featuring a 2009 interview in which Vallas said he was "more of a Republican than a Democrat now." Lightfoot criticized Vallas' acceptance of an endorsement from the Chicago Fraternal Order of Police, Chicago's police union.
"The bottom line is I'm a lifelong Democrat," Vallas told ABC7 Chicago in response to the criticism. "I've always been a lifelong Democrat. I've never taken a Republican ballot."
Roderick Sawyer
Roderick Sawyer currently serves as the alderman for Chicago's Sixth Ward, which spans from South Loop to Fuller Park. He was first elected to the city council in 2011. Sawyer is the son of former Chicago mayor Eugene Sawyer.
According to his website, Sawyer is most focused on public safety and economic development. His public safety plan calls for hiring 1,000 additional police officers and allowing retired officers to be rehired for responses to non-emergency 911 calls. Sawyer also proposes several measures designed to attract more officer applicants, including easier hours, better pensions, and career development training. Sawyer's economic development proposal calls for expanded loan programs to develop vacant lots for small businesses and affordable housing.
Chuy García
García is the U.S. representative for Illinois' fourth congressional district, which includes much of the West Side and parts of the western suburbs. García began his political career in 1984 as a committeeman in the Cook County Democratic Party. Since then, he has served in the Chicago City Council, Illinois State Senate, and Cook County Board of Commissioners. He unsuccessfully ran for mayor against then incumbent Rahm Emanuel in 2015, coming in second place with nearly 44 percent of the vote in the runoff.
Like other candidates, García has emphasized public safety in his campaign. He calls for replacing the Chicago Police Department's leadership, sending civilian teams instead of police to mental health calls, and investing in community violence prevention. In the plan, he claims Lightfoot's more combative approach to politics has prevented constructive collaboration between public safety agencies.