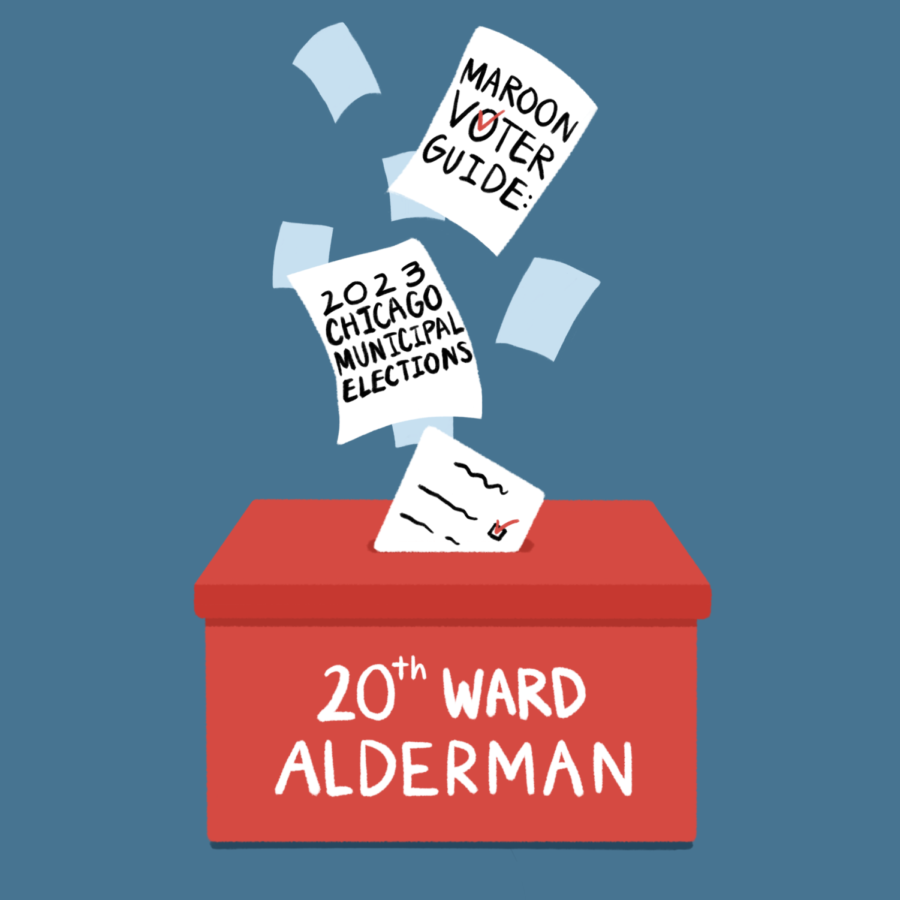 Who's Running for 20th Ward Alderman?
The race for 20th Ward alderman includes incumbent alderman Jeanette Taylor and challengers Jennifer Maddox and Andre Smith.
Three candidates are running for Chicago's 20th Ward alderman in the 2023 municipal elections, taking place February 28. Incumbent alderman Jeanette Taylor, who took office in 2019, will appear on the ballot alongside Jennifer Maddox, a community organizer and former police officer, and Andre Smith, a pastor and entrepreneur. Maddox and Smith both ran against Taylor for 20th Ward alderman in 2019.
The 20th Ward includes most of Woodlawn and parts of Hyde Park, Washington Park, Englewood, and Back of the Yards. If no aldermanic candidate receives at least 50 percent of the votes in the February 28 election, the two candidates with the highest number of votes will proceed to a run-off election on April 4.
Jeanette Taylor
Taylor, the incumbent candidate, is a former education organizer with the Kenwood-Oakland Community Organization. Since she took office in May 2019, succeeding three-term alderman Willie Cochran, she has been a staunch advocate for affordable housing and anti-displacement measures.
In July 2019, Taylor and Fifth Ward Alderman Leslie Hairston introduced a Community Benefits Agreement (CBA) ordinance that reserves affordable housing units around the Obama Presidential Center and includes grant programs for longtime Woodlawn residents. A 2019 study by the University of Illinois Chicago found that rent prices and property values had already been rising within a two-mile radius of the Obama Center.
Taylor has been a prominent critic of Mayor Lori Lightfoot. In November 2019, she joined members of the Chicago City Council Democratic Socialist Caucus in signing a letter addressed to Lightfoot that criticized the mayor's first budget for "an over-reliance on property taxes" that are "burdensome to our working-class citizens." Since taking office, Taylor has promised to support working families and advocate a raise in the minimum wage.
In 2015, she was one of 12 hunger strikers who successfully fought to reopen Walter H. Dyett High School in Washington Park after former mayor Rahm Emanuel closed it and 49 other public schools.
Jennifer Maddox

Maddox is a community organizer and former Chicago Police Department officer. In 2011, she founded the nonprofit Future Ties, which offers after-school and summer learning programs to children who live in Parkway Gardens, an affordable housing community on the border of Woodlawn and Washington Park. She was recently elected to serve as a community representative on Fiske Elementary's Local School Council.
According to Maddox's campaign website, her priorities as alderman would be education, affordable housing, public safety and crime, and economic development in the 20th Ward. Her nonprofit Future Ties recently bought a building on East 63rd Street and South Martin Luther King Drive; she hopes to turn it into a "one-stop shop" that will offer mental health and public safety resources to the community.
"Things have not changed since 2019," Maddox told the Hyde Park Herald. "I threw my hat into the ring again because we've given the current alderman [Taylor] the opportunity to work on many of the issues that have affected the ward. I haven't seen a change."
Maddox ran for the vacant seat in 2019, placing seventh out of nine candidates with 6.2 percent of the vote.
Andre Smith
Smith is a pastor and entrepreneur who founded the gun violence prevention group Chicago Against Violence.
In the early 2010s, he participated in protests calling for a trauma center on the University of Chicago's medical campus after 18-year-old Damian Turner was shot in 2010, just two blocks from the UChicago Medical Center, and died while being transported to Northwestern Memorial Hospital. If elected as alderman, he plans to prioritize public safety.
"I'm going to always serve the people, in whatever capacity that is," he said to the Hyde Park Herald. "Even as alderman, if someone is affected by gun violence in my ward, I'm going to be there."
He told the Hyde Park Herald that another one of his priorities as alderman would be "making our seniors and the residents feel that they're not neglected and their voice is being heard and they're in a safe community." He pledged to start a senior hotline and a mobile office that would serve older adults in the community. He also plans to support a property tax freeze.
Smith ran for 20th Ward alderman in 2011, facing former incumbent alderman Willie Cochran and three other candidates, and again in 2015 against seven other candidates, including Cochran. He ran for the vacant seat in 2019, placing fifth with eight percent of the vote.
Smith and at least two others were arrested for trespassing last week while protesting the city's decision to house migrants in the former Wadsworth Elementary School in Woodlawn.