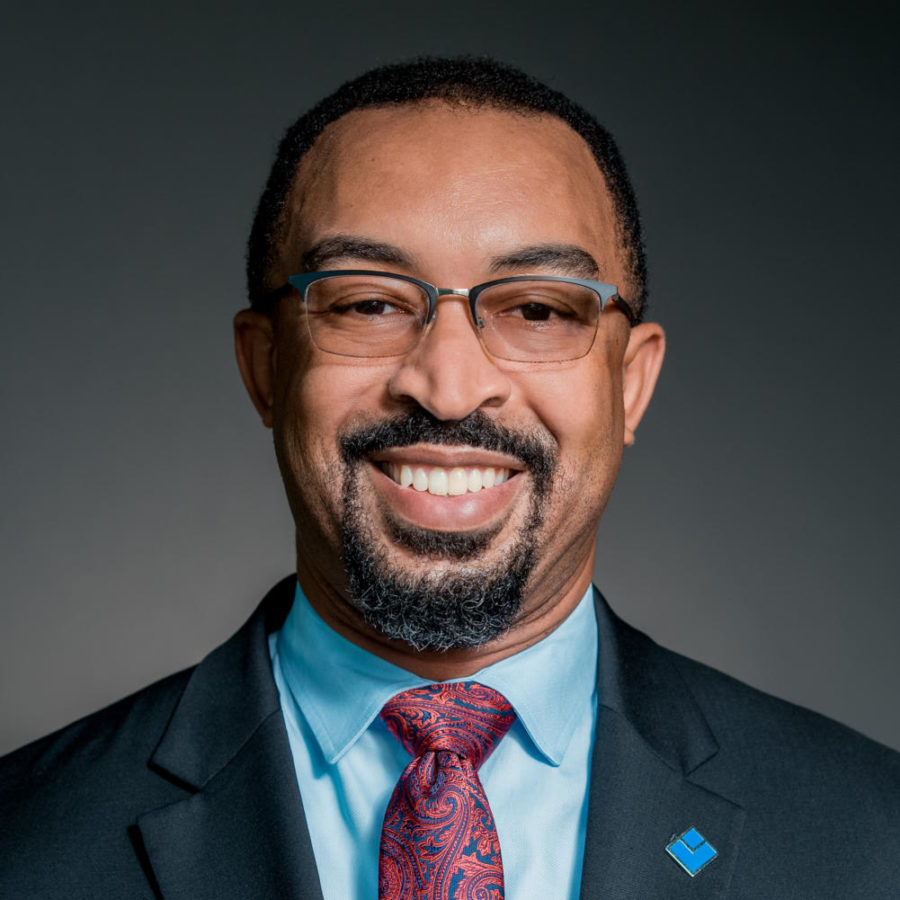 Interview: Prentice Butler, Fourth Ward Aldermanic Candidate
Butler, the chief of staff for current alderman Sophia King and a UChicago alum, is focusing his campaign on public safety, government transparency, economic equity, and education quality.
Prentice Butler, a native of the South Side and a UChicago alum (A.B. '02, A.M. '20), is running for alderman in Chicago's Fourth Ward. His campaign priorities include improving public safety, government transparency, economic equity, and education quality.
Butler currently serves as the chief of staff for current Fourth Ward alderman Sophia King, who is not running for re-election in order to pursue a campaign for mayor of Chicago. Mayoral and aldermanic elections will take place February 28.
Born in the Fourth Ward but raised in South Shore in the neighboring Fifth Ward, Butler graduated in 1998 as valedictorian of Hales Franciscan High School, a Catholic school in the Fourth Ward. He then attended UChicago, graduating in 2002 with a degree in political science.
Speaking about his time in the College, Butler reflected that mentors in the Community Service Center, including Michelle Obama, taught him what it meant to be a servant leader.
"They taught me that you have to be humble enough to sit down with people and listen to their needs and listen to what their proposals are for solutions," he said in an interview with The Maroon. "You have to be open and humble enough to understand you don't know it all, and I've done that myself."
After graduating from the College, Butler chose to continue his work in service at the Chicago Area Boy Scouts of America, where he served as district executive. A year later, he joined the law offices of Ernesto D. Borges Jr., a Chicago bankruptcy law firm, as a legal assistant. He worked there for seven years.
"That job taught me a lot about failed policies that impact marginalized communities," Butler said, speaking about predatory lending practices by banks.
While working as a legal assistant, Butler pursued a master's in Chicago studies at Loyola University, focusing on race, economics, and politics. "It was a great program, and it really got me to think deeper about policy and systemic issues in Chicago," he said.
In particular, the experience made Butler want to support green jobs on Chicago's South and West Sides.
"We have to do something about energy efficiency, and we can talk about sustainability but also save people money that have very limited funds for transit and money for utilities," Butler said.
Butler began working for the City of Chicago in 2011. He started as director of policy communications before serving as director of constituent services from 2014 to 2017 and eventually as chief of staff for the Alderman of the Fourth Ward from 2017 to the present.
While working for the City, Butler completed a master's in public policy at UChicago from 2019 to 2020.
Alongside his professional work and his studies, he has also been involved in community organizations such as 100 Black Men of Chicago, Southsiders Organized for Unity and Liberation, and the New Leaders Council Chicago.
Butler's platform consists of four major tenets: enhancing public safety, increasing the quality of Fourth Ward schools, ensuring equitable economic development in the ward, and increasing government transparency.
For Butler, public safety has been a deeply personal issue after he lost his nephew to gun violence in October 2008. "That experience really connects me to the trauma that everyone feels right now about feeling unsafe in their community," Butler said. "Those kinds of incidents don't just stay with you for a week or a month. They last a lifetime."
Butler envisions a multifaceted approach to improving public safety with an emphasis on crime prevention and mental health support. He hopes to implement a mental health crisis pilot program, which decouples mental health first responders from the Chicago Police Department.
Similar approaches were taken in other neighborhoods last year. The Crisis Assistance Response and Engagement program was launched in 2021 in a limited capacity in two parts of the city. The initiative was led by Alderman Rossana Rodriguez-Sanchez of the 33rd Ward and eventually approved by Mayor Lori Lightfoot.
"We have to be innovative in how we address that problem, not just reactive with additional policing," Butler told The Maroon.
For Butler, public safety is also inextricably linked to educational opportunities. Noting the success of Kenwood Academy, which consistently boasts four-year graduation rates above 90 percent, Butler hopes to replicate strong academic and extracurricular programs that already exist on the South Side in other neighborhood schools.
Butler also believes the Fourth Ward should bring opportunities for students pursuing a trade. The Fourth Ward houses Dunbar Vocational High School, a trade school which has been struggling with enrollment in recent years.
"I truly believe that we need to bring honor and dignity back to the trades," Butler said. "We try to come up with a clear pathway for Dunbar in the hopes that we can market the school better and to get attendance up, but we need additional resources and we want to make sure that school is also a school of choice, not a last resort."
Also of importance to Butler is increasing equity in economic development. Reflecting on the increasingly unaffordable costs of housing in Chicago, Butler believes there should be a cap on how much a landlord can raise rent in one year.
"People's incomes are not keeping up with the drastic inflation," Butler said. "We've been mindful that if we don't get this under control…we're going to see a drastic increase in the homeless population."
Butler also believes that affordable housing policies must extend beyond rentals to single-family homes inhabited by the working class.
One possible solution Butler sees is selling blocks of land to a responsible developer at a lower price so that construction prices are reduced.
"If you're a young family, that is not affordable," Butler said, referring to the fact that the least expensive single-family homes in the Fourth Ward sell for several hundred thousand dollars. "You have to be well-resourced and making over six figures to sustain a mortgage of that caliber."
Additionally, Butler hopes to increase retail development. Speaking to The Maroon about establishments like a restaurant and a mixed-use development already planned on South Cottage Grove Avenue, he said he believed that in the next five years, the area would be "a wonderful, walkable corridor that has the kind of amenities that people have been looking for."
He hopes such development could replicate the development of East 53rd Street, whose retail capacity has increased significantly since he was an undergraduate at the University. "Now there's such a great diversity of small business owners and national brands on 53rd Street," he said.
Finally, increasing government transparency and accountability and improving the public's trust in public institutions are priorities for Butler. "I want to make sure we have some oversight for city council members to make sure we're operating ethically," Butler said.
In particular, Butler believes elected officials should not hold other jobs while in office. Currently, aldermen are considered part-time employees who can take outside jobs but are paid six-figure salaries. Last September, Alderman Andre Vasquez of the 40th Ward introduced an amendment to the city code that would block City Council members from holding second jobs.
"It's a full-time job," he said. "With a limited staff, you have to be visible, you have to be present."