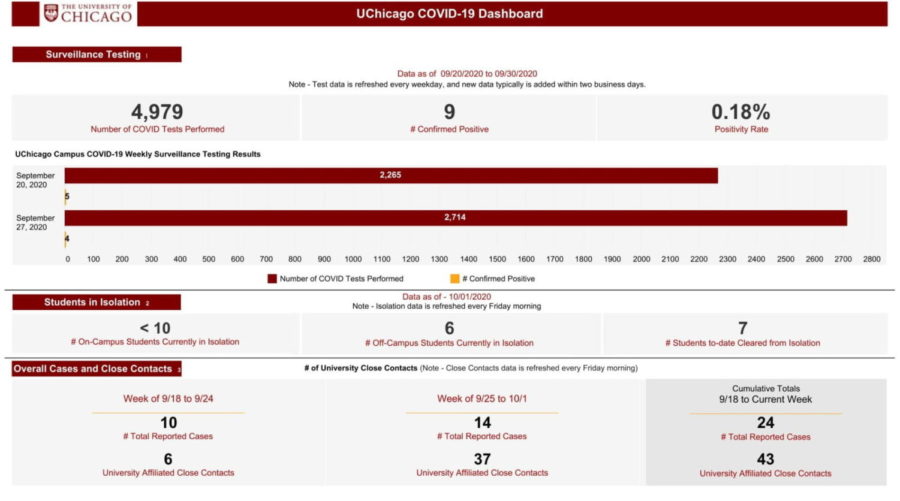 Timeline: How COVID-19 Affected the Class of 2023's College Years
From the initial shutdown of campus in their first year to the suspension of testing programs in their fourth, the Class of 2023 is the first graduating class to have experienced the impact of the COVID-19 pandemic in each of their years in the College.
From the initial shutdown of campus in their first year to the suspension of testing programs in their fourth, students in the Class of 2023 are the first to have experienced the impact of the COVID-19 pandemic in each of their four years in the College. The Maroon spoke to members of the Class of 2023 about how the pandemic has impacted their time at the University.
First Year: 2019–20
On March 11, 2020, the day before the Class of 2023's second-ever reading period and exams were set to begin, The Maroon broke the news that the University would transition to "distance learning"—as it was then called—and that most students living in dorms had until March 22 to leave campus. Spring quarter's start was delayed by a week and subsequently shortened from 10 to nine weeks long, a change that would later become permanent for future quarters.
"It became very chaotic very quickly," fourth-year Sophia Cariño told The Maroon in an interview. "As a first-year, I was taking a lot of premed STEM requirements, and all of those finals were up in the air. [There] was [a] kind of hysteria, this end of the world–type energy from my housemates and my friends.
"I was able to road-trip home with everything I didn't want to store in the cages in North. Driving seemed the safest option [that] minimized virus exposure," fourth-year Josephine Dawson said.
After the end of spring quarter 2020, the University released a plan to return to in-person instruction for the 2020–21 school year. The plan included social distancing regulations, such as limits on the number of students allowed in various spaces, as well as remote options for students not wishing to rejoin others in the classroom.
Second Year: 2020–21
As students returned to campus for the 2020–21 academic year, dorm rooms were restricted to single occupancy, dining halls were takeout-only, and students experienced mainly remote classes (with a few hybrid or in-person options).
"House culture was completely turned on its head," fourth-year Melia Allan said. "The people who had friend groups established in the first two quarters of their first year tended to spend time with those people, and I think for people who didn't necessarily have the most tight-knit friend group, being taken out of the housing system so early was a significant difference in terms of social circles and finding friends."
In November 2020, the University announced that students planning to leave campus for Thanksgiving break would be required to remain away from campus until winter break, meaning that they would have to complete their ninth week of classes and their finals remotely.
"I really was trying to stay on campus for Thanksgiving break, but I ended up just going home and taking my finals remotely," Allan said. "I knew a lot of people who were really frustrated with that situation because they didn't necessarily want to be at home for such a long period of time with their parents and they were still trying to build that sense of independence while being away in college."
In March 2021, the University similarly recommended that students not travel during spring break.
"I stayed in town for spring break," Dawson said. "Chicago was starting to open back up, masked and outdoors, so I took the week to explore the city that had been inaccessible for so long. I suppose these decisions [to restrict travel] were influenced by University policy, but like any decision we were making at the time, it felt more like a personal risk-reward assessment."
The University experienced rising case numbers in early April 2021 and responded by issuing a seven-day stay-at-home order.
Third Year: 2021–22
For the 2021–22 academic year, dorms were back to full occupancy. and classes largely returned to in-person instruction.
Following a nationwide spike in cases due to the omicron subvariant of COVID-19 in December 2021, the University delayed the start of winter quarter for the College and moved to remote learning for the first two weeks of the quarter. The College returned to in-person instruction for the third week of winter quarter.
As the number of cases declined, the University began relaxing masking and visitation restrictions. On March 4, 2022, masks became optional in all campus spaces except for classrooms and instructional laboratory spaces. The mask mandate for classrooms was dropped four weeks later.
"It was a little bit abrupt," Allan said about the mask mandate's removal. "I think it would have made a little more sense, looking back, to continue having masks for one academic year and then lift the hat and make it optional. It was a little strange that the same people I was seeing in the library had to be masked in class."
Fourth Year: 2022–23
The University lifted the bulk of its pandemic-related restrictions during the 2022–23 academic year. On September 30, 2022, the University lifted the testing requirement for unvaccinated students. Students who tested positive still had to mask indoors until they received two negative tests. COVID-19 isolation housing was discontinued in January 2023, at the beginning of winter quarter.
On April 3, 2023, the University suspended its surveillance testing and contact tracing programs, signifying the final step toward a return to normalcy on campus.
"Sources of community at UChicago were very much gone because of COVID," Cariño said. "When I reflect on my own experiences across the four years, that really did affect me negatively in a social sense. I think there's a growth period at UChicago where you make friends from first and second year that are in your house and in your classes, and I had a large delay in that experience."
Dawson said the rollover effects of COVID-19 on hiring continue to impact graduating fourth-years.
"Even if places are hiring, admitting grad students again, all applicants who delayed their plans or made temporary detours—voluntarily or not—due to the pandemic are now vying for the same slots, and hiring is no longer as robust as it used to be," Dawson said.
"Academically, it definitely altered some things," Allan said. "Some things were made easier, as requirements were relaxed to allow students to cope. The way that professors adapted, especially in 2020, I think it was actually a healthy reset. I feel like I still learned a lot, without the stress of having to study for tests."