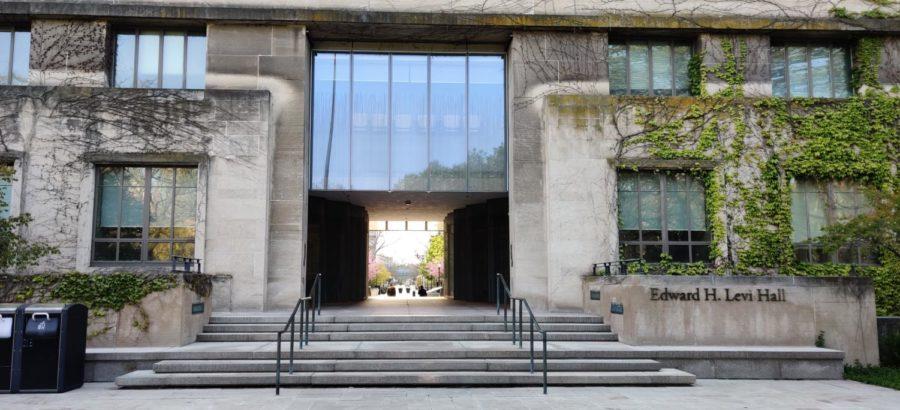 Graduating Fourth-Years Speak on Experience With the 10-Week Quarter
The Class of 2023 shares their experiences with internships and classes before and after the shift to a nine-week quarter.
In autumn 2020, the University shortened quarters from 10 to nine weeks of class following a committee review of the academic calendar. As such, the Class of 2023 is the last cohort of students to have experienced a full academic year under the 10-week quarter system. Fourth-years Stephanie Yu, Andrew Seto, and Nari Ok spoke with The Maroon about their experiences taking classes and doing internships under the 10-week quarter system.
Currently, the nine-week quarter consists of a three-day reading period and a lengthened Thanksgiving break, replacing the four-day reading period and three-day Thanksgiving break under the 10-week system. All coursework and exams now conclude by June 1, a week earlier than before.
The 2019 Academic Calendar Report, released by the Committee to Review the Academic Calendar and sometimes colloquially referred to as the "Roth Report," stated that the change to a nine-week quarter would better align the academic calendar with internships and other summer opportunities. Yu believes that the new schedule better accommodates internships but acknowledges the heightened stress imposed on some students.
"We were really glad that our jobs could start, theoretically, earlier than they would have started," Yu said. "But I think it does place some undue stress on people who have a huge time crunch at the end of their quarter for finals and stuff as opposed to people who don't really care about those internships."
Seto echoed Yu's sentiment that the nine-week quarter places additional stress on students who do not pursue internships with earlier start dates.
"From my experience as an econ major, I think it helps," he said. "But for some people who might not have the need for an internship to start so early, there's no point for them to go through the shortened quarter."
Ok also described her experience interning under the nine-week quarter system, sharing that the new academic calendar reduced but did not eliminate conflict with her summer internship.
"My first week of training overlapped with my last week of school, so I had just finished finals, and I had to do training," she said.
In April 2021, College Council (CC) issued a report to University administration that recommended an immediate return to a 10-week quarter. The report found that of more than 800 surveyed students, only 38 percent expressed satisfaction with the shortened quarters. As for why, only 11 percent of respondents indicated that increased internship access was worth the trade-off for shorter quarters.
Ok does not necessarily believe, however, that the shortened quarter increases stress.
"I was already so busy with stuff that it never really hit me that this was a '10-week quarter,'" she said. "When it got shortened to nine weeks, it still felt really fast. It honestly feels the same. The only difference I can feel is that when we switched to nine weeks, people started talking about it more."
Seto added that the nine-week quarter "feels the same in terms of academic rigor. If you compare relative to the semester system, it's already compressed by a third. If you take a week off of that, the ramifications from the student perspective aren't that much because it's already so compressed."
Yu, however, noted that the shortened reading period, a result of the shift to nine weeks, elevates stress during finals week specifically.
"There is almost no time to do anything, but throughout the quarter, the stress is sort of the same," she said. "Ninth week and reading period are the most stressful times for me, and that has been heightened by the nine-week quarter."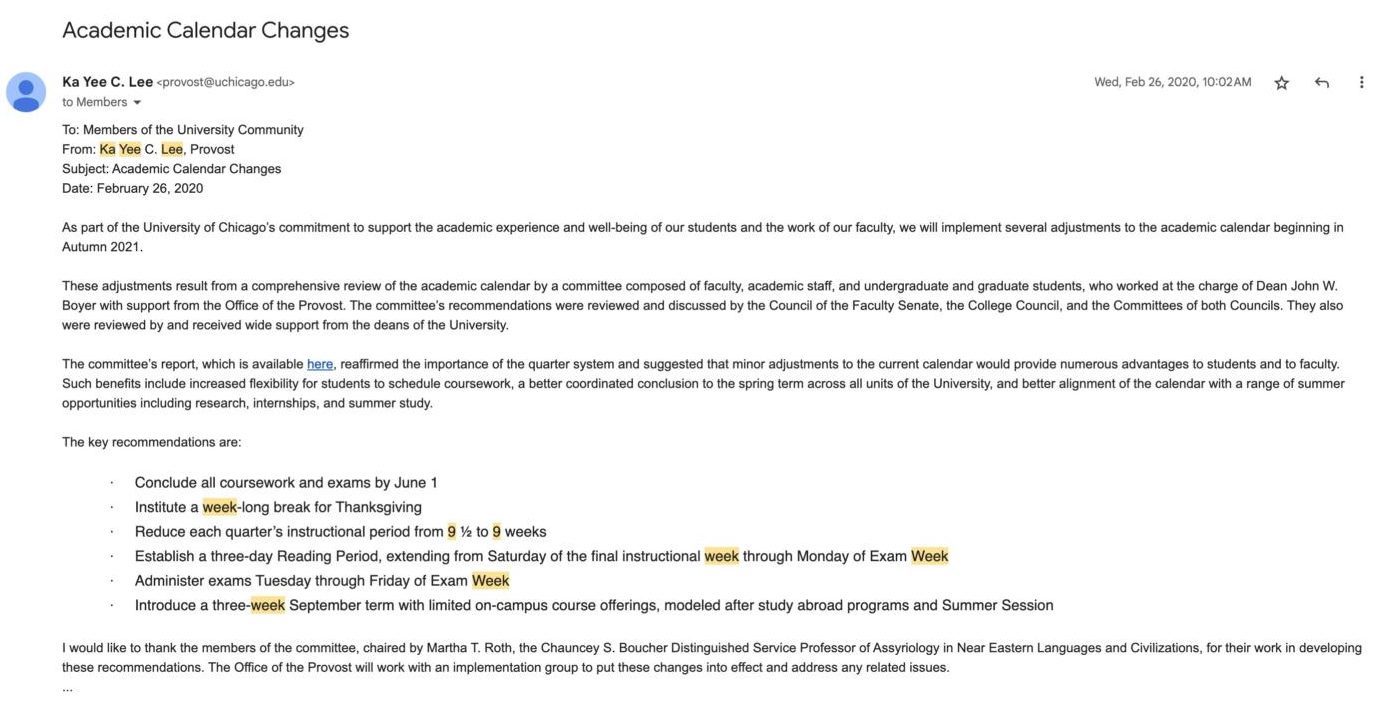 Whether students felt that the nine-week quarter change was beneficial or not, many share the opinion that the University's communication around the change was confusing.
"I didn't really know all of the reasons why we changed to the nine-week quarter," Yu said. "I don't know how they made the decision to move into that system. If you don't really communicate the reasoning to your student body behind why you're making these decisions and a lot of us don't understand even after having done it for three years, then I think there's some disconnect between the admin and the student body."
Seto also shared some of the confusion over the change. In particular, he believed that the University was just temporarily experimenting with the nine-week quarter and was planning to change it back to 10 weeks.
"I honestly don't know why they didn't change it back…. As it stands now, as it's the 'norm,' changing it back might help a little bit, but it won't be that much of a noticeable difference in terms of student quality of life."
The Maroon reached out to the University for comment on whether it is collecting feedback about the nine-week quarter and whether there is the possibility for change. University spokesperson Gerald McSwiggan did not confirm whether the University intends to return to the 10-week quarter but reiterated that the process to change the quarter system "involved feedback from units across the University," including "faculty, academic staff, and undergraduate and graduate students."