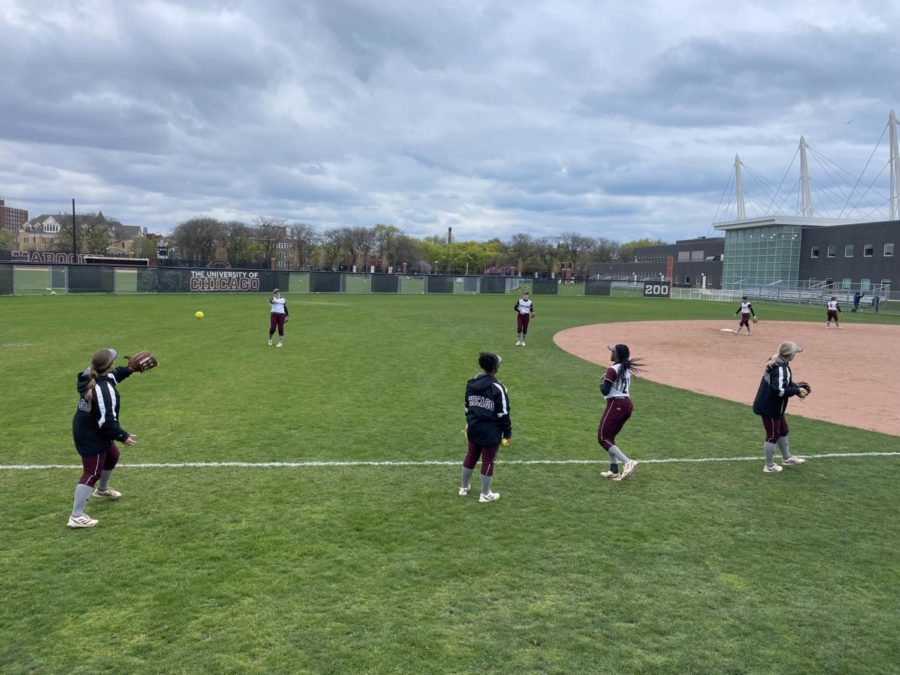 Softball Catcher Bids Farewell After Tremendous Senior Season
Julia Folkl capped off a stellar UChicago softball career with her best season to date. As she graduates from the team, she says she's excited to see what the future will bring.
When Julia Folkl steps into the batter's box on May 13, she will be aiming to put an exclamation point on a prolific two-year run as the Maroons' starting catcher. Folkl is one of two seniors on the softball roster and has had an immeasurable impact on a roster packed with first and second-year players. On the year, Folkl is slashing .371/.432/.448. That .371 batting average is by far the highest on the team, and her .448 slugging percentage is second behind outfielder Laila Sims. While her numbers have been impressive, it is perhaps her locker room presence that will leave the biggest mark on the program going forward. 
Look no further than the sophomore student-athletes who have shared the field with Folkl. The Maroons' lineup is littered with talented underclassmen who make impacts on both sides of the ball. Folkl made sure to point out that, while the younger players are great on offense, being able to "always count on [her] infield" is what has made the experience truly incredible. As she gets ready to step away from the diamond, Folkl is particularly excited to see what the future holds for her younger teammates. "I can't wait to see what crazy records they will break in both team and individual stats." 
Folkl leaves behind a giant pair of shoes to fill, but there are plenty of in-house replacements ready to fill them. Third-year Alina Yazek looks to be the next in line to take over at catcher. Though she has primarily played third base this season, Yazek has experience as a backstop, and as a rising senior, will already have lots of younger players looking up to her for advice on how to navigate the balancing act of a student-athlete. Another option is Tory Piuze, who is the only player besides Folkl to have caught an inning this season. Though she is only a sophomore this year, Piuze has done a great job of commanding the pitching staff in her limited time behind the plate. Both players will be expected to assume some of the leadership duties that come with being a catcher. When asked what advice Folkl would give to the next group of seniors who are expected to step into a leadership role in the locker room, she said her best advice would be "to stay confident and true to yourself. When others look to you as an example, it is most important to keep your composure."  
Folkl considers herself to be a "quiet leader." Of course, this form of leadership is most effective when a player is able to put in the work, and have that work translate into results. In that regard, Folkl credits her athletic trainer Bobby Smith as someone who she can attribute much of her success to. His assistance, Folkl says, allowed her to improve in all facets of the game. Her hitting numbers, though already tremendous last season, saw an uptick, in part thanks to Smith's coaching. Her batting average improved by 58 points, and her slugging percentage increased by 57 points. Her work as a catcher is hard to quantify with numbers, but the Maroons' pitching staff, led by second-year Paige Heffke, was unhittable for much of the year. While the pitchers deserve plenty of credit for putting up such dominant numbers, Folkl's work behind the plate has undoubtedly contributed to their success. Folkl also credits Smith with helping her remain healthy throughout the season. She has played in more games this season than in the previous season and has been able to build a strong rapport with her pitching staff as a result.   
There is no doubt the Maroons will miss Folkl both on and off the field. On offense, defense, and in the locker room, Folkl has been the engine behind her team's success. While the Maroons will greatly miss Folkl, Folkl will miss her teammates just as much. "I'm so lucky to have such an incredible group of teammates," she told The Maroon. "I'll miss them dearly."