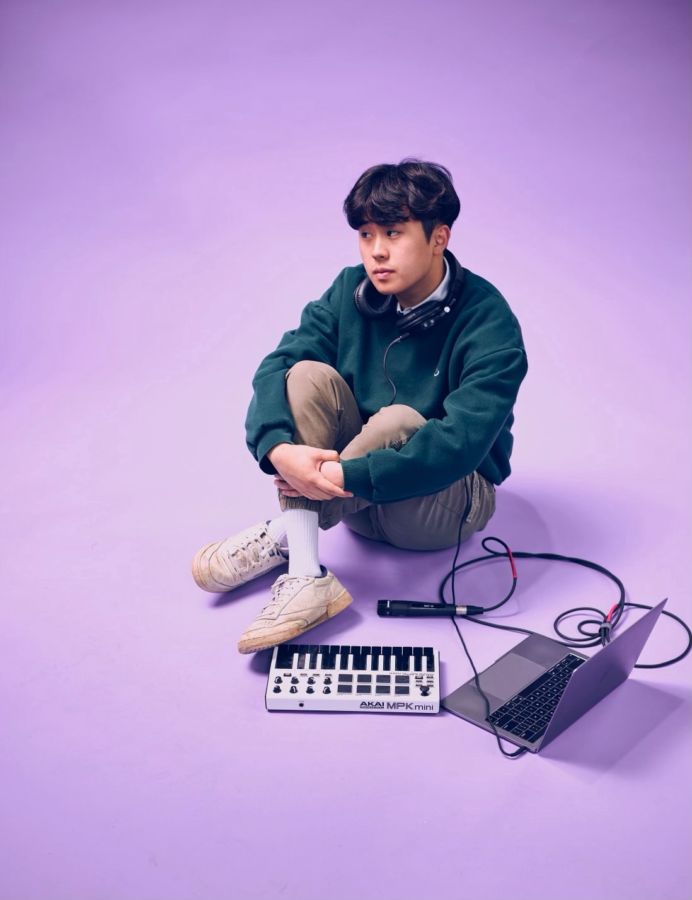 Jhung Came Out of the Blue
What was intended as a one-off EP has instead (re)launched the student artist's musical career.
For fourth-year Jhung Kim, making music has always been about the unexpected. From the release of his 2022 debut song "Always the End," meant to both open and close the book on his pursuit of music, to his farewell show and new EP, the musician and UChicago student has built his burgeoning career through circumstances as surprising and delightful as his arrangements. 
"Very few people at UChicago knew about the EP," Jhung said about the making of Always the End. The project started as a personal one for Jhung, a classically trained pianist and oboist who had the talent for music but was losing his curiosity for it. Isolated by the pandemic, Jhung began working on the EP to fill the empty hours, but the project took on a new urgency when he returned to campus. 
In order to marshal the sticky hooks and genre-bending production of Always the End, Jhung drew inspiration from both his favorite artists and material created by his peers at UChicago. Influenced by acts like Tyler, the Creator; Black Party; and Brockhampton, Jhung's sound draws on genres ranging from gospel to bossa nova. To actually assemble these sounds, he reached out to the musical community on campus for help. 
Recording in his dorm room and on his phone, Jhung corralled the instrumentation he needed for the EP. With fellow student musicians like violinist Grace Kim, who is featured in the opening of the EP's title track "Always the End," Jhung assembled songs that would fulfill the project's goal: to make music that would show a new side of the up-and-coming artist.  
"I started feeling the need to be seen," he said, though on the cover of Always the End, Jhung appears with his face entirely blocked by a white square. Rooted in his desire for visibility was a need to change his image, to move beyond the expectations of close friends and classmates. 
The five-track EP is built neatly around this problem; from the first moment of its opening track, we learn that "JHUNG IS DEAD!", which sets up the titular track and the remainder of the record to serve as the artist's "last words." This setup mirrors the project's themes of loss and loneliness and its staging as the death of his former persona. 
"The EP was meant to be my last stab at music, the metaphorical death of my music[al] ambitions," Jhung said. Instead, in the making and release of the project, he took those ambitions to new heights. Within a month of its release, the project racked up more than 150,000 streams on Spotify and was featured on several of the streaming platform's editorial playlists. For Jhung, this increased exposure brought a new perspective.  
"You can't expect to know how people will relate to your art," he said. 
The overwhelming positive reaction caused Jhung to reevaluate a record that had blossomed into something much larger. Fans messaged him on Instagram to tell him how his music had carried them through difficult times, and he began to understand that the individual struggles he had faced while making the EP connected him to a sympathetic audience, one that turned to him for support in communicating their own experiences. 
The success of Always the End also propelled Jhung into uncharted territory when he was invited to open for R&B singer Ravyn Lenae at the Major Activities Board's 2022 Fall Show. Before a packed crowd, Jhung performed his songs—which he said "were originally intended to be listened to alone," mixed for headphones and recorded during quarantine. 
But instead of shying away from this unforeseen result, Jhung embraced it and once again found support among his peer group. In addition to his solo music, he began performing with a band of fellow fourth-year students he got to know while producing the EP. 
Former classmate Elliott Ducree Jr., who now works at the Creative Arts Agency in LA, connected Jhung with second-year student Kevin Michuki, whom Ducree met at Hallowed Grounds' "Back 2 Back" event series. 
Working together, Ducree and Michuki put together Jhung's farewell show, scheduled for May 19. The event, a Tiny Desk–inspired concert also hosted by Hallowed Grounds, comes ahead of the release of his sophomore EP this summer. 
Speaking on the upcoming project, Jhung says he wants to be more intentional about his public-facing persona. If Always the End was designed for headphones, this upcoming project is intended for "speaker setting." As he leaves UChicago, Jhung faces a world of new opportunities for his musical career. He's certain to sound right at home.