Bartlett sit-in demands higher wages for Aramark workers
Over two dozen students protested Aramark's wage increase for workers in Bartlett Dining Hall on Friday. After meeting on the first floor, they occupied Aramark's office before being removed by UCPD.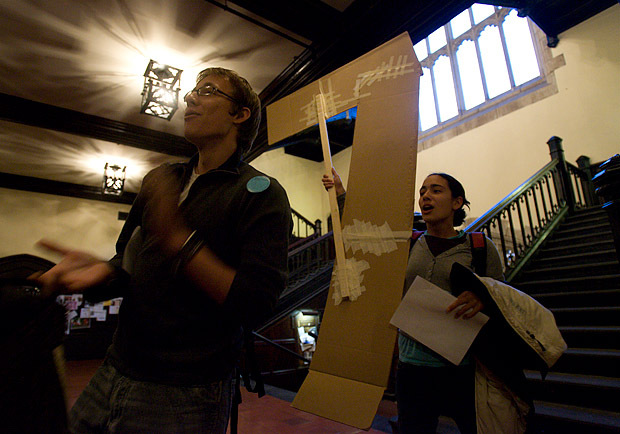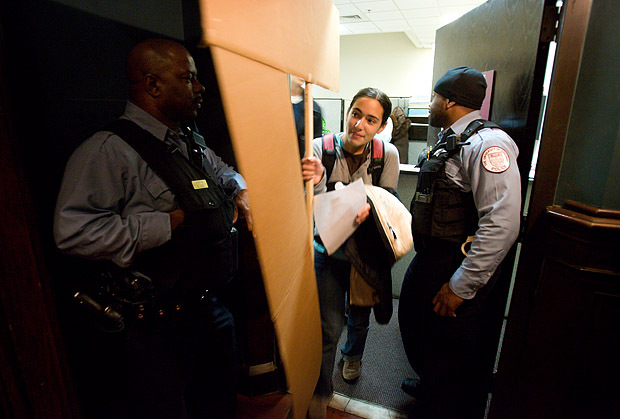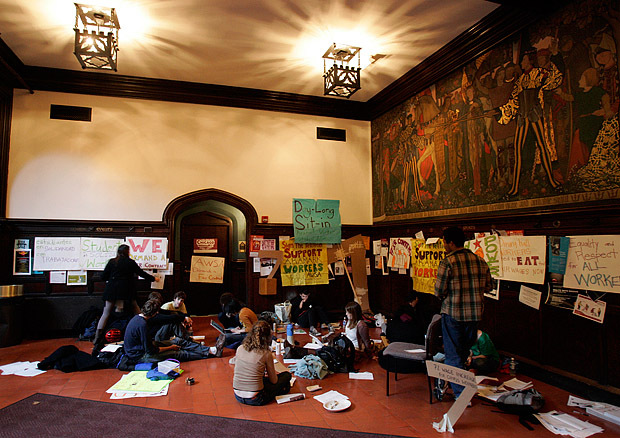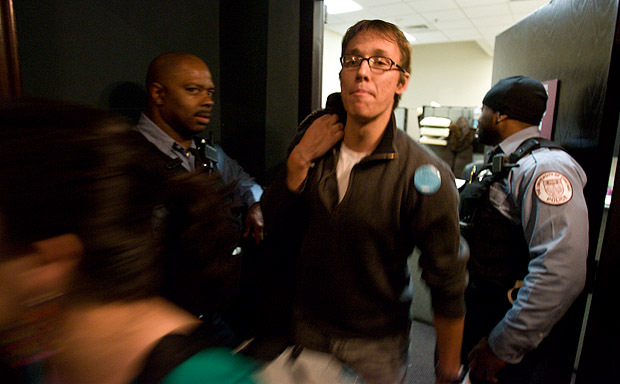 Over two dozen students held a sit-in on the first floor of Bartlett Dining Hall on Friday to protest food-service provider Aramark's recent contract offer to campus workers. The contract, presented last month to local Teamsters Union 743, offers workers a wage increase of 25 cents an hour, or 2.5 percent more than their current pay. The Aramark Worker-Student Alliance (AWSA), the group which organized the sit-in, echoed the union's demand for a seven-percent increase.
The sit-in, which ran all day, was mostly quiet, with students talking, doing homework, and handing out fliers to passersby. Every half hour, however, they sang union songs from printed sheets, including "Solidarity Forever," "If I Had a Hammer," and "We Shall Not Be Moved." Posters hung around the ground floor of Bartlett read "We Demand a Fair Contract" and "Estudiantes en Solidaridad con Trabajadores," which means "Students in Solidarity with Workers."
Debbie Hu, a third-year leading the singing, said that Aramark management did not respond positively to the protest. "A woman came out of the office and was persnickety with us. She told us this was [a violation of] egress," she said, referring to what she described as the woman's claim that the protesters were impeding people from exiting the building.
A spokesman from Aramark declined to comment.
AWSA materials state that a seven-percent raise is necessary to keep pace with inflation and note the current high prices of food, gas, and other commodities. Some campus workers employed by Aramark commute from as far as Indiana.
Though the protest centered on the proposed wage increase, it also addressed wider concerns about the "degrading and insulting way in which Aramark treats its workers," according to an AWSA e-mail.
"We're here to show the managers here that the students are not going to accept this," said Daniel Benjamin, a fourth-year at the sit-in. "There has been systematic mistreatment of the workers by management, and if you listen to their stories, it's just shocking."
At around 4 p.m. the protesters moved inside the Aramark office in Bartlett, where they listed their complaints to a manager and said they would be holding the sit-in in the office for its final hour. "The manager looked really flustered and said something like, 'This can't be happening now, you can't be in here, I'm on a conference call,'" Hu wrote in an e-mail interview after the protest.
After five minutes of singing, campus police arrived and escorted the students out of the office.
AWSA members promised to increase the group's visibility with several events on campus this week. At noon on Monday, students hung large cardboard 7s from the third-floor balcony of Bartlett, in addition to a sign noting the rising price of commodities in comparison with the worker's raise. A second sign advertised another protest this Friday outside of Bartlett on South University Avenue at 3 p.m.